San Francisco: Western U.S. Tian Guo Marching Band Members Gather to Share Cultivation Experiences
(Minghui.org) The Western U.S. Tian Guo Marching Band held its Second Experience-Sharing Conference in San Francisco on March 27. Twelve band members spoke about their cultivation experiences over the years. Some joined the band when it was started in 2006, others joined a few years ago, while some have been part of the band for only a year or two. 
Whether it's during practice, rehearsals, or performances, the band members are able to remember that they are Falun Dafa practitioners. They view challenges as cultivation opportunities, adjust themselves, and live by the principles of Truthfulness-Compassion-Forbearance in their daily lives. After overcoming various difficulties and constantly improving themselves, they were able to make breakthroughs in both their cultivation practice and musicianship.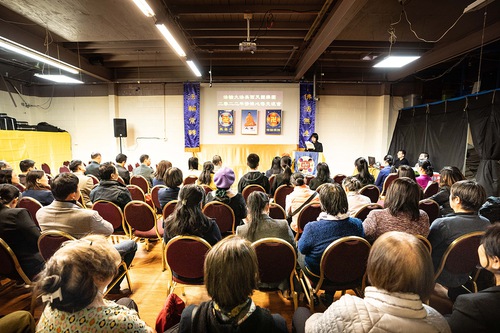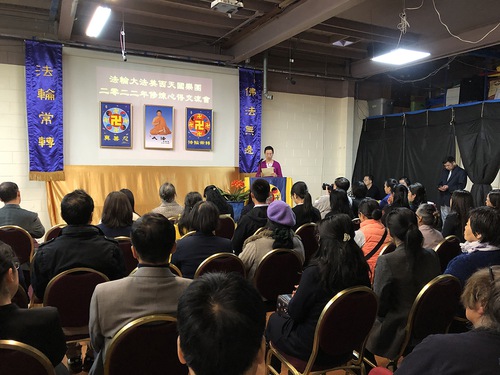 The Western U.S. Tian Guo Marching Band held its Second Experience Sharing Conference in San Francisco on March 27, 2022.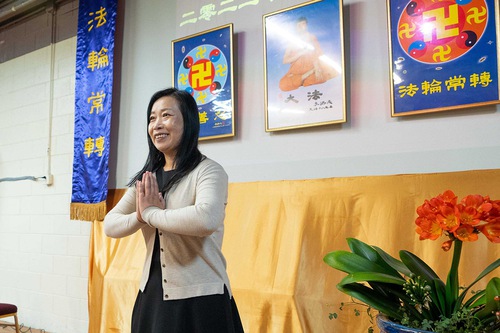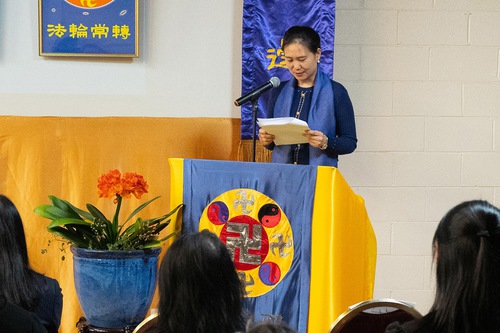 Practitioners talked about their growth while participating in the band. 
Precious Memories
Many practitioners remembered clearly the early days when Mr. Li Hongzhi, the founder of Falun Dafa, came to the Bay Area in 2006 to establish the band.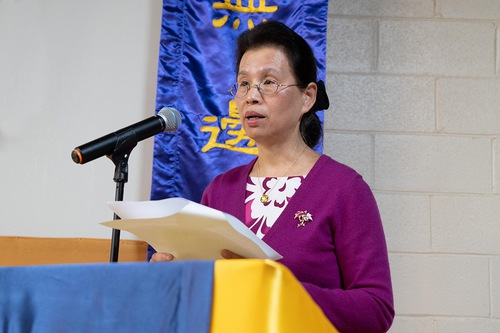 Ms. Xiong in the baritone section recalled her cultivation journey with the band.
"I remember clearly that we lined up and received our hats from Master. All of us were very excited – we were members of the Western U.S. Tian Guo Marching Band established by Master. It was an honor and our mission," said Ms. Xiong. 
She said Master talked to the band members. He taught them not only how to play their instruments, but also how to maintain them. He also worked tirelessly repairing the instruments. He said such a band was also called military band since it was originated in the army. "All of us cherish the opportunity very much," added Ms. Xiong. "No matter how far away we live, we come and practice together."
With Master's help, the band made its debut one month later on World Falun Dafa Day on May 13, 2006. Nearly 200 members participated and they performed "Falun Dafa Is Good" and "America the Beautiful." Ms. Xiong explained, "This is the first time people had ever seen such a large marching band in Chinatown. Many people were stunned and they came out of stores and restaurants giving us a thumbs-up. I was also moved to tears."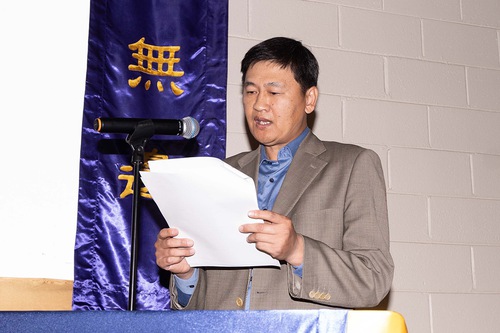 Mr. Li, who plays a percussion instrument, spoke at the conference. 
Mr. Li joined the percussion section in 2019. His life was easy before he began practicing Falun Dafa so he slacked off on many things. "Although there were some changes after I began to practice, I still had a long way to go," he explained. 
Learning percussion and attending parades offered him opportunities to identify where he needed to improve in his cultivation. "In the past, I admired those who joined the band in the early days since Master gave them their hats," he added. "Now I'm also part of the team. I need to cherish this opportunity, cultivate myself well, and fulfill my mission."
Participating in Parades
Over the past 16 years, the Western U.S. Tian Guo Marching Band has participated in many parades in the San Francisco area. Band members have also traveled to the Christmas Parade in Los Angeles, the Seafair Torchlight Parade in Seattle, the Portland Rose Festival in Oregon, the Christmas Parade in Vancouver, and the Calgary Stampede in Canada. 
Band members shared their stories and joy related to these trips. Vicky, who joined the band in 2013 as a side drum player, said the Portland Rose Festival was special. Its parade route is 4 miles long while most parades are only one to one and a half miles. Band members boarded the bus the previous afternoon, traveled the entire night, and arrived in the morning. After meeting practitioners from Vancouver and New York who flew in, they quickly ate before getting ready to perform. 
"When we start out on a long trip like this, I feel like we are getting ready for a battle," Vicky said. "We have to check all our Fa-implements: instruments, gloves, hat, uniform, and boots. During the 10-hour bus ride, we read the Falun Dafa teachings, recite Master's poems in Hong Yin, and send righteous thoughts."
"We've spent many memorable times together. I met some of my best friends on the bus—we work closely, like one body," she added.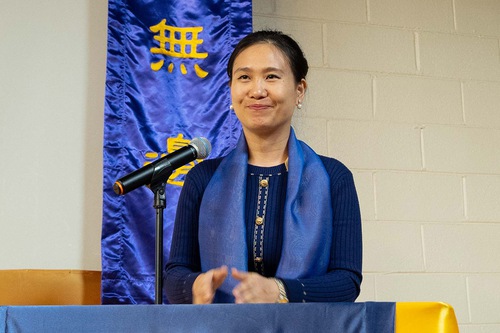 Saxophone lead Ms. Li shared her story.
Ms. Li, the saxophone section lead, joined the band nearly 10 years ago. "I have a professional background in music," she said, "but from time to time, I encounter challenges and did not know how to improve my skills even after practicing some notes for a long time."
When she memorized Hong Yin V, Ms. Li suddenly enlightened to many principles when she recited the poem, "An Ode to Shen Yun's Artists." "I learned that we have to work hard and keep trying. Even when facing challenges and difficulties, we need to persist."
This is just like what Master said in Zhuan Falun:
"When it is difficult to endure, try to endure it. When it looks impossible and is said to be impossible, give it a try and see if it is possible. If you can actually do it, you will indeed find: 'After passing the shady willow trees, there will be bright flowers and another village ahead!'" (Lecture Nine, Zhuan Falun) 
Pure and Natural Sound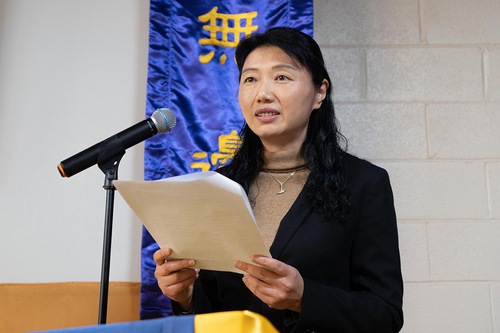 Cymbal player Ms. Wu talked about her understanding. 
Many band members feel their performances are closely related to their cultivation. Ms. Wu, a cymbal player, once noticed a bright and clear sound while marching in a parade. To her surprise, she later realized the sound was from her own cymbals. "I was surprised and touched," she explained. "I did not know such a simple musical instrument could produce such a pleasant sound. I know this is encouragement from Master, because the sound was filled with energy. It was especially clean."
From this, she also had a better understanding of the connection between music and cultivation practice. "The melody we play is a reflection of our heart," she said. "As practitioners, our message is 'Falun Dafa is good.' With that in mind, we can probably go beyond playing the instrument mechanically. Rather, every sound we play contains our interpretation of the musical notes. This is manifested in various hand positions, the direction of movement, as well as the amplitude, speed, and strength."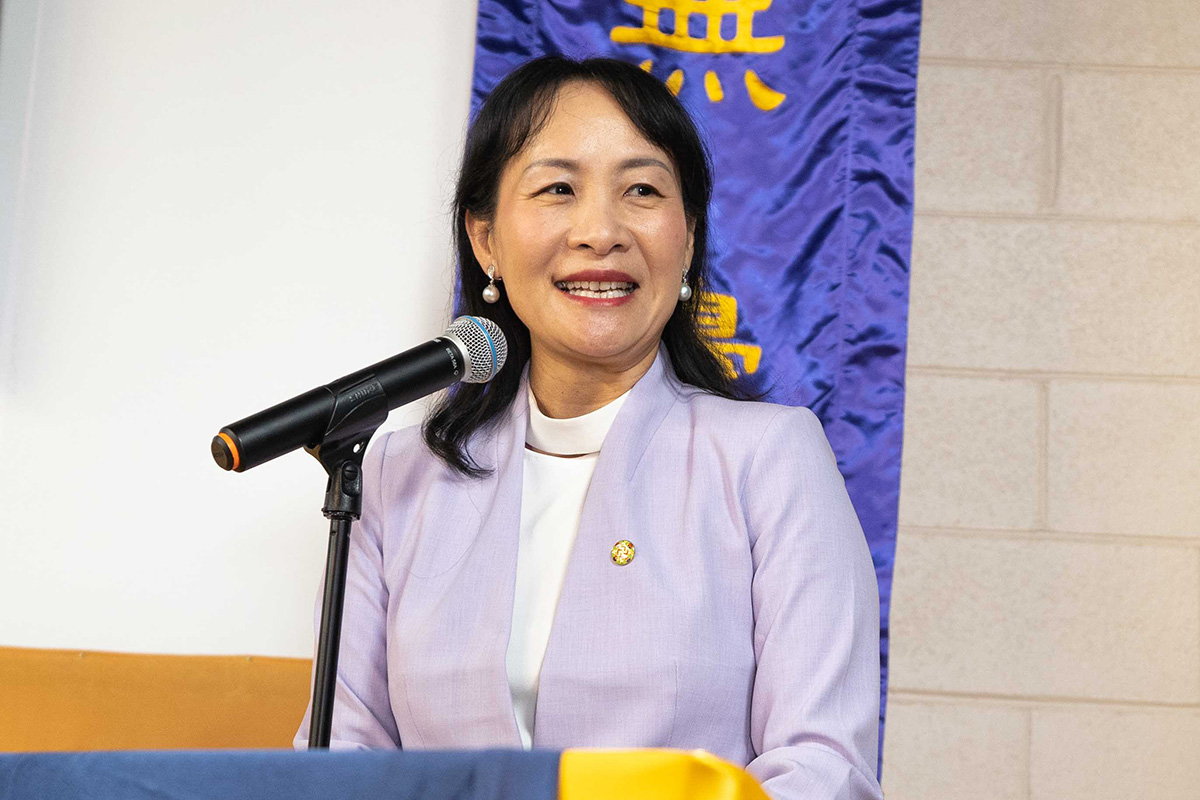 A snare drum player shares her understanding.
A practitioner who plays the snare drum said she learned the importance of learning professional skills. "Recently, we have invited some professional musicians to teach us how to play. This happens to all sections, with both music theories and instrument playing techniques," she said. Her understanding is that marching bands are common in the United States. She said, "To get the best results, the band members need to give high-quality performances. That way, the audience will be able to benefit more, both from our spirit and our musical skills."
As their technique improved, she noticed practitioners were also able to cooperate with each other better and better. "Sometimes, I feel the music other practitioners play is so touching that it moves me to tears," she added. 
Identifying Gaps
Ms. Cao moved from China to San Francisco in 2014 and plays the baritone. At first she had trouble reading music. She was very worried, but it did not help. When she played, it was a wrong note. "I was worried and did not know what to do. The band director gathered players like me who were having difficulty and invited music professionals to teach us," she explained. "My abilities gradually expanded and my skills improved."
"I am very fortunate to be a band member," she said. "This environment allows us to learn from others, identify our gaps, and improve ourselves."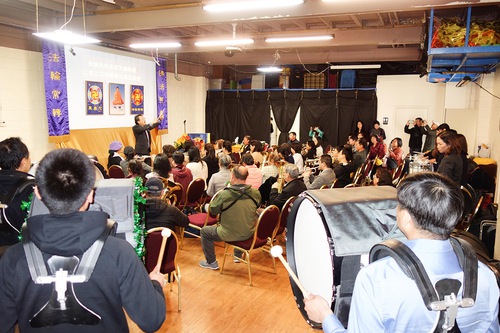 Band members wrapped up the conference with a performance. 
Views expressed in this article represent the author's own opinions or understandings. All content published on this website are copyrighted by Minghui.org. Minghui will produce compilations of its online content regularly and on special occasions.