Sichuan Woman Dies After Struggling with Decade-long Hallucinations Due to Drug Administration in Custody
(Minghui.org)
Chinese Name: 郑淑贤Gender: FemaleAge: 83City: ChengduProvince: SichuanOccupation: N/ADate of Death: January 18, 2021Date of Most Recent Arrest: November 28, 2011Most Recent Place of Detention: Xinjin Brainwashing Center
Ms. Zheng Shuxian credited Falun Gong for curing the severe numbness in her lower body as well as her debilitating whole-body pain. She refused to renounce Falun Gong after the Chinese communist regime ordered the persecution of this ancient spiritual and meditation discipline in 1999. Because of this, she was repeatedly arrested and tortured for her faith.
Following an arrest in November 2011, Ms. Zheng was held for 25 days at a brainwashing center where she was given toxic drugs that caused her to have a severe cough, itchiness and hallucinations. While most of the symptoms disappeared after she was released, she was still haunted with persistent hallucinations and always felt she was being followed and drugged.
The ongoing mental struggle took a toll on her health, already damaged from abuse in custody, and she passed away on January 18, 2021. She was 83.
Taking Up Falun Gong
Ms. Zheng, of Chengdu City, Sichuan Province, suffered many ailments before taking up Falun Gong in January 1999. Due to numbness in her legs, she was unable to bend them and always wet her pants when she used the restroom. The constant whole-body pain also left her in deep despair. Due to the physical suffering, her temper became very bad and her relationship with her family members was very intense, which further exacerbated her condition. 
After being introduced to Falun Gong, Ms. Zheng lived by Falun Gong's principles of Truthfulness, Compassion, Forbearance, and all of her pain disappeared without her noticing it. She was very grateful to Falun Gong for giving her a second life. 
Arrests in the Early Years of Persecution
After the persecution began in 1999, Ms. Zheng went to Beijing to appeal for the right to practice Falun Gong on June 20, 2000, and was arrested on Tiananmen Square on June 22. She was released the same evening and returned to Chengdu.
On June 29, she joined 17 other practitioners in doing the Falun Gong exercises at a public plaza and was arrested again. All 18 practitioners were forced to stand outdoors from 9 a.m. to 6 p.m. when the temperature was 38°C (100.4 °F), without being allowed to drink water, eat, or use the restroom. In the evening, she was taken to a detention center and held there for over 40 days.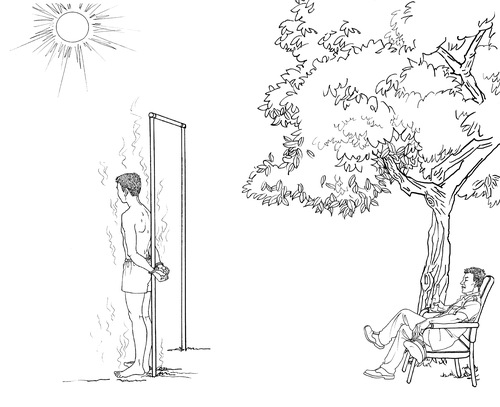 Torture illustration: standing under the baking sun
Ms. Zheng was arrested in September 2000 and detained for 15 days after being reported for distributing Falun Gong informational materials. 
Ms. Zheng's next arrest was on January 20, 2001, followed by one month of detention. For the first four days, the authorities didn't provide her with any food and she had to sleep on the cold concrete floor. When the police attempted to take her to the lockup a month later, the guards refused to accept her because her legs were severely swollen. 
Ms. Zheng was arrested another time on September 25, 2001 after being reported for distributing informational materials about Falun Gong. She was detained for two months at two different facilities. 
New Round of Persecution in 2011
The local village secretary occupied Ms. Zheng's home to host parties and meetings in March 2011, when she was staying at her son's place. He threatened her, "Don't walk around town. Don't invite them (Falun Gong practitioners) to come." He also got her children's phone numbers and instructed them to monitor her.
When Ms. Zheng returned from her son's place in April 2011, she was followed by a tricycle driver hired by the authorities. She clarified the facts about Falun Gong to him. He stopped following her afterwards. But soon after, another person started to follow her.
Ms. Zheng was having lunch at home on November 25, 2011, when a group of officials broke in and ordered her to sign a statement to renounce Falun Gong. She refused. They began to ransack her home and took away her Falun Gong books and lecture DVDs. 
She finished her lunch after the officials left, then immediately felt dizzy and collapsed. She vomited and was foaming at the mouth. The four chickens she'd raised picked up some of the food she'd vomited and also foamed at the mouth and didn't eat for a few days. She suspected that someone in the group had put toxic drugs into her food when she wasn't looking.
Drug Administration at Xinjin Brainwashing Center
Three days later, Ms. Zheng was cooking at home when four officers showed up and took her to the Xinjin Brainwashing Center, officially known as the "Chengdu Legal Education Center." Her remaining Falun Gong books and exercise music tapes were taken away. She was found to have femoral head necrosis during the physical examination, but the brainwashing center still accepted her. 
Two persons were assigned to monitor Ms. Zheng around the clock at the brainwashing center. She was forced to watch brainwashing videos every day and was ordered to write statements to renounce Falun Gong. 
Starting on the second day, she began to feel chilled after having meals. After noticing this, she only ate a portion of each meal, but still felt cold afterwards. The symptoms lasted about two weeks. After that, she began to cough and sometimes coughed up blood. At night, she could also hear coughing by the male Falun Gong practitioners detained upstairs. She suspected that the guards were putting toxic drugs in their meals too.
Ms. Zheng received new underwear at the brainwashing center, but the guard didn't charge her for anything and said it was a gift from the government. As soon as she wore it, she felt extremely itchy and had welts on her lower body. She stopped wearing it and the symptoms disappeared a few days later.
On December 22, her last day at the brainwashing center, she felt as if countless insects were crawling inside her body after eating some steamed meat. Having already lost a significant amount of weight after 25 days of abuse, she was extremely dizzy and weak. 
Upon returning home, Ms. Zheng suffered from hallucinations. She always felt as if she was being followed and monitored or there were people putting toxic drugs in her kitchen or into her well. Even the light coming down from her roof would make her feel that it was the toxic drugs falling down. For a long time, she didn't dare to cook at home and ate at her relative's place. But the hallucinations still haunted her. She also tried to get her food from random street vendors and even moved out of her own place, but none of this helped her distress. 
After struggling with the mental torment for a decade, Ms. Zheng passed away on January 18, 2021.
Related reports:
Seventy-three-year-old Ms. Zheng Shuxian Poisoned in a Sichuan Brainwashing Center
Elderly Practitioner from Sichuan Province Seized and Taken to a Brainwashing Center for Practicing Falun Gong
Views expressed in this article represent the author's own opinions or understandings. All content published on this website are copyrighted by Minghui.org. Minghui will produce compilations of its online content regularly and on special occasions.