77-year-old Woman Suffering High Blood Pressure in Prison, Denied Family Visits
(Minghui.org) A 77-year-old woman imprisoned for her faith in Falun Gong has been suffering high blood pressure and denied family visits. It's not clear whether the prison authorities have provided medical treatment to Ms. Xu Zhenying. 
Ms. Xu, of Shenyang City, Liaoning Province, was reported in February 2020 by a supermarket cashier for using banknotes bearing information about Falun Gong, a spiritual discipline that has been persecuted by the Chinese communist regime since 1999.
Due to strict information censorship in China, Falun Gong practitioners are using creative ways to spread information about the persecution of their faith, including printing messages on banknotes.
The police arrested Ms. Xu on February 17, 2020, but had to release her two days later, as the local lockup refused to accept her during the pandemic. After Ms. Xu was indicted, she was summoned to the Huanggu District Court in August 2020 to answer some questions. To avoid being sentenced, she went into hiding, only to be arrested again on February 26, 2021, while visiting another practitioner Ms. Jiang Shumei. 
Ms. Xu was tried by the Huanggu District Court on May 20, 2021 and later sentenced to two years. She appealed with the Shenyang City Intermediate Court in June, which ruled to uphold her original verdict. She was taken to the Liaoning Province Women's Prison in December 2021. 
Because Ms. Xu refused to renounce Falun Gong in the prison, the guards forced her to watch materials demonizing Falun Gong. The abuses and mental pressure caused her blood pressure to spike, yet the prison prohibited her family from visiting or calling her, citing the pandemic as an excuse.
Past Persecution
Ms. Xu took up Falun Gong in early 1998. She credits the practice for curing her farsightedness, heart condition, rheumatism and neck problem. She changed from a short-tempered person to someone who is caring and forgiving. 
Only a year later, the persecution started. Ms. Xu was repeatedly arrested and detained. Her son was also implicated and lost his job in early 2000. He was also subjected to various forms of torture in detention, including electric shocks, force feeding and beating.
Ms. Xu was arrested four times in 2000, resulting in two brief detentions at a brainwashing center in January and August, as well as 18 and 15 days of detention in March and April. Her home was ransacked and her computer and Falun Gong books were confiscated during her March arrest.
Ms. Xu was arrested again in March 2001. After ten days of brainwashing and paying 1,000 yuan as "tuition," she was taken to the Longshan Forced Labor Camp to serve a one-year term.
She was given another two years of forced labor following an arrest on June 19, 2003. Her computer and Falun Gong books were also confiscated. 
While she was serving time, she was subjected to constant brainwashing that included high decibel audio all day long, sleep deprivation and frequent searches of her bed for Falun Gong related materials. The guards often denied her use of the restroom and forced her to work long hours without pay. When she wasn't working, she was forced to stand (sometimes outdoors during the freezing winter), squat, or sit on a small stool without moving for long hours. The food she was given was moldy steamed buns.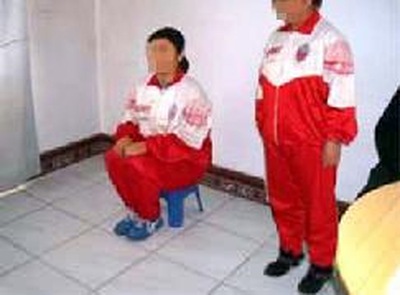 Torture reenactment: sitting on a small stool
Ms. Xu's home was ransacked again and she was detained for five days following her arrest in July 2009. 
In recent years, the authorities continued to harass her from time to time and monitor her daily activities. 
Related reports:
76-year-old Woman Sentenced to Two Years for Practicing Falun Gong
Two Liaoning Women Detained Incommunicado for Over Two Months
Views expressed in this article represent the author's own opinions or understandings. All content published on this website are copyrighted by Minghui.org. Minghui will produce compilations of its online content regularly and on special occasions.