Wife and Husband Die One Year Apart in the Persecution of Their Shared Faith
(Minghui.org)
Chinese Name: 管凤霞Gender: FemaleAge: 60City: DaqingProvince: HeilongjiangOccupation: N/ADate of Death: March 5, 2021Date of Most Recent Arrest: December 28, 2000Most Recent Place of Detention: Shuanghe Women's Forced Labor Camp
Chinese Name: 代志东Gender: MaleAge: 60City: DaqingProvince: HeilongjiangOccupation: N/ADate of Death: February 11, 2022Date of Most Recent Arrest: January 8, 2022Most Recent Place of Detention: Lindain County Police Department
Less than one year after Ms. Guan Fengxia passed away due to years of harassment for practicing Falun Gong, her husband, Mr. Dai Zhidong, also died, one month following his last arrest for his shared faith.
Falun Gong, also known as Falun Dafa, is a spiritual discipline that has been persecuted by the Chinese communist regime since 1999.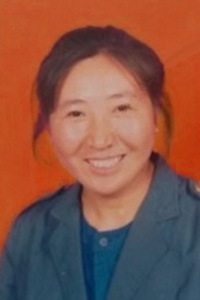 Ms. Guan Fengxia
Ms. Guan, of Daqing City, Heilongjiang Province, took up Falun Gong in 1995. After witnessing how she changed into a much better person, Mr. Dai also began to practice Falun Gong a year later and was delighted to see many of his ailments disappear without medical treatment.
Mr. Dai said, "Practicing Falun Gong not only freed me from the suffering of ailments, but also saved my soul. I now understand how to be a good person."
Their happy life didn't last long. In July 1999, Jiang Zemin, former head of the Chinese Communist Party, ordered the eradication of Falun Gong in China, due to its immense popularity. Since then, the couple were subjected to constant arrests, harassment, and detention, which eventually claimed both of their lives.
Persecution of Ms. Guan
Ms. Guan used to work at the ticketing box for Sartu Railway Station. Because she didn't give up Falun Gong, she was arrested twice and held in two brainwashing sessions between September 1999 and 2000. She was monitored around the clock and forced to watch propaganda videos slandering Falun Gong.
After her release, she was moved away from her regular job and ordered to do cleaning. She wasn't allowed to go home for five months, and stayed at the train station. At the same time, Mr. Dai was also detained, leaving their 12-year-old son fending for himself.
After the couple were released, they went to Beijing with their son on June 18, 2000 to appeal for the right to practice Falun Gong, only to be arrested on the train near Beijing. The authorities took them back to Daqing on June 21 and detained Ms. Guan for 45 days.
Ms. Guan wasn't allowed to go home again between August and December 2000, and was forced to live in the train station. Her family later paid the authorities 2,000 yuan in order to get her home.
Days later, on December 28, she set off for Beijing one more time and was arrested again. This time, she was given a two-year term at the Shuanghe Women's Forced Labor Camp in Qiqihar.
The labor camp guards often ordered her to renounce Falun Gong, beat her, and humiliated her. She wasn't allowed to sleep, and was forced to watch videos that demonized Falun Gong. She was often held in solitary confinement, and sometimes the guards put unknown drugs into her food and water.
In addition to the physical torture, she was also forced to package pesticide without pay. Without proper protection, she often breathed the powder, which caused severe coughing.
When she returned home two years later, she was devastated to learn that Mr. Dai had been sentenced to seven years in Daqing Prison. She struggled to care for their son by herself.
Although Ms. Guan wasn't arrested again, the authorities constantly came back to harass her and ordered her to renounce Falun Gong. The ongoing persecution took a toll on her health. She developed uterine fibroids and had irregular bleeding. She was unable to eat and became emaciated. She passed away on March 5, 2021. She was 60 years old.
Persecution of Mr. Dai
Mr. Dai, a former submersible pump company employee under the Daqing Petroleum Administration, was first extorted of 3,000 yuan and closely monitored in December 1999, when his supervisor at work found out that he planned to go to Beijing to appeal for Falun Gong.
Mr. Dai was arrested in April 2000 after being deceived into going to the police station, and was detained for 30 days. He was also closely monitored when he returned to work.
The police arrested him one more time days later on May 12 and detained him for 15 days.
He and Ms. Guan went to Beijing to appeal for Falun Gong on June 18 and were arrested by train security personnel when the train was about to enter Beijing. He was detained for 75 days after being taken back to Daqing and forced to pay 500 yuan for the food, plus another 4,000 yuan to the 610 Office, an extralegal agency created specifically to persecute Falun Gong.
His workplace put him on suspension for a year and gave him 100 yuan each month. His supervisor decided to fire him five months later, in November.
Mr. Dai was arrested one more time in December 2000. He escaped from the police station and was forced to live away from home. Weeks later, his workplace informed him to pick up a lump sum payout of 70,000 yuan. His supervisor refused to let his family pick up the money for him, but insisted on him getting it himself. Fearing being arrested, Mr. Dai gave up on the money.
Mr. Dai was arrested while looking for a job in nearby Harbin City, on January 2, 2001, and held at the Taiping District Detention Center for 18 days. The police extorted 2,000 yuan from him and the detention center ordered him to pay 300 yuan to cover his food.
After he was taken back to Daqing, the police handcuffed him behind his back and interrogated him for seven hours. He refused to answer their questions and escaped again.
After over a year of displacement, Mr. Dai was arrested at a practitioner's home on April 22, 2002. The police force-fed him spicy water and held him at the Daqing City Detention Center. He held a hunger strike to protest the persecution for 64 days and was force-fed.
He vomited blood after the nurse ruptured his esophagus with the feeding tube. When his family visited him at the hospital, he was handcuffed to a chair. His mouth was covered with blood, his face was sallow, and his nose was bruised. As his family couldn't afford to pay the medical expense, the police took him back to the detention center.
Mr. Dai was indicted by the Ranghulu District Procuratorate on July 4, 2002. He was tried by the Ranghulu District Court on August 15, 2002 and sentenced to seven years in Daqing Prison on September 6.
Because he refused to renounce Falun Gong, wear the inmate uniform, or do the unpaid labor, the guards and inmates constantly beat him, poured cold water on him, and subjected him to low temperatures. Inmate Yang Youlong extorted him by forcing him to buy daily necessities for him, between 100 and 200 yuan each time.
Twelve inmates took turns monitoring Mr. Dai around the clock. He was only allowed to sleep between 2 a.m. to 4 a.m. and ordered to sit on a small stool without moving for long hours.
In January 2003, he was deprived of sleep for three days. The guards stripped his clothes, held him to the floor, and poured cold water on the floor. They also opened the window to let the freezing winter air blow on him. He was unable to get up after the torture.
The guards deprived him of sleep again in 2005.
In March 2006, the inmates beat him until he lost consciousness. They beat him again on May 19 and forced him to wear the inmate's uniform. Mr. Dai took off the uniform and threw it on the ground. The guards threatened to beat him.
Mr. Dai had severe stomach pains in mid-August and was unable to get out of bed. Seeing that he wasn't wearing the inmate's uniform, the guard beat him, took off his clothes, and forcibly put the uniform on him.
Due to frequent beatings and face slappings between March and May 2007, Mr. Dai suffered pain in his ears for half a year. He also had severe hearing loss. The beatings once left him unable to move freely for two weeks.
He was beaten again on August 4, 2007 for refusing to wear the inmate's uniform. The guards ordered two inmates to knock him down to the ground and drag him by his feet for over 100 meters. His sweater was torn and the skin on his back was injured.
A similar episode happened another time, on August 24. The guards stripped off his clothes and forcibly put the inmate's uniform on him. His eyes were bruised from the beating and he had trouble walking afterwards.
Mr. Dai lost consciousness from a beating on May 20, 2008, for doing the Falun Gong exercises. His head was swollen and his eyes bruised again.
After surviving seven hellish years of torture and abuses, Mr. Dai was released on April 21, 2009, only to be harassed on a regular basis. Without a job, he contacted his former workplace and requested to resume working there. His supervisor threatened that he must sign a statement promising not to practice Falun Gong again. Refusing to compromise, Mr. Dai had to do odd jobs to make ends meet.
The harassment intensified in the past two years in the "Zero-out" campaign, as the authorities targeted every practitioner on their list and attempted to force them to renounce Falun Gong.
Mr. Dai's last arrest was on January 8, 2022, after he and another practitioner were reported for giving out a pamphlet with information about Falun Gong at a gas station. The police ransacked his home and charged him a 10,000 yuan bond, before releasing him on bail.
Mr. Dai was under tremendous pressure with the newest round of financial persecution, as he was still struggling to pay off Ms. Guan's medical bill. With the police confiscating his only 5,000 yuan cash in savings, and his son paying the 10,000 yuan bond for him, he worried when he would be able to pay off all the debts. Meanwhile, the police threatened him not to report the persecution to the Minghui.org website. The mental pressure took a toll on his health and he passed away on February 11, 2022. He was 60 years old.
Related report:
Delivery Worker Dies 35 Days Following Arrest for Giving Out a Falun Gong Pamphlet
Views expressed in this article represent the author's own opinions or understandings. All content published on this website are copyrighted by Minghui.org. Minghui will produce compilations of its online content regularly and on special occasions.