Torrential Rains in Eastern Australia Kill at Least 23
(Minghui.org) Heavy rainfall in Queensland and New South Wales, Australia, has led to the deaths of at least 23 people since the end of February 2022. Due to the recent cold snap and unrelenting rainfall, Taiwan's farmers have suffered significant losses.
Torrential Rains in Eastern Australia Kill at Least 23
Heavy rains have fallen in Queensland and New South Wales (NSW), Australia, since the end of February 2022, and at least 23 people have died due to floods.
The unpredictable storm front moved slowly south from Queensland to NSW along the eastern coast, causing significant damage as rivers overflowed their banks and reservoirs burst. Roofs in suburban areas were underwater.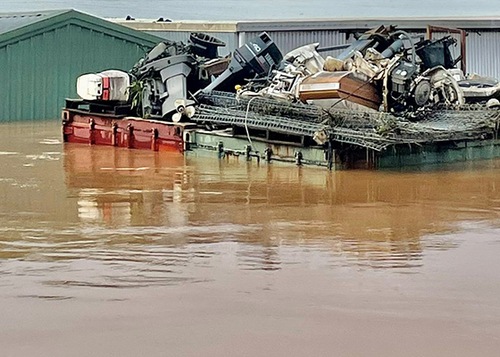 Houses flooded after torrential rains in Queensland and New South Wales, Australia, in late February. (web image)
Due to the "once in a thousand years" rainfall, overflowing rivers in many parts of Queensland flooded nearby roads and houses. Many vehicles were inundated. The flooding forced the closure of nearly a thousand schools in the state. At least ten people have died in Queensland so far.
Floodwaters also inundated Brisbane, the capital of Queensland and Australia's third-largest city. Queensland Premier Annastacia Palaszczuk noted on February 28 that some parts of the tropical state where she lives had recorded a year's worth of rain in just a few days.
On March 3, the NSW government ordered the evacuation of 200,000 people from the path of a severe storm that also caused unprecedented flooding along Australia's east coast. Thirteen people were killed in the state over the past week. Sydney, Australia's capital and largest city, was spared.
Authorities in NSW issued a "heavy rain and strong wind" warning for 400km of coastal areas, including the Sydney suburbs, as water levels rose rapidly. The storm weakened on March 4.
Taiwan's February Cold Snap and Continued Rainfall Ruin Crops, Damage Fisheries
The Central News Agency of Taiwan reported on March 4, 2022, that, according to statistics from the Taiwan Council of Agriculture, losses of agricultural products caused by the cold snap and excessive rainfall in February amounted to NT$294.23 million (over US$10 million), with Pingtung County suffering the greatest loss (NT$106.75 million or 36%), followed by Taichung City (NT$68.11 million or 23%), and Miaoli County (NT$38.28 million or 13%).
Over 3,120 hectares (about 7,700 acres) of cropland were affected, with 27% (841 hectares) totally destroyed. In the area where Gaojie Pears are grown, 1,081 hectares were damaged, with 31% (340 hectares) producing no harvest. The mangoes and strawberries were also severely affected.
In addition, the loss of fishery products exceeded NT$31.66 million. The damaged fishery products were mainly cobia, also known as black salmon.
It was also reported that on February 19, 2022, the temperatures in Taiwan fell to their coldest this winter. The temperature in 20 counties and cities in Taiwan plummeted. In the two days after the cold snap that began on the morning of February 21, 82 people died, many, it is suspected, due to the sudden drop in temperature.
Views expressed in this article represent the author's own opinions or understandings. All content published on this website are copyrighted by Minghui.org. Minghui will produce compilations of its online content regularly and on special occasions.