Jilin Woman Recounts Brutal Torture in Changchun No. 4 Detention Center
(Minghui.org) Ms. Yang Li, of Changchun City, Jilin Province, was arrested at home on December 16, 2020 for practicing Falun Gong. She was sentenced to one year and fined 5,000 yuan by the Chaoyang District Court in October 2021. She recounted the torture she suffered at Changchun No. 4 Detention Center after she was released on December 16, 2021.
Falun Gong, also known as Falun Dafa, is a spiritual discipline that has been persecuted by the Chinese communist regime since 1999.
***
Beatings
I was assigned to Room 303 at the detention center. Around January 15, 2021, because I refused to wear the inmates' uniform or do the roll call, guard Yu Tianhong forced me to stand in the yard. He and others beat me when I refused to comply.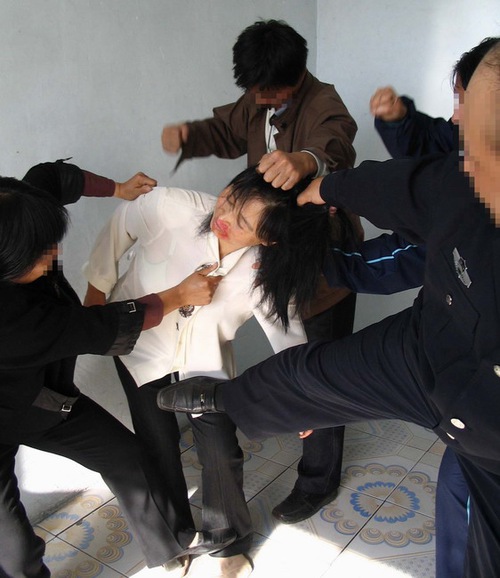 Torture Reenactment: Beating
One early morning at 4:30, the inmates ordered me to get up. They threatened to make everyone in the cell get up and stand together if I did not obey. I got up and tried to do the Falun Gong exercises. They held my arms and stopped me. 
Close Monitoring and Corporal Punishment
I was transferred to Room 103 on January 18. One week later, guard supervisor Cui Yue took me to her office and ordered me to wear the inmates' uniform and not do the Falun Gong exercises. I refused to comply. She was very angry and threatened to torture me. She even showed me pictures of other practitioners being tortured. I advised her not to torture Falun Gong practitioners. I also argued that I didn't violate any law and refused to follow the rules of the detention center.
In the end, Cui Yue told everyone in the ward that I was their common enemy and they should know how to treat me. Two inmates-in-charge then followed the instruction and arranged about 20 inmates to closely watch me. They formed into five teams, four persons per team, and each team changed shift every hour.
The inmates did not allow anyone to talk with me. They forced me to stand from 6:20 a.m. to 9:20 p.m. every day, including meal times. They kicked me in the knees when I refused to follow the order. 
The inmates also kept me awake at night. They elbowed my body and pulled off my quilt when I fell asleep. They even pulled me off the bed and forced me to stand.
Insulting
Guard Cui Yue called me to the window one day at the end of January. One inmate suddenly held me from behind and others striped off my clothes. Cui gloated, saying "Don't you refuse to wear the uniform? I'll ask them to help you." She ordered the inmates to put a half-sleeve summer uniform on me.
Two days later, Cui called me to the window again and ordered inmates to handcuff me to the window railings. She also ordered inmate Hu Rong to cut my nails, which resulted in my fingers bleeding.
Freezing
Cui ordered two inmates to give me a cold shower. Inmate Pan Yunfeng poured cold water on my head.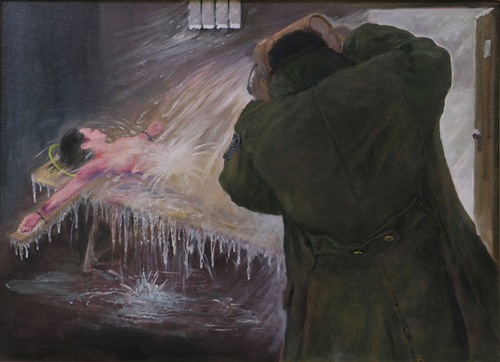 Torture illustration: pouring cold water
There was no heat in my room. While everyone wore down jackets, I was only allowed to wear a half-sleeve uniform and a pair of trousers in the cold winter. They kept the window open, claiming it was for good ventilation. Only after every one in the cell caught a cold, did the guard close the window. 
They provided me with a bed sheet at night, not a comforter like others had. Falun Gong practitioner Ms. Zhao Shuyu implored guard Cui Yue to give me a comforter and was scolded. She gave me hers. She was transferred to another ward the next day. My own clothes were not returned until after a new ward guard replaced Cui in April.
Ration Goods Seized
I was not allowed to purchase food and daily necessities. I had to use up my ration items. They also threw away all the goods I bought before. 
I was emaciated. The person assigned to deliver the food to me every day always gave me less rice than other inmates, and sometimes missed my meals. Falun Gong practitioner Cui Ying once gave me a bowl of vegetable soup and a bag of pickles. The guards retaliated by not allowing her to buy food and her account and purchase card were frozen. She was also forced to stand for long hours every day for one month and write a thought report. Everyone in the ward was also threatened not to help me or provide me with any food.
The detention center gave every prisoner one piece of fruit a week and one egg on every Tuesday, Thursday, and Saturday. But my allotment was kept and eaten by the inmates.
Virtual Court Hearing
I was informed to be undergoing a virtual trial held by Zhaoyang District Court at the detention center on July 20. More than one dozen fellow practitioners were scheduled to be tried altogether. The trial lasted only two or three minutes. My lawyer was informed on October 12 that I was sentenced to one year.
While waiting for the hearing, I saw a fellow practitioner Ms. Yu Aiji who had been in the same room with me. She had a wound on her arm. She said that she was restrained with a tight belt for 15 days and prison guard Cui Yue was the perpetrator. She was moved to another room afterward. Her account and purchasing card were also frozen because she refused to wear the prison uniform. 
Tortured in the Hospital
In the evening on July 24, I suddenly had dizziness, nausea, and had tightness in my chest. The prison guard on duty called the doctor and then took me to Changchun Central Hospital for emergency treatment. In the ambulance, I requested the guards to notify my family, but they refused, claiming that they had no authority to do so. 
At the emergency center, the doctor took my blood samples, body temperature, and performed a computed tomography (CT) scan on me. The guards again ignored my request to notify my family. They took me to the sixth floor in the hospital about midnight. At around 2:30 a.m. on July 25, they tried to inject fluid into my body. When I resisted, they tied my hands and legs to the bed.
The entire sixth floor has ten rooms, nine for male and one for female. It's all the patients transferred from various detention centers in Changchun. The female room had nine beds. Besides me, five practitioners including my mother-in-law (Zhao Shanying) were also detained in this room. Upon learning that my mother-in-law was also there, the guards took her back to the detention center during the day.
In the evening of July 25, I refused to wear shackles. A female guard called in a male guard and they forcibly handcuffed my hands, shackled my legs, and tied me to the bed.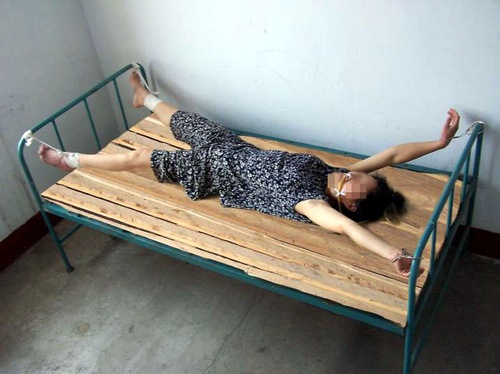 Torture Reenactment: Tie-up in Bed
On the morning of July 26, I was still tied in bed. Three nurses came to draw my blood. When I resisted, three guards held down my shoulders, arms, and knees. I could not do anything but shouted "Falun Dafa is good" in protest. All Falun Gong practitioners in the same room cried.
On July 27, I was informed that I failed the blood coagulation index and one more blood sample was needed. In the next few days, doctors kept asking me whether I could cooperate with them to take more examinations, wear a 24-hour heart monitor, and take medicines. I didn't agree. I wanted to know if I had any health problem, but the doctors did not answer me. 
On July 30, I was finally allowed to meet my lawyer. I told him everything that had happened and asked him to tell my family to get me out sooner.
I was handcuffed and shackled in bed for 17 days straight. I could not even leave the bed when eating or relieving myself. Practitioner Ms. Liu Shulan often helped me to clean my body. During this period, no doctor ever came again to check on my status except one nurse, who showed up at the window to deliver the medicine to me. When I was finally allowed to go to the restroom, I noticed that I could hardly walk and I also experienced tightness in my chest.
On the Verge of Death
On August 1, a guard came and took me back to Room 302 at the detention center. I suddenly had a chest pain, breathing difficulty, and stiff limbs. The doctor at the detention center poked my ten fingers, saying that they were releasing some blood from me to relieve pressure in the heart. I was so weak and could not move. They then arranged four inmates to watch over me. 
I lied on the bunk bed until September 13. I could not move. Even if I moved a little, my face and lips turned extremely pale. During this period, an inmate was assigned to help me when I had to go to the restroom. 
I still needed someone to take care of me after I was taken back to Room 103 on September 13. 
On October 25, my heart suddenly hurt again and my blood pressure and heartbeat also shot up. The doctor only gave me an aspirin to relieve the pain. 
I learned from the doctor that I was diagnosed with severe second stage pericardial effusion at the Changchun Central Hospital. It was so severe that they couldn't operate on me. The detention center did not have my medical records from the hospital. My family made a request to the hospital, but the doctor refused to provide a copy to them.
Family Beaten for Trying to Take Me Home
I was scheduled to be released from the detention center on December 16. Four officers from Hongqijie Police Station showed up in the morning and carried me into a police car. As the police car was leaving the detention center, I saw my husband standing at the gate. I called out to him loudly.
My husband chased the police car and tried to block it at an intersection. He was dragged to the ground and kicked. My brother and my sister also tried to open the car doors to rescue me. They were pulled to the street curb and beaten. The police car then left.
On the way to the police station, the officers kept scolding me. I had chest pain again and could not breathe. When I told them that I was about to throw up, they threatened to severely torture me if I vomited in the car. "Why didn't the detention center torture you to death?" they said to me.
The officers carried me off the police car and put me inside a cage on the ground in the police station. I had trouble breathing again and my fingers were stiff. After a while, an officer asked me to sign a piece of blank paper, but I was too weak to do it.
In the end, the officers said that they were just going through the procedures to return the items that were seized. I had my family videotape the items on the spot and sign the form for me. At 11:30 a.m., my family finally helped me walk out of the police station.
Related reports:
Woman Seized by Police at the End of Her Wrongful Prison Term, Her Family Beaten on the Street for Trying to Rescue Her
Mother-in-law and Daughter-in-law Arrested Weeks Apart for Their Shared Faith
Views expressed in this article represent the author's own opinions or understandings. All content published on this website are copyrighted by Minghui.org. Minghui will produce compilations of its online content regularly and on special occasions.