Injected with Toxic Drugs in Labor Camp, Hunan Woman Dies After Struggling with Mental Disorder for Two Decades
(Minghui.org)
Chinese Name: 彭淑纯Gender: FemaleAge: 80City: YueyangProvince: HunanOccupation: N/ADate of Death: February 6, 2022Date of Most Recent Arrest: April 2000Most Recent Place of Detention: Baimalong Forced Labor Camp
Ms. Peng Shuchun lost her memory after being released from serving a one-year labor camp term for practicing Falun Gong. She never talked to people after that experience. Wherever she stood, she stood in the position that she was forced to stand in while in the labor camp. After struggling with a severe mental disorder for twenty years, she passed away on February 6, 2022. She was 80.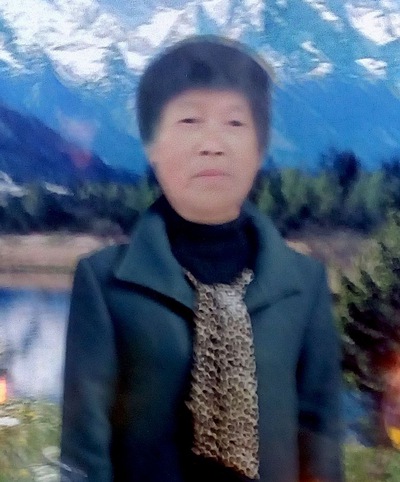 Ms. Peng Shuchun
Ms. Peng, of Yueyang City, Hunan Province, began to practice Falun Gong, an ancient spiritual and meditation discipline also known as Falun Dafa, in April 1999. She credited the practice for curing many of her ailments and enabling her to become a more considerate person. 
Only three months after she took up the practice, the Chinese communist regime ordered a nationwide persecution aimed to eradicate Falun Gong from China. Ms. Peng felt compelled to raise awareness about the persecution and debunk the defaming propaganda put out by the communist regime. She often put up informational materials about Falun Gong in her spare time. 
She was arrested in April 2000 by officers from the Junshan District Domestic Security Office and Qianlianghu Town Police Station for putting up eight posters with the words "Falun Dafa is good." The police gave her one year at Baimalong Women's Forced Labor Camp without any due process. 
Ms. Peng was subjected to constant brainwashing for holding fast to her faith. She held a hunger a strike for 18 days and was force-fed and injected with toxic drugs. 
When she was released in April 2001, Ms. Peng suffered severe dementia. She didn't know when to eat, drink or relieve herself. She'd completely lost her memory and never talked to people, which made it impossible for her family to know what exactly had happened to her in the labor camp. Although she recovered and regained some ability to take care of herself in 2008, Ms. Peng was never the same person she used to be. She also always stood in the position that she was forced to stand in at the labor camp, no matter when, or where she was.
The Baimalong Women's Forced Labor Camp
The Baimalong Women's Forced Labor Camp in Hunan Province was one of the labor camps where Falun Gong practitioners were severely abused. Many Falun Gong practitioners who did not renounce their faith were directly handed over to the doctors in the labor camp's infirmary. They were forcibly injected with large amounts of Thorazine, a psychotropic drug and a strong tranquilizer used in treating psychiatric patients. As a result of the injection, hundreds of practitioners lost their memory and awareness. Some experienced general numbness, some suffered a mental collapse after the injection, and some died.
All practitioners newly admitted to the labor camp were held in complete isolation and monitored by four or five inmates around the clock. They were forced to watch propaganda videos smearing Falun Gong and were forbidden from doing the Falun Gong exercises or studying the teachings of Falun Gong. When practitioners still refused to renounce Falun Gong after the initial round of brainwashing, the guards and inmates would escalate the persecution by beating them, depriving them of sleep and forcing them to ingest toxic drugs.
Views expressed in this article represent the author's own opinions or understandings. All content published on this website are copyrighted by Minghui.org. Minghui will produce compilations of its online content regularly and on special occasions.