Man Tortured in Prison for Refusing to Do Forced Labor
(Minghui.org) A Weifang City, Shandong Province resident serving four years for his faith in Falun Gong was put on a two-month-long "strict control" in Shandong No. 4 Prison starting on January 7, 2022. Mr. Zhang Chao was tied to a death bed for the first 15 days and was expected to attend brainwashing class for the rest of the time. The prison punished him with "strict control" because he refused to do forced labor.
Mr. Zhang, 50, took up Falun Gong, a mind-body discipline, in 1995. After the Chinese communist regime launched the persecution against the practice in 1999, Mr. Zhang was arrested several times and his home was ransacked. His latest arrest happened after he tried to stop the police from ransacking the home of his mother, also a Falun Gong practitioner.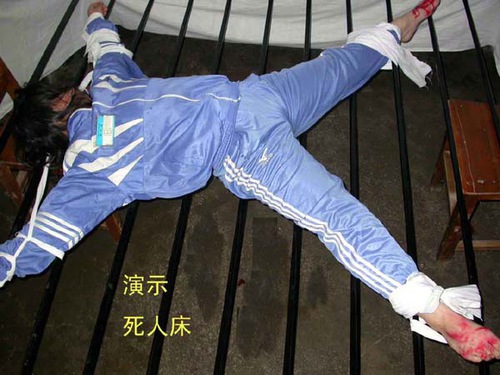 Torture re-enactment: Tied to "death bed"
The Arrest
On October 31, 2019, Mr. Zhang's mother, Ms. Wang Zhen, was reported for talking to people about Falun Gong in front of a hospital and was arrested. The police went to Ms. Wang's home at around 3 p.m. to search it. It happened that her two sons, including Mr. Zhang, were visiting her. After seeing the police, the brothers attempted to stop them from raiding the home and urged them not to participate in the persecution.
The officers then called for armed police, who soon came in three police cars. Mr. Zhang's brother was arrested right away. Although Mr. Zhang escaped, he was arrested two days later, on November 2, 2019. The brothers were held at Weifang City Detention Center while Ms. Wang was released on bail on the evening of October 31 due to a health condition.
The Kuiwen District Procuratorate approved Mr. Zhang's arrest on December 6, 2019. He was charged with "endangering public security and disrupting public service with dangerous actions." 
Gu Zhiyong, of the Domestic Security Division, and Cao Junyong, of the Kuiwen Police Department, were rewarded for their handling of Mr. Zhang's case.
Sentencing
On May 21, 2019, the procuratorate called Mr. Zhang and tried to force him to plead guilty. He refused.
Mr. Zhang's family received a notice on June 24, 2019, asking them to tell his lawyer to go to the court on June 29. However, the lawyer didn't go, as the detention center refused to let him visit Mr. Zhang and the case handling process was unclear. The lawyer explained that he would consider attending the court hearing only after he has been allowed to visit Mr. Zhang.
Kuiwen District Court held two virtual hearings, on July 28, 2019 and August 21, 2020, respectively. Mr. Zhang was sentenced to four years at a third hearing on September 28, 2020. His brother, who does not practice Falun Gong, was given six months with a one-year probation.
The court gave Mr. Zhang ten days, including holidays and weekends, to appeal the verdict. The appeal window covered the eight-day national holiday break (October 1-8), which included the Mid-Autumn Festival and the anniversary of the communist regime's founding, both of which fell on October 1. Mr. Zhang's family suspected that the court deliberately sentenced him on September 28 in attempt to prevent him from appealing the case. It was reported that the authorities also asked Mr. Zhang's brother to try to persuade him to give up appealing the verdict because there would be little chance of success.
In mid April 2021, Mr. Zhang was taken to Zibo Prison. Since December 8, 2021, he has refused to do forced labor in the prison.
Mr. Zhang's family received a call from the prison on December 14, asking them to persuade Mr. Zhang to cooperate or he would be put on strict control. A video call was also arranged for the family to persuade Mr. Zhang.
When the family called the prison on December 20, no one picked up the phone.
The guards called Mr. Zhang's family on January 4, 2022 and informed them that Mr. Zhang would be put on strict control starting on January 7.
Mr. Zhang's family was supposed to visit him on January 12, 2022 but their visitation date was postponed to January 26. The prison later cancelled the visit and didn't pick up the phone when the family called.
Related report:Two Brothers Sentenced for Preventing Police from Ransacking Mother's Home
Views expressed in this article represent the author's own opinions or understandings. All content published on this website are copyrighted by Minghui.org. Minghui will produce compilations of its online content regularly and on special occasions.