Reported in 2021: Nearly 2,000 Elderly Falun Gong Practitioners Targeted for Their Faith
(Minghui.org) Since the Chinese Communist Party began to persecute Falun Gong, an ancient spiritual discipline, in 1999, countless practitioners have been harassed, arrested, detained, imprisoned, and tortured.
In 2021, 58 Falun Gong practitioners age 60 or older were confirmed to have died as a result of the persecution, 278 were sentenced to prison, 1,318 were arrested and harassed, 142 had their pensions withheld, 55 had their blood drawn against their will, and 13 were forced to leave their homes to avoid further harassment. These incidents, which took place either in 2021 or earlier, were scattered across 30 provinces, autonomous regions, and municipalities.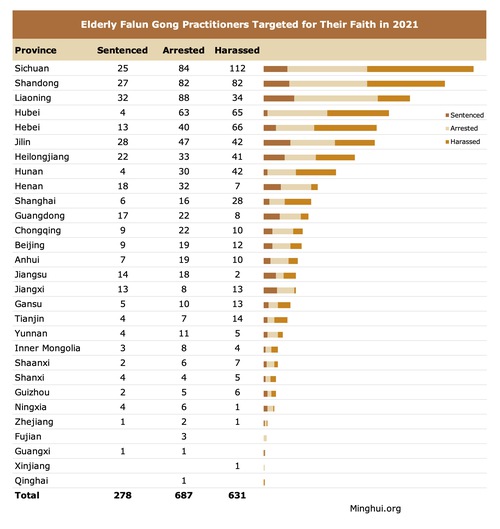 58 Died as a Result of the Persecution
Fifty-eight practitioners were confirmed in 2021 to have died as a result of the persecution. They were 60 or older at the time of their deaths, which took place in 2021 or earlier. Among them, 11 died while in custody, including 3 in detention centers and 8 in prisons.
Below are select death cases.
Sentenced to Four Years Right After Serving Three Years, 80-year-old Man Dies in Prison
When Mr. Li Xiyong's family went to the prison to pick him up on April 9, 2021, they were devastated to learn that the 80-year-old man, who had just finished serving three years, was taken to Dalian City No. 3 Prison. The Dalian City, Liaoning Province, resident was soon sentenced to another four years to prison.
While incarcerated, Mr. Liu developed diabetes and other health issues. The authorities handcuffed and shackled him to the hospital bed while he was treated. He passed away in the hospital on December 29. The prison authorities did not allow his son to take his body. They took it to a funeral home themselves, fearing that his family would file a complaint against them. Police guarded his body until it was cremated on January 1, 2022.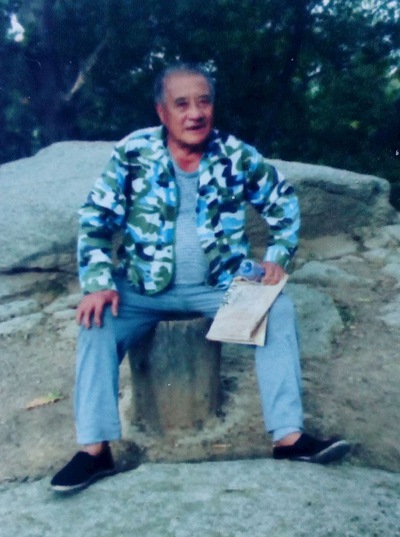 Mr. Liu Xiyong
With the onset of the persecution in 1999, Mr. Liu was repeatedly incarcerated for upholding his faith and raising awareness about the persecution. He was given 2 years of forced labor following an arrest in April 2002 and sentenced to 3.5 years after another arrest on July 24, 2008. He was sentenced again to three years without a trial, following his last arrest on April 9, 2018. When his wife desperately sought his release at the local police station, an officer said to her, "We will let him die inside this time!"
89-Year-Old Man Suffered a Stroke After Police Arrest, Passed Away Months Later
Mr. Liu Yongcun, 89, of Shulan City, Jilin Province, was reported to the police for distributing calendars with Falun Gong information in Fate Township in the winter of 2020. The police arrested Mr. Li and ransacked his home. They forced him to sign guarantee statements. Mr. Liu was so frightened that he suffered a stroke and became bedridden.
Fate Township police again searched and ransacked Mr. Liu's home on May 12, 2021. They confiscated personal items and tried to extort 700 yuan from him but failed. The ordeal greatly upset Mr. Liu , who passed away four months later on September 10, 2021.
Retired Colonel Died in Prison for His Faith
Mr. Gong Piqi, 66, was a retired colonel in Qingdao City, Shandong Province. He was sentenced in 2018 to seven and a half years in prison for practicing Falun Gong. He was in Shandong Province Prison, which is notorious for abusing practitioners in an attempt to force them to renounce their faith.
Mr. Gong Piqi
Mr. Gong's family was informed that Mr. Gong had died of a stroke on April 12, 2021. When the family went to the hospital the next morning, the doctor and prison authorities refused to let them see his body. Due to his family's strong protest, Mr. Gong's older brother and nephew were finally allowed to but without being allowed to take photos or videos. Mr. Gong's head was injured and swollen and there was blood in his ears, according to his brother.
Ms. Zhong Shujuan Died in Prison After Years of Persecution, Daughter Suffers Mental Breakdown
Ms. Zhong Shujuan, 66, of Daliang City, Liaoning Province, suffered long-term torture and developed breast cancer while serving time for practicing Falun Gong. She died in Liaoning Women's Prison on December 24, 2021, three years after her request for medical parole was denied. Her body was cremated in the presence of the police, prosecutor, and judge who were involved in her sentencing.
Her daughter Ms. Li Xiuli suffered a mental breakdown in 2007 at the age of 27 as a result of long-term harassment by the authorities. She never recovered after a traumatic police raid when she was home alone. After one of her mother's arrests, Ms. Li and her father Mr. Li Kuan were so traumatized that they did not leave their home for over six weeks. They didn't dare answer phone calls or open the door. People thought they had died and found out they were still alive only after using force to enter their apartment.
Following Ms. Zhong's latest arrest in 2016, her husband was detained for half a month and later sentenced to three and a half years of probation. Their daughter's mental health has further declined.
Sentenced to Prison
In 2021, 278 Falun Gong practitioners 60 or older were reported to have been sentenced, including 165 who were sentenced to 3 to 11 years and 2 sentenced to 10 years.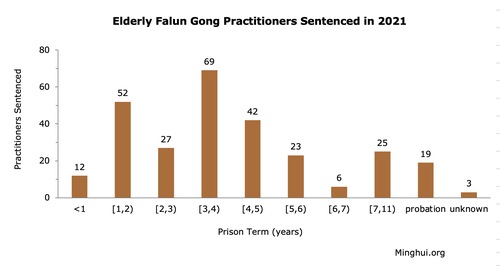 Mr. Li Dengchen, 82, Sentenced to Ten Years in Prison
After being arrested and released several times, Mr. Li Dengchen, a retired teacher in Shenzhou City, Hebei Province, was sentenced to 10 years in January 2021 for his faith in Falun Gong.
Mr. Li was first arrested at home on October 22, 2018. The police ransacked his residence and confiscated his valuables worth 150,000 yuan. Due to his high blood pressure, the Shenzhou City Detention Center refused to admit him, and he was released. Mr. Li returned to the police station the next day and demanded the return of his confiscated property, but to no avail.
Days later, Mr. Li noticed that someone had scaled his fence and entered his home while he was out. He suspected that it was the police searching for more Falun Gong items. He decided to live away from home to avoid further persecution. Only one month later, on November 23, he was arrested again and admitted to the Shenzhou City Detention Center. Prior to his second arrest, the police extorted 1,700 yuan from his family for his "physical examination fee."
Mr. Li developed a critical medical condition involving his lungs and was treated in an intensive care unit in 2019. He was released on bail on April 26. By then, he had become emaciated, incontinent, and unable to care for himself. His legs were also swollen. After practicing Falun Gong again at home, he gradually recovered. Yet the authorities didn't stop targeting him.
In late July 2020, Mr. Li received a notice to appear in court. He lived away from home again for a month to hide from the police. In January 2021, he was arrested one more time and given a ten-year sentence. He has been taken to the Baoding Prison to serve time.
Ms. Tang Zhuyin Sentenced to Nine Years and Four Months with a 50,000-yuan Fine
Ms. Tang Zhuyin was arrested on April 8, 2020, with six other practitioners in Harbin City, Heilongjiang Province, for making phone calls to tell people about how the communist regime covered up the pandemic, as well as how coronavirus patients recovered by reciting the auspicious phrases "Falun Dafa is good, Truthfulness-Compassion-Forbearance is good."
The police accused them of making propaganda calls and violating Article 300 of the criminal law, i.e., "undermining law enforcement with a cult organization," which has become the standard pretext used by the authorities to criminalize Falun Gong practitioners.
Ms. Tang and the other practitioners appeared in the Ranghulu District Court four times, on December 17 and 29, 2020, and June 22 and October 21, 2021. Their families filed several complaints with the district and city government and discipline department against prosecutor Feng and judge Xue for wrongfully seeking prosecution of their loved ones. They also demanded that the authorities replace Feng and Xue.
Despite being extremely weak after surgery, Ms. Tang was forced to appear in the Ranghulu District Court in a wheelchair on June 22, 2021. She was sentenced on November 17, 2021.
Ms. Tang, in her 70s, is retired from the Harbin Tungsten Platinum Material Factory. She has been arrested and incarcerated several times over the past two decades. She was first arrested in September 1999 for going to Beijing to appeal for Falun Gong. Guards at the Chaoyang District Detention Center in Beijing tortured her and poured cold water her.
Ms. Tang was given two forced labor camp terms, in April 2001 and August 2006, for a total of three and a half years. At Wanjia Forced Labor Camp, the guards tied her legs together, hung her up, and shocked her head, arms, and hands with electric batons. The injuries on her left arm and hand took a long time to heal.
Mr. Zheng Jiajin, 81, Sentenced to Nine Years in Total
Mr. Zheng Jianjin of Xinxiang City, Henan Province, was arrested with Ms. Zhu Fenglan on August 28, 2020, at a place they rented to make informational materials about Falun Gong for distribution. Their computer, printer, and a large number of office supplies were confiscated.
The police interrogated them at the Nanqiao Police Station and took them to the Xinxiang City Detention Center the next afternoon. Mr. Zheng was denied admission due to dangerously high blood pressure and was released in the evening.
After three hearings, on February 23, April 8, and May 8, 2021, the judge sentenced both Mr. Zheng and Ms. Zhu to 7.5 years in prison and fined them 10,000 yuan. Mr. Zheng was previously sentenced to one year and eight months in prison but never served time, so the judge combined his two terms and ordered him to serve a total of 9 years and 2 months.
Arrests
A total of 687 Falun Gong practitioners 65 or older were confirmed in 2021 to have been arrested in 2021 or earlier. Among them, 193 were between 65 and 70, 360 were between 70 and 80, 131 were between 80 and 90, and 3 were over 90.
Ms. Zhang Suzhen, over 90, Arrested
Xinqiao Town Police Station officers in Suining City, Sichuan Province, went to Fengtai Village in two police cars on the morning of November 10, 2021. They arrested four practitioners: Mr. Zheng Wenzhi; Mr. Zheng Xuedong; Mr. Liu Taiguo, in his 70s; and Ms. Zhang Suzhen, in her 90s. The police ransacked their homes and confiscated all their Falun Gong books and photos of Falun Gong's founder.
Ms. Zhang and Mr. Liu were released that day. Mr. Zheng Wenzhi was taken to the Pengxi Brainwashing Center. Mr. Zheng Xuedong was admitted to the Yongxing Detention House.
Zhan Ruilin, 90, Arrested
Zhan Ruilin (gender unknown), 90, from Yantai City, Shandong Province, was arrested in Liqun Transportation Point by three officers for talking to people about the persecution of Falun Gong on March 9, 2021. Zhan was taken to the Zijingshan Police Station and interrogated in a room with a metal chair and other instruments of torture. The officers ransacked Zhan's home and confiscated two Falun Gong books, keepsakes, and other items. Zhan was released the same day.
Ms. Cai Xiufang, 90, Faces Prison Sentence
Ms. Cai Xiufang of Jilin City, Jilin Province, appeared in the Chuanying District Court on October 28, 2021, with six other practitioners: Ms. Zhang Yuhua, her sister Ms. Zhang Yufeng, Ms. Chen Rongjie, Mr. Zhang Hongjie, Ms. Li Ying, and Ms. Liu Xiuying. Details of the hearing remain unclear.
Ms. Cai was arrested on May 14, 2021, for talking to people about Falun Gong at a farmers' market. The police pushed her into their car, snatched her key, and ransacked her place. She was held in a metal cage at the local police station and released on bail a few hours later.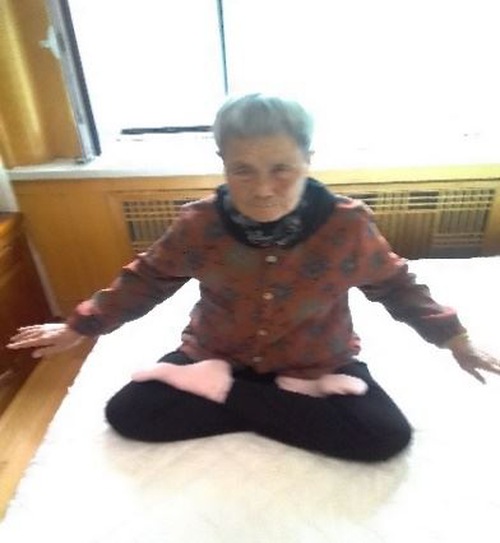 Ms. Cai Xiufang
Harassment Cases
A total of 631 Falun Gong practitioners 65 and older were confirmed in 2021 to have been harassed by authorities in 2021 or earlier years. Among them, 90 were between 65 and 70, 307 were between 70 and 80, 219 were between 80 and 90, and 15 were over 90.
He Zemin, 95, Harassed
He Zemin, a 95-year-old in Chongqing, gender unknown, has been harassed at home several times by staff members from the Huixing Sub-district Office in the Yubei District. He Zemin was intimated and pressured to sign a statement to renounce Falun Gong.
Officers Harass 93-Year-Old Woman Multiple Times
Officers from Baishan Township Police Station in Tianjin called Ms. Pang Guirong's home on July 27, 2021. Ms. Pang was not home. Her son, in his 70s, answered. The officer told him to tell his mother to go to the police station to sign a paper renouncing Falun Gong.
Officers from Fengman Police Department went to Ms. Pang's home on August 30 and harassed her again.
Home of 92-year-old Mr. Liu Xueqin Ransacked
Mr. Liu Xueqin, 92, lives in Xichen Village in the Wenjia Sub-district of Shouguang City, Shandong Province. His home was ransacked by local police officers and the village chief on October 2, 2021. Mr. Liu was not at home when it happened.
Police Ransack Ms. Liu Chan's Home in Chengdu City, Sichuan Province
Six people from the Chenghua District National Security Division, the Shuangziqiao Police Station, and the Xinhongnanlu Community in Chengdu City, Sichuan Province ransacked the home of 91-year-old Ms. Liu Can on the morning of December 16, 2021. Ms. Liu was not at home, but her husband was. The officers seized a copy machine and brochures about Falun Gong.
After Ms. Liu returned home at 3 p.m., the police went to her home again and told her that they'd searched her home because someone had reported her to the police for distributing information about Falun Gong.
Financial Persecution
In addition to the ongoing arrests, harassment, and incarceration of Falun Gong practitioners, the Chinese Communist Party has also imposed additional financial burdens by arbitrarily wiping out practitioners' years of service in pension contributions or by suspending their pensions.
After 12 Years of Incarceration for Refusing to Renounce Her Faith, Retired Pharmacist Loses Pension
Over the 22 years of the persecution of Falun Gong, a retired pharmacist has spent 12 of those years in prisons and forced labor camps. Ms. Ge Ling, 71, from Yongxiu County, Jiangxi Province, suffered relentless torture because she refused to renounce the spiritual and meditation practice that cured her illnesses. Ms. Ge is currently disabled as a result of torture and abuse sustained while incarcerated. Her family has also suffered significant financial loss and mental trauma and currently lives in poverty.
Ms. Ge's latest arrest took place on April 21, 2016. She endured four years of torture in Jiangxi Province Women's Prison and had a leg amputated as a result.
On April 20, 2021, one year after Ms. Ge was released from prison, the local Yongxiu County Human Resources and Social Insurance Bureau (the Social Insurance Bureau) informed her former employer, the Yongxiu County Chinese Medicine Hospital, that they were going to suspend her pension and medical insurance, as well as seek the return of the 270,741 yuan in pension funds issued to her from October 2014 to April 2021.
Retired College Teacher Forced to Return Nearly Half a Million Yuan in Pension Funds After Being Wrongfully Imprisoned
Ms. Wang Jingling, who is retired from the Huaiyin Institute of Technology, was arrested on May 27, 2012, after being reported for distributing informational materials about Falun Gong. She was sentenced to three years and released in 2015.
In November 2019, Ms. Wang's family received a call from Guan Yonggang, the deputy director of her school's HR department. Guan claimed that Ms. Wang's pension would be suspended starting December 2019 due to her prison sentence. He also demanded that she pay back the 351,439.45 yuan in pension funds she received from the school since June 2012, the month after her arrest. In the end, Ms. Wang was forced to pay a total of 496,264.40 yuan.
Forced to Leave Home to Avoid Persecution
In 2021, 13 elderly Falun Gong practitioners were forced to live away from home to avoid persecution.
84-year-old Mr. Wang Xuebin Harassed
Mr. Wang Xuebin, 84, lived in Fuyang City, Anhui Province. He was harassed at home on March 23, 2021. Two officers from the Yingzhou District Police Department, three from the Fulin Road Police Station, and five from the Heshuiweizhuang Community searched his home and video recorded it. They did not leave until 5:00 p.m. that day.
The police returned at around 9:00 p.m. that night. They blew their horn, yelled, and pounded on the door. When Mr. Wang refused to open up, they left after 10:00 p.m. Mr. Wang has since moved because he no longer felt safe there.
Ms. Zhu Yugui Forced Out of Home
Between October and December 2020, authorities in the Jiulongpo District of Chongqing City visited Ms. Zhu Yugui, who was in her 80s and lived with her adopted son and daughter-in-law. Officers from the local police station and the neighborhood committee told her to sign a document and agree to not to practice Falun Gong anymore. She adamantly refused to comply. Later officers went to her home several times, but she refused to open the door for them knowing what they wanted. Several days later, officers from the neighborhood committee had her son open the door for them. They ordered him to persuade his mother to write the guarantee statements to renounce her faith and threatened that he would lose his job if she refused.
As a result, he told his mother to move out of the house. Originally, Ms. Zhu had a very good relationship with her son, even when she was persecuted for practicing Falun Gong. But the old woman is now homeless.
Blood Sample Taken Involuntarily
According to Minghui reports, 55 elderly Falun Gong practitioners had their blood drawn in 2021. Several dozen practitioners in Shanghai were coerced into giving samples of their blood to the police. It's been said that the authorities are setting up a DNA database for all Falun Gong practitioners in China. Other personal information collected includes photos, handwriting, phone numbers, fingerprints, and heights. At Ganquan Police Station in Shanghai alone, the police took samples of blood from over a dozen practitioners between April and May 2021.
Police Tried to Draw Blood from Ms. Qu Mujie in Shanghai
Officers broke into the home of 84-year-old Shanghai resident Ms. Qu Mujie on April 28. They first asked her if she still practiced Falun Gong. After she confirmed that she did, they threatened to collect a sample of her blood. Ms. Qu strongly resisted and asked for the officers' ID numbers. The incident drew the attention of Ms. Qu's neighbors and they gathered outside Ms. Qu's apartment, trying to figure out what was happening. The police gave up trying to draw her blood and left.
Ms. Zhou Weiqun from Changsha City, Hunan Province, Had Fingerprints And Blood Sample Taken
On September 24, 2021, when Ms. Zhou Weiqun's son came home for dinner, six plainclothes officers who were hiding in front of the house broke in and told Ms. Zhou, 85, to go to the Changsha Police Department and the Changsha No. 1 Detention Center on the grounds that some students had spotted her distributing Falun Gong brochures and reported her. They ransacked her home without presenting any documents and confiscated photos of the founder of Falun Gong, over 40 Falun Gong books, and exercise tapes, along with other personal belongings.
They took Ms. Zhou to the Juzizhou Police Station and the Changsha City No. 1 Detention Center. They took Ms. Zhou's height and weight, fingerprints, toe prints, and samples of her blood and saliva.
They originally planned to hold Ms. Zhou in the detention center, which refused to accept her due to her age. The police placed Ms. Zhou under residential surveillance, which prevented her from leaving Changsha City. She was not allowed to return home until 3 a.m. that night.
Wuhan City, Hubei Province: Six Falun Gong Practitioners, Including an 83-Year-Old Woman, Have Their Blood Drawn
Ms. Yin Guixiang and Ms. Huang Yongmei, 83, were arrested by two plainclothes officers from the Zhongshan Park Exhibition Police Station on April 17, 2021. Later that day, four more practitioners were arrested and taken to the same police station.
All six were interrogated and not given any food or water. The police took their pictures, recorded their heights and weights, took their fingerprints, and drew blood samples. Ms. Yin, Ms. Huang, and two other practitioners were taken to the Qiaokou District Ertouwan Brainwashing Center the next day. The whereabouts of the other two practitioners are unknown.
Ms. Yin was released on April 28, 2021, but was forced to leave her home to avoid further persecution.
Related reports:
Reported in 2021: 1,187 Falun Gong Practitioners Sentenced for Their Faith
Reported in 2021: 16,413 Falun Gong Practitioners Arrested and Harassed for Their Faith
Reported in 2021: 132 Falun Gong Practitioners Die in the Persecution of Their Faith
Views expressed in this article represent the author's own opinions or understandings. All content published on this website are copyrighted by Minghui.org. Minghui will produce compilations of its online content regularly and on special occasions.