Sichuan Woman Dies While Detained for Her Faith
(Minghui.org)
Name: Qing LijuChinese Name: 卿立菊Gender: FemaleAge: 51City: PengzhouProvince: SichuanOccupation: N/ADate of Death: December 11, 2022Date of Most Recent Arrest: March 9, 2021Most Recent Place of Detention: Pidu District Detention Center

Six months after Ms. Qing Liju was sentenced to five years for her faith in Falun Gong, the once healthy 51-year-old Pengzhou City, Sichuan Province resident died.
Falun Gong, also known as Falun Dafa, is a spiritual discipline that has been persecuted by the Chinese communist regime since 1999.
Ms. Qing was arrested on March 9, 2021, while distributing Falun Gong informational materials with another practitioner Ms. Fu Shunju, in her 70s. The arrest came only two years after Ms. Qing was released from serving ten years for her faith. 
At the Mengyang Town Police Station, the police body searched both women and used a knife to cut their shoes, the buttons on their clothes, waistbands, and zippers. 
On the next day, Ms. Fu was released and Ms. Qing was taken to the Xinjin Brainwashing Center, with her head covered with a black hood. She was later taken to the Chengdu City Detention Center and tortured there. 
Since Ms. Qing's arrest, the authorities prohibited her family from visiting her. They were only allowed to deliver clothes to her twice. Later the detention center also forbade them from delivering the clothes, citing the pandemic as an excuse.
The Pengzhou Court sentenced Ms. Qing to five years on June 21, 2022. 
On October 1, Ms. Qing's family received a call from the Pidu District Detention Center, telling them that she was in serious condition. The family went to the detention center on the same day and were allowed to have a video chat with her. But when they applied for medical parole for her, the guards rejected them.
Two weeks later on October 14, the detention center called them and said that Ms. Qing had been hospitalized. The family went there on October 16 and had another video chat with her. By then, she had become extremely weak and her legs had become severely swollen. The family demanded medical parole for her again, yet the detention center still refused.
The family had another video chat with Ms. Qing weeks later and her condition was even worse. When the family made one more request to see her in mid-November, the detention center rejected them, citing the pandemic lockdown as an excuse.
The last call the family received from the detention center was on December 11 and they were told that Ms. Qing was being resuscitated in the Chengdu City No. 3 Hospital. When they rushed to the hospital, Ms. Qing had already passed away. The doctor told them that when Ms. Qing was transferred from the Zhengcheng Hospital in the morning, she had already stopped breathing.
Prior to her latest sentencing, Ms. Qing was previously arrested on October 23, 2009. She was sentenced to ten years by the Guanghan City Court on October 13, 2010 and taken to the Sichuan Province Women's Prison in December 2010. 
The prison guards once deprived her of sleep for six days because she refused to renounce Falun Gong. As soon as she closed her eyes, they beat and kicked her. The guards also forced her to wear a straitjacket and hung her on the window frame by her wrists.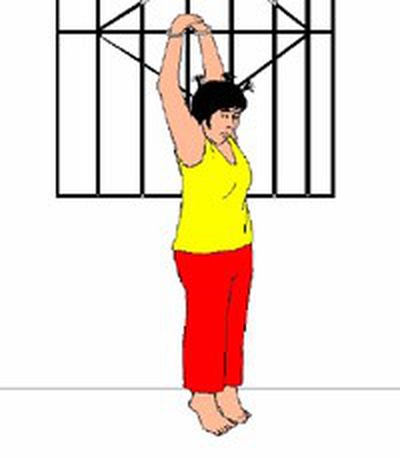 Torture illustration: Being hung up
Related reports:
Having Served Ten Years in Prison, Sichuan Woman Gets Another Five Years for Practicing Falun Gong
Three Sichuan Women Arrested for Distributing Materials about Their Faith, One Remains in Custody at a Brainwashing Center
All content published on this website are copyrighted by Minghui.org. Minghui will produce compilations of its online content regularly and on special occasions.