Indonesia: Falun Dafa Practitioners Receive Certificate of Appreciation from Governor of Jakarta
(Minghui.org) Governor Dr. Anies Rasyid Baswedan presented a Certificate of Appreciation to organizations, social groups, and individuals who provide various services to the public during the 2022 Jakarta Collaboration Summit. The summit was held at the Fatahillah Plaza in Jakarta Old Town, Indonesia on October 2, 2022. Falun Dafa Indonesia was one of the award recipients.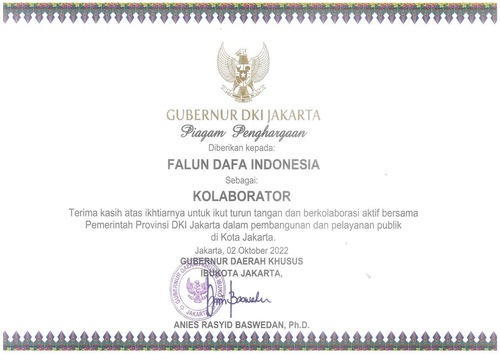 The governor of Jakarta presented a Certificate of Appreciation to Falun Dafa practitioners in Indonesia
Practitioners have held Falun Dafa classes in Tebet Eco Park and other parks in South Jakarta for years. The classes are free and everyone is welcome to participate.
Many people in Jakarta learned the practice from these classes. They experienced the noticeable improvement in their physical and mental health, and felt it was beneficial in preventing them from contracting COVID.
During the peak of the pandemic in 2020 and 2021, many parks in Jakarta were closed to the public. Through coordination and communication with the Jakarta Provincial Park Bureau, practitioners were allowed to continue practicing exercises in the parks while abiding by the epidemic prevention and control regulations.
During the summit Governor Anies told practitioners, "Thank you for being a part of effort to build Jakarta. You have provided so many breakthroughs."
The translation of the award is as follows:
The Governor of Jakarta awards the Certificate of Appreciation to the Falun Dafa Indonesia
Thanks for the participation and initiative to cooperate with the Jakarta Provincial Government to develop and serve the capital city of Jakarta.
Jakarta, October 2, 2022
Governor of Jakarta Special Capital Province
Anis Rashid Basvidan, Ph.D.
Views expressed in this article represent the author's own opinions or understandings. All content published on this website are copyrighted by Minghui.org. Minghui will produce compilations of its online content regularly and on special occasions.