After 12 Years of Incarceration for Refusing to Renounce Her Faith, Retired Pharmacist Loses Pension
(Minghui.org) In the 22 years of the persecution of Falun Gong, a retired pharmacist has spent 12 of those years in prisons and forced labor camps. Ms. Ge Ling, 71, from Yongxiu County, Jiangxi Province, suffered relentless torture because she refused to renounce the spiritual and meditation practice that cured her illnesses. Ms. Ge is currently disabled as a result of torture and abuse sustained while incarcerated. Her family has also suffered significant financial loss and mental trauma and currently lives in poverty. 
Ms. Ge's latest arrest took place on April 21, 2016. She endured four years of torture in Jiangxi Province Women's Prison and had a leg amputated as a result.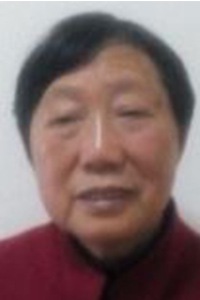 Ms. Ge Ling 
On April 20, 2021, one year after Ms. Ge was released from prison, the local Yongxiu County Human Resources and Social Insurance Bureau (the Social Insurance Bureau) informed her former employer, the Yongxiu County Chinese Medicine Hospital, that they are going to suspend her pension and medical insurance, as well as seek the return of the 270,741 yuan in pension funds issued to her from October 2014 to April 2021. 
The Social Insurance Bureau cited a policy saying that Falun Gong practitioners imprisoned for their faith are not entitled to pension funds while serving time, but it didn't explain why it didn't suspend her pension during her imprisonment or why it was trying to recall the pension funds issued to her from October 2014 to April 2021, when her latest imprisonment was from April 2016 to April 2020.
Additionally, the policy was issued by the Ministry of Civil Affairs, not enacted by any law-making bodies in China.
No Legal Basis for the Pension Suspension
To sentence Ms. Ge to prison because of her belief is unconstitutional and a violation of her human rights. In addition, to strip her of her pension based on policy, not enacted law, is groundless. 
In China, a working citizen's pension is protected by various laws, including but not limited to:
Article 73 of the Labor Law stipulates that "Laborers shall enjoy social insurance benefits in accordance with the law. The conditions and standards for laborers to enjoy social insurance benefits shall be stipulated by laws and regulations. The social insurance money that laborers are entitled to must be paid on schedule and in full." 
Article 34 in the Protection of Rights and Interests of the Aged, stipulates "The pensions and other material benefits the elderly enjoy according to law shall be guaranteed. The organizations concerned must regularly pay the elderly their pensions in full. They shall not be behind in payment without reason or divert the pensions for other purposes."
Furthermore, Article 16 of the Social Insurance Law states that "an individual who holds the basic pension plan is eligible for a basic monthly pension, if the individual has cumulatively made payments for no less than fifteen years prior to his legal retirement age. If an individual who holds the basic pension plan has cumulatively made payments for less than fifteen years prior to his legal retirement age, the individual can still enjoy a basic monthly pension once he makes up for the payment to which is required for fifteen years." No exceptions are give here, either.
Based on Article 16, a retired person should enjoy a basic monthly pension in full as long as he has made his contribution payments for 15 years. 
The actions of the Social Insurance Bureau against Ms. Ge are unlawful. 
Practicing Falun Gong Saved Ms. Ge's Life
Ms. Ge, born in 1951, grew up in a family that suffered at the hands of the Chinese Communist Party. Her father fought the Japanese during the war and later became an accountant in the government. When he refused to collude with his coworkers and extract money from the relief funds, his coworkers retaliated against him. They managed to put him in prison twice. He eventually hung himself. Ms. Ge's mother lived a miserable life after that and died of cancer. 
Seeing her father suffer such injustice, Ms. Ge grew up depressed and bitter, and lost all sense of hope and meaning in life. She suffered bruises all over her body, as she had half the blood platelet count of a normal person. She was then diagnosed with lymphoma and her weight dropped quickly. The veins in her right leg were blocked and the leg became severely swollen. She could barely walk. 
Ms. Ge received her associate degree in medicine in 1974 and started working in the staff hospital of the Jiangxi Hydropower Engineering Bureau. She was transferred to the Yongxiu County Chinese Medicine Hospital and got her pharmacist certification in 1994. 
For 30 years, Ms. Ge and her mother practiced Buddhism. In addition, she practiced many types of qigong to improve her health. However, her health continued to deteriorate. The pain and suffering made her want to give up her life. 
A friend of Ms. Ge's introduced her to Falun Gong in 1996. In three months she gained over 30 pounds and her complexion became rosy. Healthy and full of energy, she never saw a doctor or needed to take any medicine again. 
Twelve Years of Incarceration and Torture Lead to Permanent Injury
The Chinese Communist Party launched the persecution of Falun Gong in July 1999, a year after Ms. Ge took up the practice. She went to Beijing many times to tell government officials and the public that the persecution was wrong. The police arrested her and put her in Majialong Forced Labor Camp in Jiujiang City and Jiangxi Province Women's Forced Labor Camp for a total of five years. The guards force-fed her and broke several of her teeth in the process. They beat her and denied her family visits. 
In March 2001, while she was still serving time in the labor camp, Ms. Ge's family helped her apply for retirement, when she'd reached the then legal retirement age of 50.
On November 1, 2008, a person reported Ms. Ge to the police when she handed out Falun Gong fliers. She was arrest by officers from the Sanxiqiao Police Station and was sentenced to three years in prison. 
Ms. Ge was taken to the Jiangxi Province Women's Prison in March 2009. For a year, the guards made her sit still with her back straight for 20 hours a day, every day. Once, because she refused to renounce her faith, a prisoner stuck a dirty sock deep into Ms. Ge's throat, almost suffocating her. When the sock was taken out, it was soaked with blood. 
A guard ordered a criminal offender to "transform" Ge Ling by any means possible, including "gangster tactics." The prisoner made her stand still all the time and frequently used her as a punching bag, punching her in the chest and the back. One time, the prisoner prevented her from using the toilet so she had to relieve herself in her clothing. At times the prisoner stripped her clothes off and aimed a fan at her. As a result of constantly being forced to stand and losing body temperature from 2010 to 2011, she suffered a fourth-degree uterine prolapse, her uterus slipping completely out of her body. 
Ms. Ge was arrested once again on April 21, 2016, which led to another four-year prison sentence. She was taken to the Jiangxi Province Women's Prison in February 2017. The guards deprived her of sleep and only gave her plain rice to eat. They also wouldn't allow her to purchase daily necessities such as toilet paper. 
In winter they removed Ms. Ge's warm coat and threw away her thick comforter, leaving her with only thin bedding. The extreme cold prevented her from sleeping at night. She suffered severe cold in her spine, which resulted in excruciating back pain. 
Eventually, her left leg became blackened and swollen due to a serious skin infection and she developed a high fever and was at the brink of death. Not wanting to bear responsibility for her death, a guard rushed Ms. Ge to a hospital. The doctor there said that amputating her leg was the only way to save her life. 
The torture, illness, and abuse took a severe toll on Ms. Ge's body and she lost 3 inches in height. Her relatives and friends couldn't recognize her after she was released. 
Living in Poverty and Pressured to Return Pension
1. Family Also Suffers Due to Persecution and Lives in Poverty 
When Ms. Ge was released in April 2020, her family had fallen apart. The persecution and her repeated imprisonment put a lot of stress on her son, who used to live and work in Beijing. He lost his job, had a divorce, and relied on his parents to pay for the child support. Ms. Ge's daughter rarely visited or socialized with her mother, fearing retaliation from the authorities. Her husband, eager to make some money to get out of poverty, fell into a financial trap. They sold their house and now live with her father-in-law. 
Most of the clothes Ms. Ge wears now were donated by her former coworkers, and she relies on leftover food from others. She has to rely on her husband to take care of her daily needs, especially after she uses the toilet, because of complications from her uterine prolapse. 
Despite her poor living conditions, Ms. Ge has not complained about the local authorities and her former employer, who are responsible for her misery. She declined the allowance for the released inmates and used her own savings to pay for her dentures, which were required after six of her teeth were broken when the guards in Majialong Forced Labor Camp force-fed her. 
2. Only Source of Income Suspended, Ordered to Pay Back Pensions
In May 2021, the Social Insurance Bureau suspended Ms. Ge's pension and health insurance based on a 2012 official document from China's Ministry of Human Resources and Social Security. Her pension was her only source of income. 
Ms. Ge visited the Yongxiu County commissioners, the county government officials, and her former employer to appeal the decision. The supervisors at her former workplace, the Yongxiu County Chinese Medicine Hospital, eventually paid her 500 yuan per month starting in November 2021. However, the Social Insurance Bureau still insisted on recouping the money she "owed" by suspending her pension. 
Social Insurance Bureau officials delivered two notices to Ms. Ge on December 8, 2021. One of the notices stated that the authorities "found out that Ge Ling was overpaid her pension while she served time in prison....and needs to return the 270,741 yuan she received between October 2014 and April 2021." They demanded that she pay back the amount within seven days. 
The other notice accused Ms. Ge of violating the Regulation to Punish Embezzlement and Defrauding Social Insurance Funds. It ordered Ms. Ge to return the money she owed by December 14, 2021, threatening that if she didn't, she would be fined "two to five times the amount she owed based on China's Insurance Law." It then ordered her family to make sure the money was paid back in seven days or the bureau would "start the judicial procedures and transfer the case to the judicial organs." 
At the time of writing, Ms. Ge's pension remains suspended. It is not clear whether the Social Insurance Bureau has started any judicial procedures against her.
Related reports: 
Ms. Ge Ling, a Pharmacist at the Yongxiu County Chinese Medicine Hospital in Jiangxi Province, Is on the Brink of Death from Persecution
Pharmacist Imprisoned Again for Her Faith, Denied Family Visits
All articles, graphics, and content published on Minghui.org are copyrighted. Non-commercial reproduction is allowed but requires attribution with the article title and a link to the original article.