Taiwan: Falun Dafa Practitioners in Chiayi Welcome the New Year with Outdoor Group Exercises
(Minghui.org) To welcome the new year and introduce Falun Dafa, Dafa practitioners in Chiayi did the exercises outside the Chiayi City Cultural Affairs Bureau early in the morning on January 2, 2022. Because the building is next to major traffic routes, everyone going into the city had the opportunity to see the group exercise practice.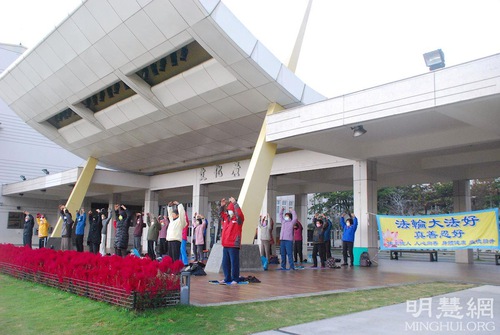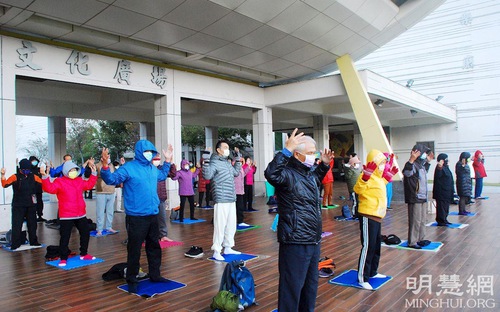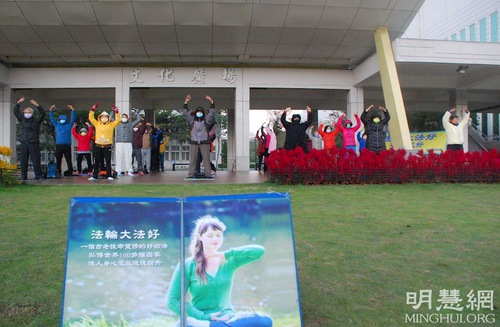 Practitioners did the Falun Dafa exercises outside the Chiayi City Cultural Affairs Bureau on the second day of the new year.
As the world continues to be troubled by the spread of the COVID virus variants, Falun Dafa practitioners hope that people can get to know this mind and body practice through the peaceful exercises. Those who participated in the group exercises said that practicing Falun Dafa has improved their health and moral values. One practitioner said, 'We want to tell people about Falun Dafa so that more people can benefit from it."
A woman who was taking a stroll stopped and sat on a bench and quietly watched the practitioners doing the exercises. She said she often sees practitioners demonstrating the exercises in parks throughout Chiayi City. She added that she wants to learn but has no time as she has to take care of her grandson. She remarked, "Falun Dafa is positive. Practitioners are kind, and doing the exercises makes one fit; why does the Chinese Communist Party (CCP) want to suppress this?"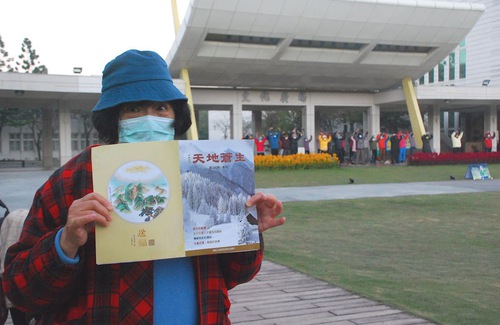 A woman who has seen practitioners demonstrating the exercises in parks throughout Chiayi remarked, "Falun Dafa is positive. Why does the Chinese Communist Party (CCP) want to suppress this?"
Everything Changed after She Applied Falun Dafa's Principles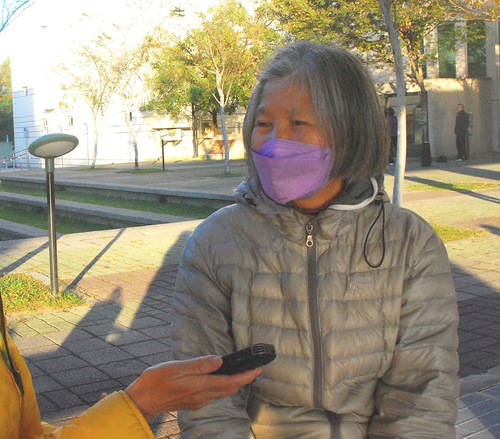 Fu Xiujin
Fu Xiujin said that her life was so full of hardship before she practiced Dafa that she went to a fortune teller. A friend who practices Falun Dafa told her that fortune telling cannot change a person's fate. Fu said, "He gave me the book Zhuan Falun (Dafa's main teachings) and said that many people felt it helped them improve their outlook on life."
"I finished reading the book in three days and three nights. On the fourth day, I went to find a practice site and I have been practicing since then," she said.
Ms. Fu has an elderly family member that no one in the family gets along with. After she began practicing, Ms. Fu dealt with conflicts using the principles of Dafa. She began to have consideration for the elderly man. She said, "One time he wanted to hit and scold me. I said to him, 'Don't be angry, your blood pressure will go up.' His anger went away at once."
Ms. Fu's family took out a loan to buy a house that cost over 10 million TWD. The family argued over the best way to sell the house. As a practitioner, Ms. Fu understood that what is yours is yours, and if it is not meant to be, you will not get it even if you fight for it. She told the family she did not mind giving up her share of the profits after selling the house. "The house sold for a good price and there was 10 million left. This sum of money came back to me. Master Li (the founder of Falun Dafa) helped me when I let go of my attachment to money."
One time, Ms. Fu noticed a stranger staring at her while on her way to the practice site. The man asked what cultivation way she was following and told her that could see many divine beings protecting her. 
Ms. Fu is grateful to Master for offering her salvation. After the pandemic broke out, she continued to clarify the truth to people through various ways. She said, "I want to tell people that following Falun Dafa's teachings makes one a better person and one can handle family relationships better."
Reconciling With Ex-Husband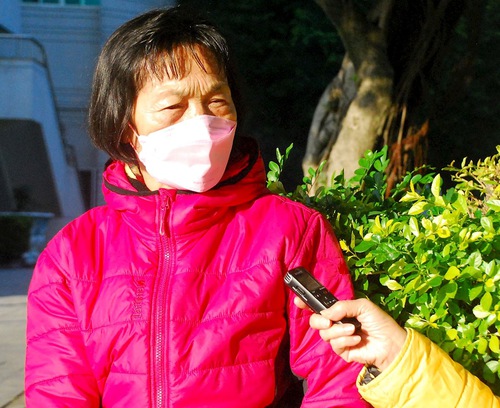 Chen Meitao goes to the park to do the exercises every day.
Chen Meitao, who has been practicing for 18 years, goes to the park every day to do the exercises without fail. She feels that this is a good way to show people how wonderful Dafa is. In her spare time she participates in other projects to tell people about the persecution in China. Since childhood, Ms. Chen's limbs ached but her condition was resolved after she began practicing Dafa. She also changed her quick temper through studying the Fa and sharing experiences with other practitioners. 
Ms. Chen's husband had an affair before she practiced Dafa and it destroyed her marriage. She learned to let things go after she began practicing. She told her children to treat her former husband with kindness as he is their father after all. When her ex-husband comes to visit, she treats him politely. She said, "Under my influence, my children do not mind having a meal with my husband. I got rid of my resentment and my children say that I have changed."
Family Benefits from Practice
Cheng Lijuan began to practice Falun Dafa in 1999 and works in a media project. She said, "I often argued with my father. After seeing the changes in me physically and mentally, my father began to practice Dafa too when he was in his 80s."
Cheng took her children along when she did the exercises and studied the Fa. They listened to Master's taped lectures together while in the car. Her children practice Dafa diligently and often remind their mother to live by Falun Dafa's principles.
"My husband supports my participating in Falun Dafa activities and has slowly begun practicing. Indeed, my whole family has benefited from my practice. I want to tell people how wonderful Dafa is so that they too can gain from it."
All articles, graphics, and content published on Minghui.org are copyrighted. Non-commercial reproduction is allowed but requires attribution with the article title and a link to the original article.