Two Women Die After Being Imprisoned for Suing Former Communist Party Leader
(Minghui.org) Two women in Chaoyang City, Liaoning Province were sentenced to prison for filing criminal complaints against Jiang Zemin, the former head of the Chinese Communist Party who ordered the persecution of Falun Gong in 1999. One of them died six months after being released on medical parole, while another passed away three days after being brought home unconscious.
Sentenced to 11 Years, Ms. Li Guojun Dies Six Months Into Her Medical Parole
Ms. Li Guojun, who used to work at the propaganda department in the Chaoyang County government, was arrested by police officers hiding in her apartment building as soon as she stepped out on November 9, 2015. The officers ransacked her home and confiscated her computer, Falun Gong books, and many other personal belongings. Even the printer that her husband was fixing for a friend and some of his tools were confiscated.
On the same day, over 300 practitioners in Chaoyang were arrested. More than 50 of them were later sentenced, with the longest term being 12 years.
Ms. Li was sentenced to 11 years and fined 1,000 yuan by the Shuangta Court around March 2016. She was also fired by her workplace. She appealed to the Chaoyang City Intermediate Court. Judge Meng Fanshi upheld her sentence in a 15-minute hearing on June 6, 2016. Ms. Li wasn't allowed to talk during the hearing.
Ms. Li was first held at Chaoyang City Detention Center after her arrest. During the winter of 2015, the guards only allowed her to wear very thin short-sleeved shirts and kept the window open to freeze her.
Due to the physical torment, Ms. Li began to suffer from vaginal bleeding. Because she was not given sanitary napkins, the blood was everywhere. Because of that, the inmates verbally abused her. During this time, the police interrogated her several times, and she refused to answer questions.
Ms. Li was taken to the fourth ward in Liaoning Women's Prison on August 16, 2016. Despite her condition, the guards tortured her in attempts to force her to renounce Falun Gong. To pressure her, the guards punished the inmates who were assigned to monitor her, including not allowing them to buy daily necessities.
Her health continued to decline. On February 8, 2018, Ms. Li was hospitalized and operated on. Before that, the prison denied her family visits and kept her family in the dark regarding her condition. They only informed her family of her surgery when requiring them to pay her medical expenses.
Ms. Li's family applied for medical parole afterwards. The Liaoning Prison Administration Bureau kept delaying the process without granting the parole.
Ms. Li was taken to the hospital for another operation on July 18, 2018. She was hospitalized for 23 days before being returned to the prison. She received four cycles of chemotherapy during this time. Her family was ordered to pay the 30,000-yuan medical fee.
Despite her family's persistent requests for her release on medical parole, the authorities didn't grant it until November 2019. When Ms. Li was released on November 5, the guards escorting her kept the handcuffs and shackles on her until she got back home.
Ms. Li remained terrified upon returning home. She refused to talk about the abuses she suffered in the prison and didn't want to meet with anyone except her immediate family members. Yet the police continued to harass her at home and make phone calls to her.
Ms. Li went to visit her elderly mother on March 28, 2020, whom she hadn't seen for years. Not long after she arrived at her mother's place, the police called her twice and said she had gone outside of the region she was allowed to travel. Ms. Li had to part with her mother and return home.
After that, she remained bedridden. When the authorities came to pressure her to renounce Falun Gong again, her family wrote a statement for her and pressed her finger on the paper to form a fingerprint.
Ms. Li passed away on May 5, 2020.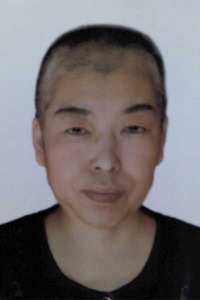 Ms. Li Guojun after receiving chemotherapy
Ms. Liu Shuha, 76, Dies Three Days after Being Brought Home Unconscious
Ms. Liu Shuhua, the former secretary of Beipiao City Calcium Carbide Factory, was also arrested on November 9, 2015. She was tried by the Beipiao City Court on March 8, 2016 and sentenced to a six year prison term, when she was 71 years old.
Due to abuses at the Liaoning Province Women's Prison, Ms. Liu developed cancer in early 2020. As her condition kept deteriorating and she was no longer able to do the unpaid labor, the guards applied to release her on medical parole, but were rejected by the prison authorities. Ms. Liu later took a fall and suffered broken bones.
On the verge of death, she was taken home emaciated and unconscious on October 21, twenty days before the end of her term, only to die three days later.
In addition to the prison term for suing Jiang, Ms. Liu was sentenced to another seven-year term in 2002 by the Beipiao City Court, for practicing Falun Gong. The authorities hung a sign on her neck and took her for a public parade to humiliate her. While serving time at the Liaoning Province Women's Prison, she was forced to work without pay in a very hot room. Her feet were covered with mosquitoes bites. When her children went to visit her, she was wearing long socks, fearing they would worry for her.
Related reports:
76-year-old Woman Dies Three Days after Being Brought Home Unconscious from Prison
Liaoning Woman Sentenced to 11 Years for Suing Former Chinese Dictator Dies Six Months After Medical Parole
All articles, graphics, and content published on Minghui.org are copyrighted. Non-commercial reproduction is allowed but requires attribution with the article title and a link to the original article.