Kanto, Japan: Residents Condemn the CCP During New Year's Day Activities
(Minghui.org) On the first day of 2022, practitioners in Kanto went to various places to tell people about Falun Dafa and how it's persecuted in China.
Practitioners put up display posters in Shinjuku, Kudanshita, and other places around Tokyo. They distributed informational materials and talked with passersby about the persecution in China. They explained how and why the CCP (Chinese Communist Party) abuses Falun Dafa practitioners in China for their belief and that some were killed as a result of organ harvesting. They also collected signatures on a petition that called to end the atrocities.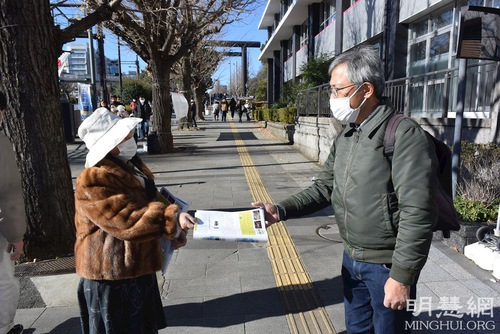 A practitioner offers passersby information about the persecution.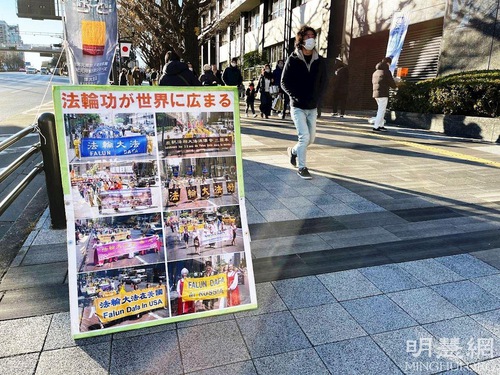 Practitioners displayed informational posters in various locations throughout Tokyo.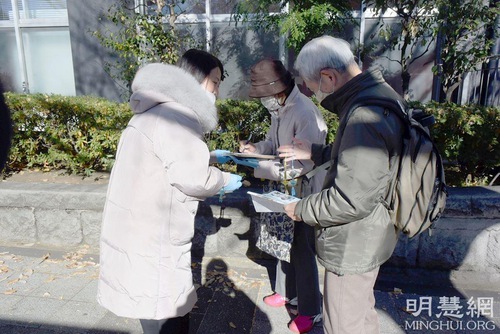 Passersby sign petitions to condemn the persecution.
According to Japanese tradition, many people go to temples or shrines on New Year's Day to pray. Practitioners politely wished them a Happy New Year and offered them information about Falun Dafa and the ongoing persecution in China. After talking with practitioners and reading the materials, many people signed the petition to support the criminal complaint against former Chinese Communist Party (CCP) leader Jiang Zemin for persecuting Falun Dafa.
Tanaka thanked practitioners for the information. "I will definitely read the materials and learn more about it," she said.
Shimizu said it is well known that the CCP is vicious. "I am so sorry to hear what Falun Dafa practitioners have suffered," he added.
Mogami said he had previously heard about the suppression of Falun Dafa in China. "I was even thinking that if I see such a petition one day, I will surely sign it," he said. "I'm glad you are here today."
Matsumoto thanked practitioners for doing this on New Year's Day for a good cause. "Please keep it up and I wish you good luck," he said.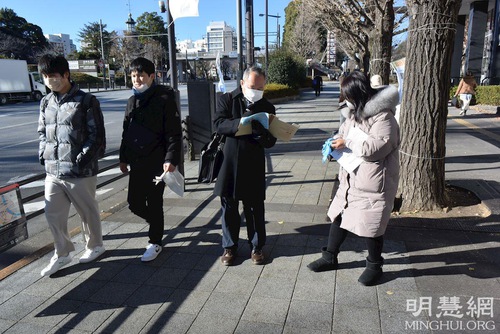 Passerby Kawanaka (second from right) signs a petition.
Upon hearing about how Falun Dafa practitioners were detained and tortured for their faith in Truthfulness-Compassion-Forbearance and the tragedy of organ harvesting, Kawanaka said, "The CCP's actions are unforgivable."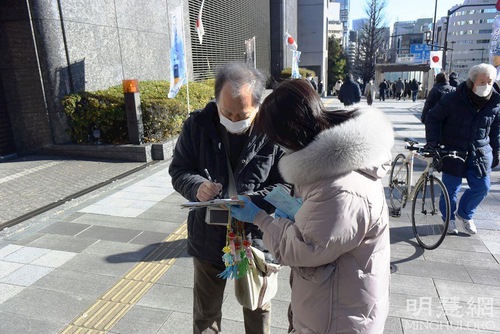 Local resident Hashimoto signs the petition.
Hashimoto said he read about the persecution on the Internet. He said the entire world is now aware of the torture and genocide committed by the CCP. He hopes the Japanese government will take more action to stop it.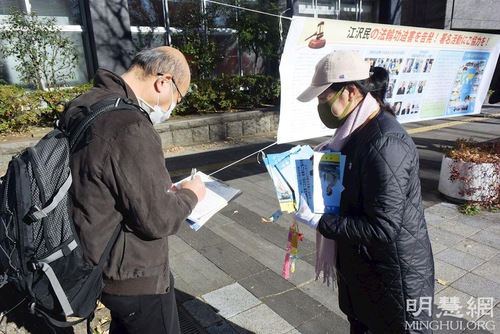 Nomura signed a petition but said that this was not enough. He plans to tell his friends so that more people would know how brutal the CCP is.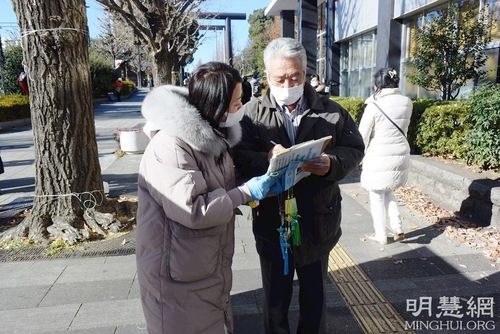 Abe said he had read about the suppression in the past. "Many people know about organ harvesting in China and that the CCP is a ruthless regime," he added.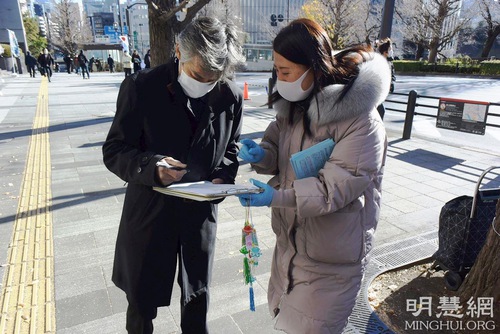 Sasaki said what Falun Dafa practitioners have experienced during the persecution is frightening.
One practitioner said that more activities like this are planned to help the public learn about the CCP's brutality and stop the tragedy.
All articles, graphics, and content published on Minghui.org are copyrighted. Non-commercial reproduction is allowed but requires attribution with the article title and a link to the original article.