Falun Dafa Practitioners in the Countryside Wish Master Li a Happy Chinese New Year (25 Greetings)
(Minghui.org) As a holiday tradition, many Falun Dafa practitioners are sending greetings to Master Li Hongzhi, the founder of Falun Dafa, to wish Master Li a Happy Chinese New Year.
In this report, we present greetings from practitioners in the countryside. In the past 22 years of persecution, many of the practitioners have been working hard to raise awareness about the persecution and share with their fellow villagers and neighbors the beauty of the practice.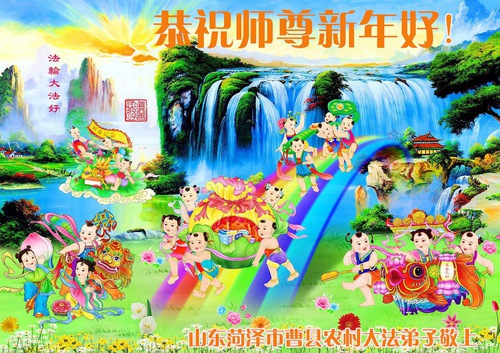 Greetings hailed from the following regions:
Heze City, Shandong ProvinceBaoding, Hebei ProvinceMeishan City, Sichuan ProvinceYantai, Shandong ProvinceTangshan, Hebei ProvinceFushun City, Liaoning ProvinceWeifang City, Shandong ProvinceQinhuangdao, Hebei ProvinceChangchun, Jilin ProvinceHarbin, Jilin ProvinceHengshui, Hebei ProvinceHenan ProvinceDezhou City, Shandong Province
Views expressed in this article represent the author's own opinions or understandings. All content published on this website are copyrighted by Minghui.org. Minghui will produce compilations of its online content regularly and on special occasions.