Seoul, South Korea: Tianti Bookstore Holds 100th Falun Gong Nine-Day Introductory Class
(Minghui.org) The Tianti Bookstore in Yongsan District, Seoul, South Korea held its 100th Falun Gong nine-day introductory workshop from January 4 to January 12, 2022.
Tianti Bookstore specializes in Falun Gong publications, including audio and video materials. Since the bookstore opened its Seoul branch on July 1, 2015, it has held free classes every month for people who are new to the mind-body practice. More than 1,000 people have attended these classes over the past six years. Although nine days may seem a short commitment, every participant has had unforgettable experiences during those nine days and has laid an excellent foundation for embarking on their cultivation journey.
Past attendees sent congratulatory statements to mark the 100th nine-day introductory workshop.
Participants from a workshop held in November 2021 learn the sitting meditation.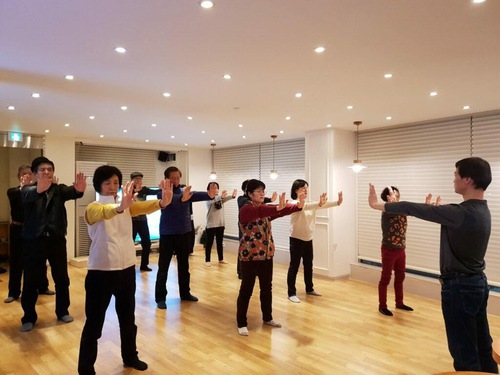 Attendees learn the first set of exercise during a nine-day workshop three years ago.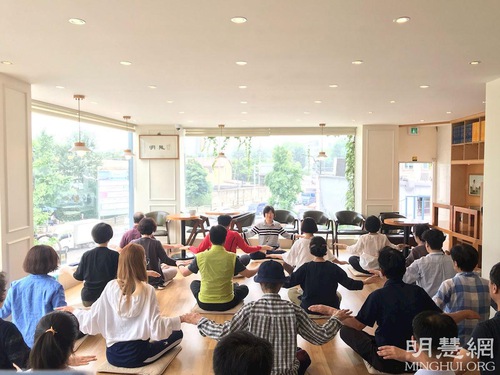 New practitioners learn the fifth exercise during a morning session of the nine-day workshop in July 2019.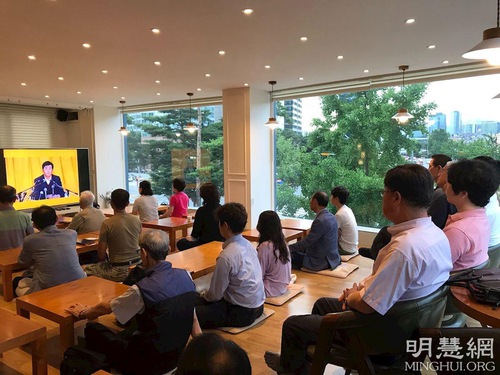 Attendees watching Master Li Hongzhi's lecture video during the afternoon session of a nine-day workshop in July 2019. Master Li is the founder of Falun Dafa.
New Lease on Life
Kim Gyeongil, 65, was a program producer for the Munhwa Broadcasting Corporation (MBC) and broadcast writer before he retired. He has been going to the Tianti bookstore every Sunday morning to do the exercises and read the teachings with other practitioners after attending a nine-day introductory workshop in April last year. He said the weekly group sessions have been invaluable to him.
Mr. Kim used to have diabetes, irregular heartbeat, high blood pressure, depression, and panic attacks. He had a pacemaker to aid his cardiovascular abnormalities. Today, his health examination results are all normal, and his temperament and perspective on life have changed significantly. He said that Falun Dafa has turned him into a different person and gave him a new lease on life.
Mr. Kim spoke about his experiences attending the nine-day classes last April.
"Maybe it is because I had done a lot of bad deeds and accumulated a huge amount of karma so I contracted many illnesses in old age. I thought of giving up on myself, as I had lost hope in life, but I encountered Dafa and was reborn. Master took me in as his disciple. I am grateful. I will put my heart into practicing cultivation for the rest of my life."
Rapid Progress During the Nine-day Workshop
Lee Jongcheon, 38, lives in Dongbo District, Seoul, and attended the introductory class in November 2021. He learned about Falun Gong through a friend who sent him a video about the practice. When he saw the words "Truthfulness-Compassion-Forbearance" in the video, it left a deep impression on him and inspired him to read all of the Falun Dafa books.
"I realized that practicing cultivation alone has its limitations," he said. "After reading Zhuan Falun 100 times, I went to the nine-day classes. During the nine days, as I listened to Master's lectures, I felt myself improving rapidly as if sitting in a rocket. Usually I could only do the sitting meditation for one hour but during the nine-day workshop, I could persist for one and a half hours."
Extraordinary Transformation After Practicing Falun Gong
Kim Jinsuk is a Korean in her 50s who moved to Seoul from China. She came to the Tianti Bookstore in June last year. She used to have difficulty standing straight as her right leg was shorter than her left leg. At the end of a day of hard work, she used to drink alcohol and take medications to alleviate her pain and help her sleep. However, after she did the Falun Dafa exercises, she experienced something extraordinary.
She discovered that her spine became warm. When she did the sitting meditation, her head felt clearer. After that, she did not feel as agonized standing for the whole day.
On the way back home from work one night, she was hit by a taxi at an intersection. She went to the hospital for an X-ray but she was fine. 
"While reading the main book  Zhuan Falun, I learned that one's purpose in life is to return to one's true origin. I made up my mind to practice Falun Dafa from then on," Jinsuk said. 
Wife and Son Become Practitioners After Seeing Husband Change
Hong Hyeonjin, 65, from Dongducheon in Gyeonggi Province attended the nine-day classes last March. "My husband used to be addicted to alcohol and had a hot temper," she said. "After practicing Falun Gong, he quit alcohol and became a kind man. Our whole family began to practice Falun Gong as well.
"Although my husband was a hardworking, upright and honest man, he easily flew into a rage and there was unrest in the family all the time," she said. "I thought of divorce many times. Even my son kept a distance from his father and they didn't say a single word to each other. After practicing Falun Gong, my husband, who used to drink alcohol instead of eating his meals, changed 180 degrees. He stopped drinking soon after and his temperament changed. He was a completely different person. Everyone around him was astonished because no one could believe he would undergo such a huge transformation in such a short period of time without psychotherapy or religious faith."
Her husband suggested that Hyeonjin read  Zhuan Falun. After reading it, she gradually started to let go of the resentment accumulated from past family conflicts and she felt wonderful. She realized that nothing can compare to the joy of practicing cultivation.
Her 38-year-old son also became a practitioner after seeing his father's transformation. He tries his best to be a good person. Like his father, her son is now a completely changed person. He found a new job. Now the father and son naturally get along well with each other and the family is harmonious. This is something Hyeonjin could have never imagined before she encountered Dafa.
"My friends commented recently that I look healthier and without any worries," Hyeonjin said. "Indeed, everyone in my family has become a better person. I feel like the most fortunate person in the world. I am very grateful to Dafa for bringing such an extraordinary change to my husband and our family."
Tranquil Energy During Class
Kim Geonhui, 54, from Suwon attended the January workshop after hearing about it when he went to the Tianti bookstore to buy a copy of  Zhuan Falun. 
"I felt energy when I watched Master's lectures being played," he said. "I felt very relaxed. I enjoyed going to the class every day and was reluctant for it to end. I'm usually cold all the time, but after two, three days of attending the class, I felt warm."
Finding Hope in Life
Hwai, 26, is originally from Vietnam. She was deeply hurt by her brother's violent acts when she was young and after moving to Korea she still led a hard life. She started to practice Falun Gong because a friend had suggested she give it a try. 
"Just as I was eager to learn Falun Gong, I received a flier about the nine-day class," Hwai said. "I once thought of killing myself as I felt there was no hope in life. After practicing cultivation, I have been able to let go of my hatred and face life positively. I've also learned to be considerate of others."
Finding Direction in Life
Students who have attended previous classes sent congratulatory messages to commemorate Tianti Bookstore's 100 th workshop. They thanked practitioners for their efforts and expressed how they cherish the opportunity to practice Falun Gong.
Kim Huisu, 62 from Wanju County wrote, "I felt that Falun Gong was what I had been looking for when I learned about it. I am even more convinced after attending the nine-day workshop. I found clear direction in life after practicing cultivation and my soul has changed too. My stomach and intestines were weak in the past but now I am feeling better. My current health is excellent. I hope more people can take up Falun Gong through the nine-day workshops and find direction in life just like me."
I Felt Fortunate During Those Nine Days
Kim Yesil, 57 who is from Incheon commented, "I had to leave early at 7 a.m. to get to Seoul from Incheon, yet not once did I feel tired during the nine days. On the contrary, I felt very fortunate. I attended a workshop after practicing Falun Gong on my own for around one and a half years. I discovered that my exercise movements were wrong after doing them with everyone. I'd read various books on cultivation and searched [for a cultivation practice] for 10 years. After practicing Falun Gong, I knew this is the answer for cultivation!"
Yesil said her right finger had been bent all her life but after practicing Falun Gong, she could straighten it. Her family was amazed. Since practicing cultivation with other practitioners, her understanding of the teachings has improved.
Time Spent Learning Falun Gong with Everyone Is Precious
Lee Okjae is in his 70s and is from Seongnam city in Gyeonggi Province. "When you practice cultivation by yourself, it is not easy to be diligent," he said. "During the nine-day workshop, I listened to the teachings and did the exercises with others. I was able to endure things I had not been able to tolerate before. 
"I did not skip a day when I attended the nine-day class last summer. Though I had to travel a long way, I did not feel tired. I read  Zhuan Falun subsequently. Since winter this year, I have been attending the morning exercises, even though it is cold. Because we do it together, it is helpful in pushing us to be more diligent. I hope more people can practice cultivation diligently through attending the nine-day workshop."
Tianti Bookstore in Seoul is located right outside Exit 13 of the Samgakji Yeok subway station. The bookstore holds free nine-day Falun Dafa introductory classes once a month.
The workshops are held for nine days consecutively, with morning as well as evening sessions. The next classes are scheduled for February 15-23, 2022.
Views expressed in this article represent the author's own opinions or understandings. All content published on this website are copyrighted by Minghui.org. Minghui will produce compilations of its online content regularly and on special occasions.