53-Year-Old Physician Gets Four Years for His Faith in Falun Gong
(Minghui.org) A doctor in Kunming City, Yunnan Province, was seized from his home at night on April 21, 2021, for refusing to renounce his faith in Falun Gong, a mind and body meditation practice that has been persecuted in China since July 1999. 
Dr. Hu Jinzhao was detained in Panlong District Second Detention Center and denied family visits. His family asked around and finally learned that he has been sentenced to four years in prison and was fined 8,000 yuan in early December 2021. He has filed an appeal from the detention center. 
Born on July 27, 1968, Dr. Hu was formerly an attending physician at Yunnan Province Psychiatric Hospital. He took up Falun Gong after he read Zhuan Falun, the main teaching of Falun Gong, and was in awe of the principles taught. He followed the teachings in his everyday life and treated his patients with patience and kindness. When his patients gave him presents and cash, he never accepted them. Under the glass plate on his table, he wrote Falun Gong's main principles of "Truthfulness, Compassion, Forbearance" to remind himself to constantly follow these teachings. 
Before the most recent arrest, Dr. Hu suffered multiple arrests since the persecution of Falun Gong started in July 1999. He was tortured in a detention center for a month, a forced labor camp for 3 years and 40 days, a brainwashing center for a week, and a prison for 3 years. As a result of the persecution, his employer removed him from his job as a doctor and prevented him from working elsewhere. Unable to withstand the pressure and constant harassment, his wife divorced him.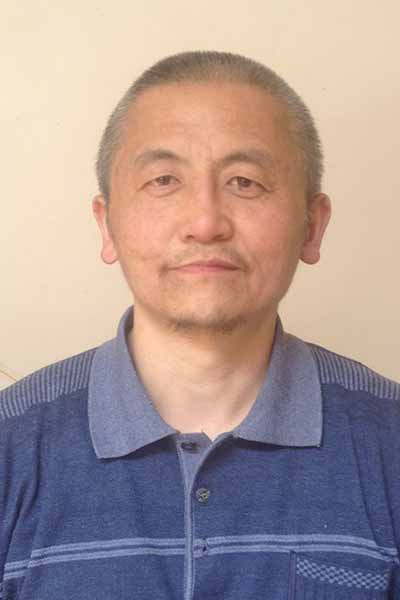 Dr. Hu Jinzhao
Most Recent Arrest and Prison Sentence 
The officers from Panlong District Police Department and Xiaoba Police Department and agents from the local 610 Office ransacked Dr. Hu's home at 11 p.m. on April 21, 2021. His home was turned upside down and locked drawers pried open. They arrested him and put him in Panlong District Second Detention Center. 
The police never informed his family of the arrest. His family looked everywhere and finally got some answers from Xiaoba Police Station eight days after the arrest. Only then did the police issue his Notice for Detention and tell his family that he was rushed to Yunnan Province Xinhua Hospital after suffering a heart attack following his arrest. The family grew suspicious, knowing that he didn't have any history of a heart problem. They tried to visit him in the hospital several times but the authorities turned them down. 
Dr. Hu was sent back to Panlong District Second Detention Center on June 30. The authorities at the detention center refused to let the family see him. His family went to Xishan District Court in Kunming City on December 21, 2021, to inquire about his case, but no one there gave them a definitive answer. The family kept asking around and later learned that a judge had sentenced Dr. Hu to four years in prison, and fined him 8,000 yuan. He had filed an appeal on December 8 and submitted the paperwork to a director named Tan Gan in the detention center. 
Past Persecution 
Dr. Hu has suffered greatly before his latest ordeal.
Detained for A Month 
Four people walked into Dr. Hu's office after 5 p.m. on March 14, 2002. Three of them said that the fourth one had a history of schizophrenia and was hospitalized three times. When Dr. Hu asked them to describe the patient's conditions, one of them replied, "The patient was handing out Falun Gong fliers, and you should hospitalize him." Dr. Hu told them that giving out fliers did not meet the conditions for being hospitalized and that he wouldn't admit the patient. 
The person then pointed at the characters "Truthfulness, Compassion, Forbearance" written on Dr. Hu's table and questioned if he was a Falun Gong practitioner. After Dr. Hu replied yes, the person said to Dr. Hu, "You wait here," and left. 
The patient told Dr. Hu that he had never heard of Falun Gong when Dr. Hu asked whether he was a practitioner. When Dr. Hu questioned why he handed out Falun Gong fliers if he knew nothing about it, the patient replied, "I was walking on the street and minding my business, when they grabbed and dragged me into the hospital, saying that I had (the fliers) in my bag." 
Right after Dr. Hu wrote on the patients' record that, "the patient denied practicing Falun Gong," a group of people, including agents from the local 610 Office, the police, and the hospital security, arrived. They locked Dr. Hu in Guandu District Detention Center for a month. He was released on bail awaiting trial. 
Losing Job and Family 
The hospital suspended Dr. Hu from work in April 2002. The authorities put Dr. Hu in a brainwashing center before releasing him one week later. Even though he was allowed to return to work, he was prohibited from seeing patients. Instead, he was reassigned to be a janitor. The hospital paid him little to no money each month for his work. 
To make a living, Dr. Hu found a job elsewhere. His hospital found him and forced his new employer to fire him. They then forced him to go back to the hospital and continue to be a janitor. 
In the midst of the persecution, Dr. Hu's wife couldn't withstand the pressure, harassment, and financial suffering. She divorced him in March 2004. 
Tortured in Forced Labor Camp for Three Years
When Dr. Hu was doing cleaning work in the hospital on the morning of November 4, 2004, two hospital security guards, one named Xie Daohong, came to him. They handcuffed him, tied up his legs, and put a helmet over his head to silence him. They carried him into a car and drove him straight to Yunnan Province Second Forced Labor Camp, located in Lufeng County. 
At the labor camp hospital, Qu Kaiming, the head of the security, grabbed his arm and wrestled him to the ground. Several people rushed over to hold him down. One of them laid on his back to prevent him from breathing normally. Qu stepped on his right elbow and palm and twisted his feet to rub his arm against the ground. They put handcuffs on him and lifted up the handcuffs to put a strain on his wrists. For three hours the handcuffs clamped on his wrists and cut off the blood circulation, causing his arms to swell up. 
He went on a hunger strike to protest the abuse in the fourth brigade, where he had to do labor-intensive work for long hours. Six days later, Qu retaliated and threw him on the ground. While he lay on his back, Qu pushed his legs over his head and pressed them down. The pressure prevented him from breathing and he almost suffocated. The next day they put him to work in a brick factory. Four months later he was transferred to a gem factory, where he was forced to work from 6:30 in the morning to midnight every day. 
One time two collaborators (former practitioners who had renounced their faith in Falun Gong under pressure) held Dr. Hu down and pressed their knees against the inside of his thighs, which caused him excruciating pain. They did this because "it's painful and won't show on the outside." One of them wiped his shoes with a mop and spit on the mop before applying it on Dr. Hu's mouth. The man sat on him so that he could barely breathe. While swearing at him, the man pulled the mop sideways on his mouth and ruptured his lips and the inside of his mouth. 
Freedom of belief is protected by China's Constitution and Dr. Hu refused to be treated like a prisoner. At the roll call before dinner every day, he shouted "Falun Dafa is good, Truthfulness, Compassion, Forbearance is good" when his name was called. Every day the guards slapped him, knocked him to the ground, and kicked him. His face swelled up, his clothes were torn, his body was covered in bruises, and the pain prevented him from moving when he laid down at night. A perpetrator said to him, "The way we beat you, I would have died if I were you. You must have your Master or divine beings protecting you." 
The guards intensified their abuses of Dr. Hu and other practitioners after the camp set forth a policy: "don't hurt others, don't hurt yourself, and don't let others hurt you." A guard explained to Dr. Hu, "If you practice Falun Gong, we'd be punished and get hurt. Hence you should be punished."
When practitioner Mr. Li Wenbo saw the guards torture Dr. Hu one day, Mr. Li questioned the guards and shouted "Falun Dafa is good." The guards jumped on Mr. Li and handcuffed him before beating him up. In the process, his head hit the corner of a concrete sink and made a loud bang. The guards often beat Mr. Li and Dr. Hu until they became immobile. "If he couldn't stand up, I'd help him, and he'd do the same for me," said Dr. Hu. 
The camp authorities transferred Dr. Hu to a brainwashing center on August 22, 2005. After relentless tortures, Dr. Hu couldn't think straight and renounced his faith. Four days later he declared that he would continue to practice Falun Gong. The authorities put him under strict management in the forced labor camp until his term ended. Because he didn't give up his faith, the camp authorities kept him for 40 days after his term ended, and released him in December 2007. 
Incarcerated for A Week During Sensitive Days 
Before an annual political meeting of the Chinese Communist Party, the police and the agents from the 610 Office arrested Dr. Hu to prevent him from appealing to Falun Gong during the sensitive days. They locked him inside a nursing home in Chenggong County from November 24 to November 30, 2011. 
Imprisoned for Three Years 
Dr. Hu talked to some students near a school about the persecution of Falun Gong on December 29, 2011. A student reported him to the police. He was arrested and given three years in Kunming City First Prison. The prison authorities did not allow his family to visit him during his entire term. They could only send him cash and clothes. 
The prison put him in a tiny cell that was cold and damp. The guards delivered a comforter to him after 10:30 p.m. and took it away at 6 a.m. every day. They poisoned him with unknown drugs and gas. As a result, he lost his hair and all his upper teeth. He suffered chest pain, shortness of breath, and coughing. After he was released on December 29, 2014, he regained his health by practicing Falun Gong. 
Related report:
Chief Physician of Yunnan Mental Institution Illegally Arrested Again
Views expressed in this article represent the author's own opinions or understandings. All content published on this website are copyrighted by Minghui.org. Minghui will produce compilations of its online content regularly and on special occasions.