Crimes of Xu Liquan, Former Secretary of Political and Legal Affairs Committee of Anhui Province
Sept. 6, 2021 | By a Minghui correspondent in Anhui Province, China
(Minghui.org) Sanctioning human rights abusers has become a consensus among democratic countries. After the U.S. passed the Magnitsky Act in 2016, Canada, the United Kingdom, and the 27-member-country EU enacted similar laws. Australia and Japan are working on the same.
In accordance with these laws, Falun Gong practitioners have compiled lists of perpetrators involved in the persecution of Falun Gong the past few years. Every year, they submit several lists to democratic governments, urging them to sanction the named perpetrators.
Starting on July 14, 2021, Falun Gong practitioners in more than 30 countries have been submitting the latest list of perpetrators involved in the persecution of Falun Gong to their respective governments, calling for sanctions on these human rights abusers, including denying them entry into their countries and freezing their assets overseas.
One name on this list is Xu Liquan.
Perpetrator Information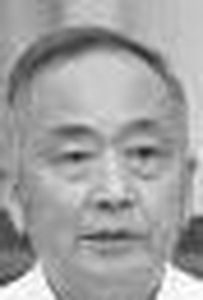 Full Name of Perpetrator: Xu (last name) Liquan (first name) (Chinese: 徐立全)Gender: MaleCountry: ChinaDate/Year of Birth: February 1956Place of Birth: Hefei City, Anhui Province, China
Title or Position:
May 2005 – November 2016: Secretary of the Political and Legal Affairs Committee of Anhui Province and Member of the Standing Committee of the Provincial Party Committee
December 2006 – August 2013: Director of the Provincial Public Security Department
January 2018 – Present: Chairman of the Hubei Provincial Committee of the Chinese People's Political Consultative Conference, Secretary of the Party Leadership Group
Main Crimes
The persecution of Falun Gong is severe in Anhui Province. Under the Chinese Communist Party's persecution policy, Xu Liquan actively persecuted Falun Gong and its practitioners during his tenure as secretary of the Political and Legal Affairs Committee of Anhui Province from May 2005 to November 2016.
In that position, Xu Liquan comprehensively led, directed, and planned the persecution of Falun Gong across the province.
According to available statistics, at least 38 Falun Gong practitioners in Anhui Province were persecuted to death and countless were arrested, sentenced, tortured, administered drugs against their will, and subjected to brainwashing.
Over 100 methods of torture have been used on Falun Gong practitioners, including electric shocks, beating with clubs, force-feeding, handcuffing, injections with unknown drugs, freezing, scalding, high-intensity unpaid labor, and so on.
Many practitioners were given drugs. To try to force them to renounce Falun Gong, the authorities in Hefei City, the capital of Anhui, gave practitioners large amounts of unknown drugs or injected them with drugs that damage the central nervous system. When a Hefei Mental Hospital physician, under orders from the Political and Legal Affairs Committee, injected practitioner Wu Xiaohua, he said, "I have been observing you for a long time, and you are indeed not mentally ill. [But] you must take the drug in the amount they require."
The following are examples of Falun Gong practitioners that were persecuted during Xu Liquan's tenure.
Deaths
Case 1
Mr. Wang Hongrong was arrested on September 24, 2004, and sentenced to eight years in Suzhou Prison. In February 2007, he was tortured and became incontinent and paralyzed from the waist down. In early April 2007, guards instructed prisoners to submerge Mr. Wang's feet in boiling water. In just half a day, his feet swelled up, blistered, and ulcerated. He was later diagnosed with cancer of the spine. He also had two swellings on his back the size of an egg. When he was near death, the prison released him in late April 2007. He passed away on June 22, 2007. He was 59.
Case 2
Mr. Fei Zhangjin was sentenced to three years and taken to Suzhou Prison in September 2005. Because he refused to renounce his faith, he was shocked by several guards with three electric batons and beaten with a wooden stick over three feet long. They beat him every day for over three weeks. In October 2005, guard Tang Chuanyou and others used high-voltage electric batons to shock Mr. Fei for several days. They also instructed other prisoners to force-feed him scalding rice and to pierce his lips with needles. Mr. Fei died in the prison on September 23, 2007.
Case 3
Mr. Wu Jiuping, then in his 30s, worked in Tianchang City Hospital. Xia Wenshi, the director of the hospital's security department, and four others broke into Mr. Wu's residence at 4 p.m. on November 22, 2007. Mr. Wu was then seen falling from his apartment on the fourth floor. Witnesses saw four police officers walk out of the apartment building, walk past Mr. Wu, who was lying on the ground, and leave. Mr. Wu died at 8 p.m.
According to an insider, Mr. Wu was in a daze but still able to talk when he was taken to the hospital. His left cheek was severely swollen, he was blind in his left eye, and his entire back and legs were bruised. He was diagnosed with a comminuted fracture of the left side of his pelvis and a broken left leg. His family suspected that the police beat and severely injured Mr. Wu before they threw him down from the fourth floor to cover up what they'd done.
Case 4
After the persecution began, Ms. Zhang Qiuhong was repeatedly arrested for refusing to give up Falun Gong, so she moved often. The police broke into her rental residence on the evening of June 20, 2008, and arrested her. Ms. Zhang went on a hunger strike to protest. Not until she was on the verge of death did the police take her to the hospital.
By June 30, Ms. Zhang fell into a coma for the 19th time, so the police released her on bail. She was very weak and couldn't see clearly, but the police continued to harass her at home and on the phone. The mental distress caused her condition to further deteriorate and she passed away on October 18, 2008.
Case 5
Mr. Xiao Xianfu was arrested in September 2006 for distributing Falun Gong flyers and detained in Jinzhai County Detention Center. Sun Jun, the deputy captain of the Domestic Security Office of Jinzhai County, fabricated documents to frame Mr. Xiao. A month later, Mr. Xiao was sentenced to three years. After being tortured in Anhui Province Prison, he had a bad stroke. Fearing that he might die in the prison, they released him on medical parole. He passed away two months later. He was 73.
Case 6
Ms. Zhu Zongxia was 51 years old when she was arrested by Sanli Street Police Stations officer on April 2, 2003, for distributing Falun Gong materials. She was detained for 15 days. After returning home, she was threatened and beaten by the police and her husband, who was deceived by the propaganda that slandered Falun Gong.
On the morning of May 20, Su Hong, the deputy director of the Sanli Street Police Station, instructed several police officers to arrest her and bring her to the police station. They threatened to take her to a forced labor camp and ordered her to give them the names of other practitioners. Ms. Zhu did not cooperate, so the police got angry and beat her. They threw her down from the fifth floor and she died.
Disabilities Due to Persecution
Case 1
Ms. Shi Changying, 57, from Feidong County, Hefei City, was taken to the Hefei Women's Forced Labor Camp in May 2006. Every day the police instructed three prisoners to pin her to the concrete floor while a fourth one, Zhang Junru, force-fed her. Ms. Shi was so badly injured that she had difficulty walking afterwards. She was put in solitary confinement on December 6, 2006, for a week. When she was released a month later, she was blind in both eyes.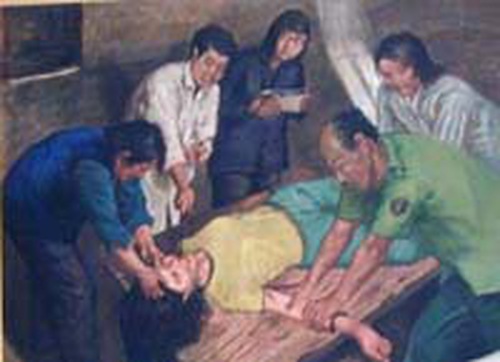 Torture illustration: Force-feeding
Case 2
Mr. Kong Dewen, a 53-year-old engineer, has been repeatedly held in brainwashing centers and served one term of forced labor, one prison term, and three detentions since the persecution began. He almost died from being tortured in custody. His eyes were injured and he lost the ability to work. In 2005, Mr. Kong was sentenced to three years in Suzhou Prison. He was held in solitary confinement, subjected to brainwashing, handcuffed, punched, kicked, deprived of sleep, and forced to work without pay. Released from prison in March 2007, Mr. Kong was disabled and incapacitated. His family asked several experts what caused his disability and they all agreed that it was due to ingestion of an unknown drug that damaged his central nervous system.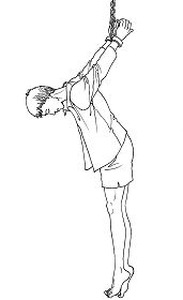 Torture illustration: Hung up
Sentencing
Case 1
Mr. Zhu Ming, Ms. Liu Li, Ms. Zuo Qixiang, and Ms. Liu Hefang from Hefei distributed informational materials about Falun Gong on April 18, 2009. They were arrested and detained in the Chizhou City Detention Center. The police interrogated and tortured them. In May 2010, the Guichi District Court of Chizhou City sentenced Mr. Zhu to five years in Suzhou Prison and Ms. Zuo and Ms. Liu Li to eight and six years, respectively, both in Suzhou Women's Prison.
Case 2
Mr. Sun Yufeng, a 74-year-old retiree in Taihe County, Anhui Province, was sentenced to eight years in prison in November 2014 for practicing Falun Gong.
Case 3
On April 11, 2016, the Bozhou City 610 Office instructed a local court to secretly convict the following 14 practitioners: Bai Jie, Fu Mingyi, Li Dongmei, Wang Shoulue, Zhu Shaojun, Li Haifeng, Cui Yong, Wang Junzhi, Tang Jialing, Zhao Sulan, Zhang Sumei, Jiang Yuehua, Jia Hongjuan, and Zhu Fengmin. They were arrested in September 2013 and sentenced to prison terms ranging from three to ten years.
Bai Jie, who was given the longest term of ten years, was tortured to death in Suzhou Prison on April 14, 2017. Li Dongmei became incapacitated and Zhu Fengmin became blind, also from being tortured in custody.
All articles, graphics, and content published on Minghui.org are copyrighted. Non-commercial reproduction is allowed but requires attribution with the article title and a link to the original article.
Category: Perpetrators Involved in Persecution of Falun Gong