Fairgoers in New York: "Truthfulness, Compassion, Forbearance Are Universal Values"
Sept. 11, 2021 | By Falun Gong practitioners in New York
(Minghui.org) Many people stopped at the Falun Gong information booth at the Broadway Village Fair, located on the streets of Manhattan on September 4, 2021. In addition to learning the meditative exercises, they condemned the Chinese Communist Party (CCP) for persecuting Falun Gong in China. Some remarked that Truthfulness, Compassion and Forbearance are universal values people should follow.
Li Jian, a Chinese American living in New York, asked practitioners for a origami lotus flower with the message "The World needs Truthfulness, Compassion, Forbearance." She said that the world is getting more chaotic because people don't believe in Truthfulness, Compassion, Forbearance. The world needs these principles in order to improve their attitude and behavior, she said.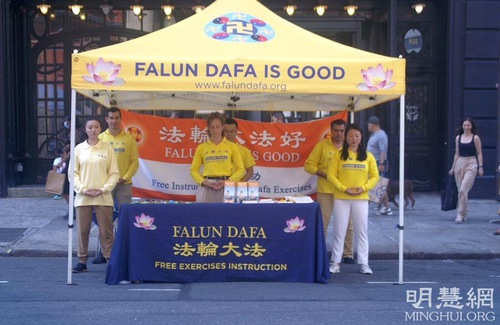 Falun Gong practitioners demonstrate the exercise movements.
The Falun Gong information booth was near Union Square in Manhattan. There, one can see an iconic symbol–a statue of George Washington, America's first president, riding a horse. It was put up in 1856. This is also the first bronze statue of an American riding a horse. There are many high-rise apartments, renowned chain stores, restaurants and cafes on both sides of the street, as well as a constant flow of people.
People Should Follow the Universal Values of Truthfulness, Compassion, Forbearance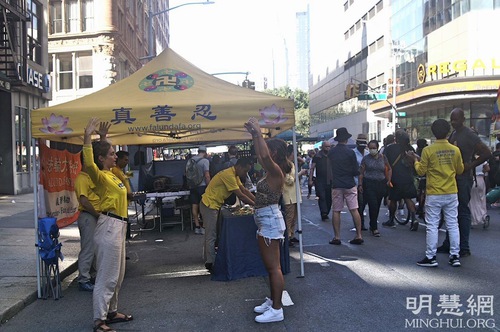 Bella (first right) learns the Falun Gong exercises.
Bella is a song writer and vocalist. She shared after learning the exercises that she felt as if the energy channels in her body were opened, and she felt relaxed and comfortable.
She said the values of Truthfulness, Compassion, Forbearance are very important and that everyone should live by them. She said she would learn Falun Gong after returning home.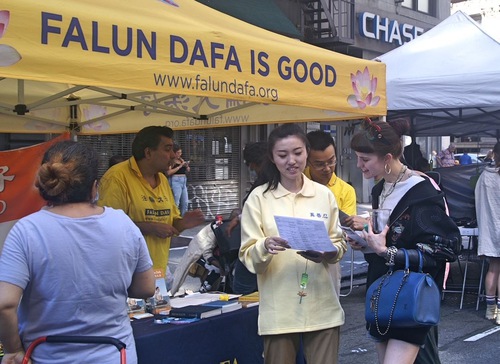 Rhiannon (first right) listened while a practitioner introduced Falun Gong to her.
Rhiannon is a sculptor. Her works are set to be displayed in a world-class exhibition. After listening to a practitioner introduce the cultivation practice, she too said that Truthfulness, Compassion, Forbearance are universal principles people should follow. She said the CCP has done a terrible thing by incarcerating people who believe in these values.
She said she would take action to stop the Chinese regime from persecuting Falun Gong, including asking her elected officials to propose a resolution to stop the CCP's human rights violations.
Exercises Make One Feel at Ease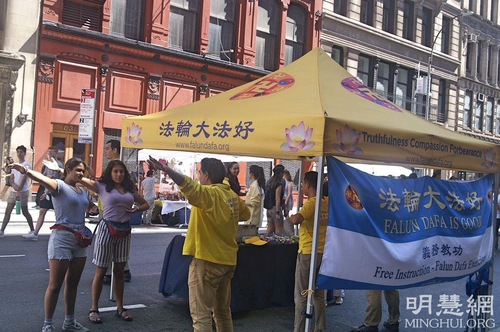 Siblings Neera (second left) and Tvisha Martin (first left) learn the Falun Gong exercises.
Neera and Tvisha Martin are sisters. Neera, who is older, is working on a Master's degree in psychology in New York, while her younger sister Tvisha is pursuing a PhD in environmental science at Ohio State University. Both of them began to learn the exercise movements after they were told about the persecution in China.
Neera said she felt her mind being purified and that doing the exercises was a pleasant experience. Tvisha said she felt a strong energy field and was peaceful and relaxed when doing the exercises.
Practicing Falun Gong Provides Inspiration for Artistic Creation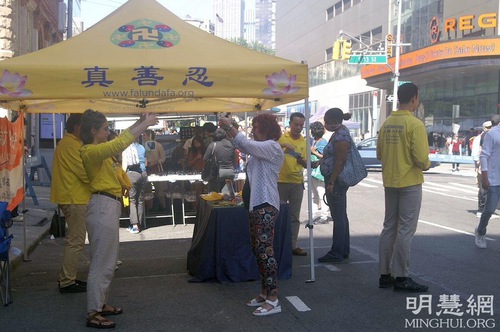 Kay learns the Falun Gong exercises.
Kay is a musician from Switzerland who lives in New York. She said she felt a powerful flow of energy and enjoyed doing the exercises. She knows many artists and said she would tell them that practicing Falun Gong would inspire and help them in their artistic endeavors.
She also said she hopes to invite practitioners to introduce the mind-body practice to her artist friends so that they too can benefit from it.
Powerful Energy from Falun Gong Exercises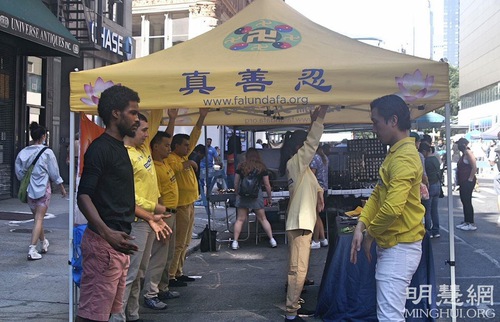 Phanor (first left) learning the exercises
Phanor is studying international trade at the University of Chicago. He tried many forms of martial arts, but this was his first time coming across Falun Gong. He said he felt a powerful energy and was very relaxed, and that he would continue to do the exercises at home.
Glad to Find Such a Wonderful Cultivation Practice Today
Noivma Baroll is from Israel. She said Falun Gong is a form of cultivation practice she had been searching for, as practitioners follow the principles of Truthfulness, Compassion, and Forbearance, and has exercises to improve one's health. She was delighted to have found the practice today.
She also said, "Israel is a country with a belief in God. But the religion we believe in does not have exercises for people to improve their health. To stop the spread of COVID-19, over 70 percent in Israelis have been vaccinated, but it really is of no use–many people still got COVID-19."
Practitioners informed her that there are many people learning Falun Gong in Israel too. She was delighted and said that she would go online to learn the exercises and contact local practitioners when she returns to Israel.
Practicing Falun Gong Benefits the Mind and Body
Natashar (first left) learning the exercises
Natashar is a nurse who practiced yoga for a long time. She said she felt relaxed and wonderful after trying the Falun Gong exercises.
When she learned yoga, the teacher only taught her several movements. There was no theory to guide her, and she did not feel any improvement. However, there are books for understanding the requirements when practicing Falun Gong, she said; it teaches people to improve themselves, and the exercises are easy to learn as well. She added that Falun Gong benefits the mind and body and suits her very well.
She bought a copy of Zhuan Falun, the main book of Falun Gong, and said she would continue to study it at home.
International Organizations Should Take Action to Stop the Persecution in China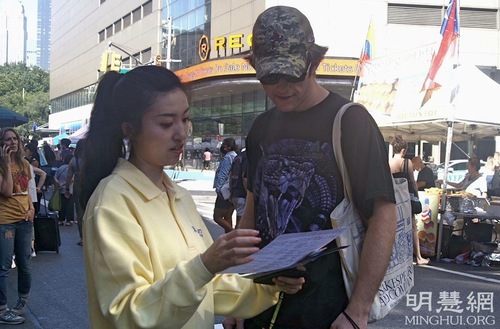 Robbic Swain (first right) listened to a practitioner introduce Falun Gong.
Robbic Swain is a script writer. He said the Falun Gong exercise movements are very calming and relaxing. He thought it was inconceivable that the CCP is persecuting people who follow the principles of Truthfulness, Compassion, Forbearance.
He also said he knows the CCP is harvesting organs by force from detained Falun Gong practitioners but that many Americans don't know about it. "The United Nations and international organizations should take action to stop the CCP's forced organ harvesting and its persecution of Falun Gong," he said.
I Respect Falun Gong Practitioners for Resisting the Persecution for So Many Years
Bruce Dunn (first right) talks with a Falun Gong practitioner.
Bruce Dunn is a retired teacher in New York City. When talking with practitioners, he said he had been following practitioners' efforts in resisting the persecution all these years. He said practitioners are upholding upright values and that everyone should follow the principles of Truthfulness, Compassion, Forbearance.
He said it has not been easy for practitioners to protest the persecution for so many years and that their efforts are admirable. He would continue to support practitioners in their effort to stop the persecution.
All articles, graphics, and content published on Minghui.org are copyrighted. Non-commercial reproduction is allowed but requires attribution with the article title and a link to the original article.
Category: Parades & Other Community Events