Seoul, South Korea: Significant Health Improvements at 9-Day Workshop
Aug. 6, 2021 | By a Falun Gong practitioner in South Korea
(Minghui.org) The 9-Session Falun Gong Workshop is regularly held in the Tianti Bookstore, in Seoul, South Korea. Every month, workshop participants learn the basics of Falun Gong's teachings and the five exercises that can significantly improve their health. Participants in the recent July 2021 session shared their experiences after the workshop.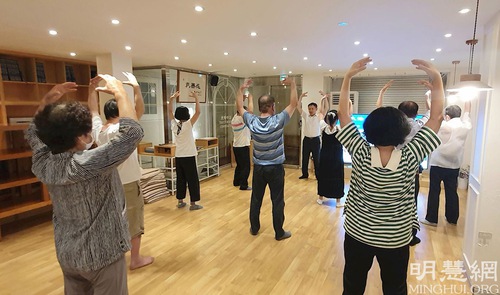 Participants in the 9-day Falun Gong workshop do the second Falun Gong exercise.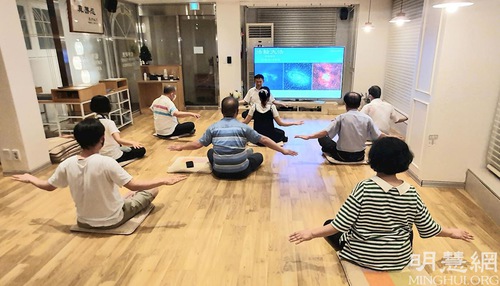 Learning the meditation exercise. 
Inspired by the Teachings of Truthfulness, Compassion, and Forbearance 
"The first day, on my way here, my legs were heavy when I climbed the stairs in the subway. Today is the last day, and my steps were so light that I could barely feel my body weight," said Mr. Jo Yeonghun from the Seongbuk District. 
Having heard about about Falun Gong in the 1990s, Mr. Yoon Jangnam recently received a copy of the Minghui Weekly at a train station. When he saw the practitioners exercising by the Anyang River, the three characters Zhen-Shan-Ren (Truthfulness, Compassion, Forbearance) resonated with him. "The meaning of the three characters touched my heart in a special way. What inspired me the most is that Falun Gong cultivates the mind as well as the body," he explained. 
When Mr. Nam Hyeonsu lived in Singapore, he saw dozens of Falun Gong practitioners do the exercises every morning. He enjoyed it. After returning to South Korea, he came across some practitioners when he was out hiking, and he learned the exercises. Plagued by chronic shoulder pain, he couldn't remember when his shoulder stopped hurting. "Because the frozen shoulder no longer hurt, I forgot about my hospital appointments. It was an amazing experience. I think it was a mercy from heaven and I want to start practicing Falun Dafa," he said. 
Another person who decided to join the workshop after reading the Minghui Weekly was Mr. Choi Changwan. A copy of the Weekly had been left on a bench. He picked it up, read a story about Korean practitioner Kim Gyeongil, and became curious about the practice. 
"It was an interview with Kim Gyeongil. I was impressed that, after a failed business and physical suffering, he made peace with himself by following the teachings of Falun Gong." During the 9-day workshop Mr. Choi was the first to arrive every day. 
"I felt comfortable the moment I stepped inside the bookstore. I felt calm and comfortable the entire time." 
After he read Zhuan Falun, the main book of Falun Gong, his health started to improve. "I used to drink [alcohol] three or four days a week. During the nine days of the workshop, no one called and asked me out for a drink, and naturally I didn't drink. I also slept less but remained energetic." 
Entering a New World 
Ms. Lee came to South Korea from China 20 years ago. Before she left, her sister put the book Zhuan Falun in her bag and reminded her, "You have the freedom to practice Falun Gong in Korea and you should read this precious book. You must hold on to it." Her sister, a Falun Gong practitioner, was once detained in China because of the persecution. Back then, Ms. Lee worked in a police station and she couldn't understand why her sister refused to renounce Falun Gong. 
Ms. Lee later was diagnosed with breast and pancreatic cancer. She was exhausted after repeated chemotherapy. It was then she remembered how her sister's health was restored because of Falun Gong. 
"At the time I was as good as dead," she said. "I didn't care if the practice would cure my cancer. I just wanted to die peacefully."
The first day she attended the workshop, Ms. Lee read Zhuan Falun. On her way home, she had diarrhea and had to stop to use the toilet multiple times. After her diarrhea went away, she suffered severe stomach pain. Three days later she felt brand new and completely healthy. 
"I used to believe only in what I could see with my eyes," Ms. Lee said. "All I knew was that illnesses must be treated with medicine. Now I look at illnesses from a different angle. A person should not live with the eyes and ears closed." 
Each time she read Zhuan Falun, Ms. Lee had a different understanding, and talked of indescribable emotions. She cried as she said, "The practice allows me to enter a new world." 
Finding the Way Home 
Since childhood, Ms. Lee Yejeong has been curious about religions. She went to a church but was disappointed. In college she attended a religious movement and was disappointed again. She turned to Buddhism, but still didn't find a mentor. 
Ms. Lee met up with Falun Gong after she came across the Korean version of Zhuan Falun in China in 1998. After reading it, she knew that she was born to practice it. 
For a long time, Ms. Lee couldn't study the teachings and do the exercises regularly. It bothered her because "it felt like I found my way home, but I kept on being distracted on the way." 
Knowing that she had to get serious about the practice, Ms. Lee attended the workshop. "When I practiced alone, I often couldn't focus when I read the book or watched the lecture videos. I learned a lot from the workshop and I really appreciated it. Now I want to be a steadfast practitioner." 
Nine-Session Workshop in Seoul, South Korea
The workshop is held once a month at the Tianti Bookstore, which is located right outside exit 13 of Samgakji Yeok subway station. The workshop is given for 9 consecutive days. The morning sessions are from 9:30 a.m. to noon, and the evening sessions 7:15 p.m. to 9:30 p.m. The workshop is free of charge. The next session will be from August 24 to September 1. Please call 02-504-0860 for more information. 
All articles, graphics, and content published on Minghui.org are copyrighted. Non-commercial reproduction is allowed but requires attribution with the article title and a link to the original article.
Category: Beginning Cultivation