July 20: What Can We Learn from History?
Aug. 6, 2021 | By a Minghui correspondent in China
(Minghui.org) More than two weeks have passed since July 20, 2021, but this particular date has been attracting more and more attention. 
Typing in "7.20" on Chinese search engines brings up numerous results. The two top items are the recent flooding of Zhengzhou City in Henan Province on July 20, 2021, and the detection of the Delta variant of the coronavirus at Nanjing Airport in Jiangsu Province, also on July 20, 2021. 
The July 20 flooding in Henan Province has passed, but many people remain unaccounted for and the exact death toll is unclear. Yet instead of investigating the root cause of the disastrous flooding and preventing it from happening again, the Chinese Communist Party (CCP)-controlled media has simply downplayed the severity of the floods. Instead, many news stories are filled with accolades extolling the CCP's "achievements" in saving the people.
After the Delta variant was first detected at Nanjing Airport on July 20, it quickly spread within Jiangsu Province and beyond. More than 300 cases of the highly contagious Delta variant have been identified, with at least 12 provinces reporting cases directly linked to the outbreak in Nanjing.
Is it a coincidence that these two incidents happened on the same day? A look at history might give us some perspective, clues, and lessons to learn.
Cause and Effect in the Context of History
Reverence for the divine has permeated the thousands of years of Chinese civilization. The ancient Chinese believed in the harmony of heaven, earth, and mankind. More specifically, when people cherished virtue, they were blessed with health and prosperity. When disasters occurred, people would examine themselves to see whether they had committed wrongdoings and would make corrections accordingly. 
This understanding of cause and effect is well documented in history, from emperors to local officials. When flooding took place, emperors often consulted with their officials as to whether there had been injustice or major mistakes committed. For example, in the 8th year of the Zhenguan Period in the Tang Dynasty, there were frequent floods in Shandong Province as well as along the Yangtze and Huai Rivers. When Emperor Taizong asked officials why, Imperial Secretary Yu Shinan replied, "The rain has continued in Shandong for a long time and this could be caused by injustice." He suggested reconsidering policies on detention. "This could be heaven's will," he continued, "nonetheless, disasters cannot beat virtue, and focusing on moral values can eliminate disasters." Emperor Taizong heeded this advice. He sent officials to relieve famine, investigate improper litigation, and pardon offenders. 
Ancient emperors knew that their power came from the divine. When they encountered disasters, they often reflected on themselves and asked their officials to do the same. In the 9th year of the Yongle Period of the Ming Dynasty, there was a major plague in Shaanxi Province. Emperor Chengzu issued a "rescript for penitence," sincerely acknowledging his own fault and trying his best to relieve citizens of the effects of the disaster. In fact, during the early and middle periods of the Ming Dynasty, people often willingly helped each other and officials had high moral standards. This is well documented in history books. 
A Major Injustice of the 21st Century
The CCP defies traditional values and cannot tolerate citizens who uphold such values. They especially cannot tolerate those who practice Falun Gong (also known as Falun Dafa), a mind-body practice based on the principles of Truthfulness-Compassion-Forbearance. The persecution of Falun Gong remains unabated today since it began 22 years ago, on July 20, 1999.
According to reports from Minghui.org, at least 667 Falun Gong practitioners were sentenced in the first 6 months of 2021. The provinces with the most sentences are: Henan (70), Liaoning (66), Heilongjiang (65), Jilin (56), Shandong (54), Guangdong (46), Sichuan (43), Hebei (31), Tianjin City (23), Anhui (23), Hubei (21), and Jiangsu (20). 
The cities where most of these cases occurred are Nanyang (41), Changchun (32), Harbin (20), Dalian (20), Shenzhen (18), Daqing (15), Wuhan (14), Chengdu (13), Jiamusi (12), Yinchuan (12), Zhoukou (11), Shenyang (10), and Chifeng (10). 
Henan Province Is One of the Worst in Persecuting Falun Gong
The above data indicate that Henan Province topped the province list in 2021 with 70 Dafa practitioners sentenced to prison and 41 of the sentenced practitioners in Nanyang City, which topped the city list. According to Minghui reports, officials from the Political and Legal Affairs Committee (PLAC), the 610 Office, and other agencies were responsible for sentencing practitioners to up to 13 years, with fines as high as 639,000 yuan. The Wancheng Court in Nanyang City in particular, sentenced 27 practitioners, including Mr. Zhao Peiyuan who was sentenced to 13 years with a fine of 50,000 yuan. 
Several examples are outlined below. 
Former Industry and Commerce Bureau chief sentenced
Mr. Wang Tiezhuang was the former chief of the Industry and Commerce Bureau in Nanyang City. After he started practicing Falun Gong, he followed the principles of Truthfulness-Compassion-Forbearance in every area of his life. He became considerate of others and helped people solve their problems, making him a rare exception among generally corrupt CCP officials. 
After Mr. Wang went to Beijing to appeal for Falun Gong in 2000, the Nanyang City Party Secretary and police chief tried to force him to give up his belief. When Mr. Wang did not yield he was given three years of forced labor at the Henan Province Third Labor Camp, where he was tortured by being tied up and humiliated. Because he called out "Falun Dafa is good" and appealed for justice for practitioners who had been tortured to death, such as Mr. Li Jian, his term was extended by a year.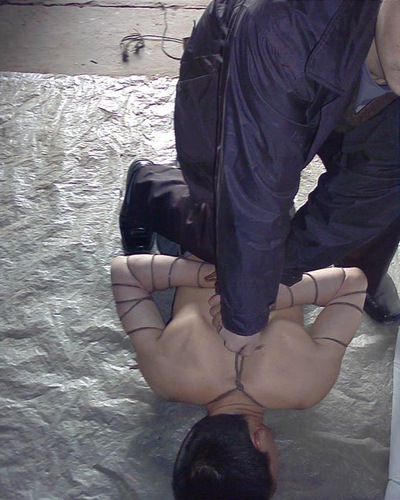 Torture reenactment: Tying-up
Mr. Wang was arrested again in March 2020 and illegally detained for 18 months. He was recently sentenced to a 7-year term with a fine of 20,000 yuan. 
81-year-old sentenced to more than 9 years
Mr. Zheng Jiajin, 81, is a former engineer from the Railway Tunnel Bureau in Xinxiang City of Henan Province. He used to suffer from severe jaundice. After he started practicing Falun Gong, all of his illnesses, including the jaundice, were cured. 
On February 23, 2021, Mr. Zheng was sentenced to 9 years and 2 months with a fine of 10,000 yuan. 
Business owner died one month after his arrest
Mr. Li Xianxi was a resident of Anyang City, Henan Province. People who knew him said he was a modest person who never hesitated to help others. He ran a retail store to make a living. Police arrested and detained him on May 21, 2021. On June 13, Mr. Li's family was notified that he had died in custody the day before. 
Former teacher arrested, died during detention 
Mr. Guo Baojun, a former teacher, was a resident of Zhengzhou City, Henan Province. When he was distributing Falun Gong informational materials on November 10, 2019, he was arrested and later sentenced to a two-year term. On March 14, 2021, his family received a text message from the Zhengzhou Third Detention Center, telling them that Mr. Guo had died.
Massive Hate Propaganda in Nanjing
Over the past 22 years of suppression, Falun Gong practitioners have been discriminated against, arrested, detained, tortured, and killed. The general public has become victims of the CCP's defamatory propaganda on a large scale. 
Nanjing is such an example. After local Falun Gong practitioners submitted criminal complaints in 2015 against former CCP leader Jiang Zemin for launching the persecution of Falun Gong, the so-called Nanjing Anti-Cult Association sent out 30,000 text messages in that year alone to denigrate the wave of lawsuits against Jiang. In addition, the same agency launched 350 shows and distributed over 200,000 copies of printed material to slander Falun Gong. 
The agency also produced more than 400 defamatory posters and banners, along with over 60,000 cheap items including poker chips, paper cups, paper fans, bags, and umbrellas that bore messages against Falun Gong. Many other agencies joined the campaign against Falun Gong, including those in the fields of science, education, religion, sports, and law, as well as the Propaganda Department and local residential committees. Many defamatory activities took place at crowded places such as subway stations and public squares. Even middle school and elementary school students were forced to participate. 
The smear campaign poisoned the public and incited hatred toward Falun Gong, pushing people away from the principles of Truthfulness-Compassion-Forbearance. 
All the while it is fabricating and publicizing lies against Falun Gong, the CCP has been covering up its brutal persecution of Falun Gong practitioners.
A Place of Darkness and Lies
Even though numerous events, especially those concerning the Zhengzhou floods and the Nanjing coronavirus outbreak, pop up when people type in "7.20" in Chinese search engines, there is not one mention of the persecution of Falun Gong that started on July 20, 1999. 
When searching the Chinese version of Minghui.org with the keyword "7.20," 41,267 results come up. Behind each news item are tragic stories of Falun Gong practitioners being persecuted for upholding their faith and exposing the persecution. 
Throughout these past 22 years, millions of practitioners have been harassed, arrested, detained, tortured, and killed. Over 4,000 practitioners are documented on Minghui.org as having lost their lives to the persecution, but because of the difficulty in getting information out of China, the number is likely to be much higher.
With Henan Province recording the most prison sentences for Falun Gong practitioners, and Nanjing City being one of the worst places for hate propaganda against Falun Gong, could the recent flooding and virus outbreak that happened in these places be more than simply natural disasters or man-made catastrophes? There could be deeper reasons.
We sincerely hope that all people stay healthy and safe. We would like to remind everyone that siding with the vicious CCP regime will only lead a person down a path of hatred, brutality, and danger. By rejecting the CCP and embracing a pure conscience, people will once again find a brighter path ahead. 
All articles, graphics, and content published on Minghui.org are copyrighted. Non-commercial reproduction is allowed but requires attribution with the article title and a link to the original article.
Category: Perspective