79-year-old Man in Serious Condition Sentenced to Five Years for His Faith
Aug. 5, 2021 | By a Minghui correspondent in Guangdong Province, China
(Minghui.org) A 79-year-old former engineer was sentenced to five years on July 28, 2021, despite dangerously high blood pressure and a heart condition as well as impaired vision and hearing.
Mr. Zeng Jiageng of Guangzhou City, Guangdong Province, was arrested on July 10, 2019, after the police accused him of using his phone as a hot spot to spread information about Falun Gong, a spiritual discipline that has been persecuted by the Chinese communist regime since 1999.
Mr. Zeng began to experience life-threatening high blood pressure and a heart condition two months after his arrest. Tan Junhua, a guard at the Guangzhou City First Detention Center, informed the Guangzhou City Police Department on September 10 of Mr. Zeng's condition and urged the police to speed up the processing of his case. Mr. Zeng's family and lawyer applied to have him released on bail but were turned down.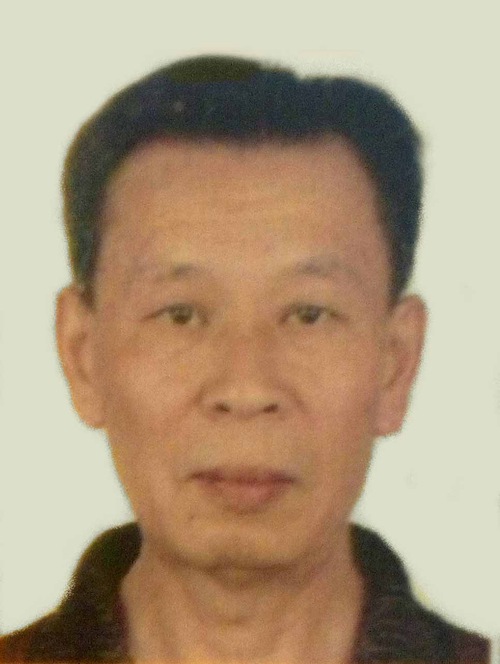 Mr. Zeng Jiageng
The police in early October 2019 submitted Mr. Zeng's case to the Guangzhou City Procuratorate, which then assigned it to the Haizhu District Procuratorate. In November 2019, the prosecutor indicted Mr. Zeng and moved his case to the Haizhu District Court. Mr. Zeng was transferred from the Guangzhou City No.1 Detention Center to Haizhu District Detention Center in February 2020.
While examining the video of Mr. Zeng being interrogated on the day of his arrest, his lawyer noticed that the interrogation record did not match the video. The video showed the police asking Mr. Zeng what device he carried when he was arrested, where he got the Wifi hot spot, how he used the hot spot, if he'd spread information about Falun Gong with it, and if the police had found Falun Gong books and materials or a computer in his home.
Mr. Zeng remained silent throughout the interrogation. The police produced an interrogation record, however, that had answers to all the questions asked in the video, with Mr. Zeng "admitting:" "I had a white Wifi hot spot when I was arrested. The device was given to me by someone at a local market. I only used it to promote Falun Gong. I turned on the device when I went out. The police confiscated Falun Gong books and materials from me."
The lawyer filed complaints with the Guangzhou City Procuratorate and Guangzhou City Police Department against the four police officers, Pan Yane, Chen Zhonghao, Li Jinlin, and Liu Cimin, who interrogated Mr. Zeng following his arrest.
When the police investigator followed up with the lawyer, he emphasized that the officers had followed legal procedures in the interrogation, without mentioning anything about their fabricating answers or saying if officers would be punished.
Mr. Zeng's lawyer also discovered that the authorities kept a different copy of his case document, but neither the prosecutor nor judge has ever allowed him to see it.
Mr. Zeng was made to stand trial in the Haizhu District Court on August 17, 2020. The hearing was held through a video conference in the detention center. Due to his severe hearing loss, the presiding judge, Zhou Zhengyuan, asked his lawyer to write down questions he intended to ask Mr. Zeng. When the hearing resumed in the afternoon, the lawyer realized that judge Zhou had removed some questions regarding the illegality of the persecution of Falun Gong, even though he'd promised to send over all questions he submitted.
The prosecutor added a piece of prosecution evidence, which was a lawyer's opinion that Mr. Zeng had forwarded to the authorities when he tried to rescue his son, Mr. Zeng Hao, who'd been arrested and sentenced earlier for their shared faith in Falun Gong. The lawyer's opinion was written by a different lawyer, who emphasized the illegality of the persecution of Falun Gong and that Mr. Zeng was using it to defend his son's innocence.
The judge held another hearing on September 23. Prosecutor Xu Weiguo smacked the desk and claimed that he was representing the country when the lawyer challenged the lack of legal basis for the persecution. Xu suggested that Mr. Zeng be sentenced to eight years in prison.
While awaiting the verdict, Mr. Zeng's health deteriorated. His blood pressure kept rising. His hearing and vision declined further. He often suffered from insomnia and he couldn't keep his balance while walking.
His family and lawyer's repeated requests to have him released on bail were ignored, and judge Jia Cunjin stopped answering the lawyer's calls.
On July 28, 2021, the judge announced that Mr. Zeng had been sentenced to five years with a 10,000-yuan fine.
Perpetrators' contact information:
Liang Guoqing (梁国庆), head of Huangsha Police Station: +86-13924269365Shi Lei (石磊), police officer: +86-13922270528Hou Jianguo (侯建国), police officer: +86-13802983322Zeng Kangjie (曾康杰), police officer: +86-13600098547Pan Yan'e (潘艳娥), officer of Guangzhou City Police Department: +86-20-83127657, +86-13503020009Chen Zhonghao (陈仲濠), officer of Guangzhou City Police Department: +86-13924026721Yu Guanhua (喻官华), officer of Guangzhou City Police Department: +86-13711594216Wang Xingmin (王兴民), officer of Guangzhou City Police Department: +86-13826256070Li Jinlin (李进林), officer of Guangzhou City Police Department: +86-13609712679Liu Cimin (刘慈敏), officer of Guangzhou City Police Department: +86-13902247257Wang Kun (王堃), officer of Guangzhou City Domestic Security Office: +86-13632337564Zou Guoqiang (邹国强), a cyber police officer: +86-18688205695Feng Cong (冯聪), a cyber police officer: +86-13925135770Xu Weiguo (许为国), prosecutor of Haizhu District Procuratorate: +86-13560320618Zhou Zhengyuan (周征远), presiding judge of Haizhu District Court: +86-13570056518Jia Cunjin (贾存锦), judge: +86-18126766762
(More perpetrators' contact information is available in the original Chinese article.)
Related reports:
Ailing 78-year-old Man Detained Over Fabricated Interrogation Record
78-Year-Old Seriously Ill Man Faces Eight Years in Prison if Convicted for His Faith
Retired Engineer Still Detained One Year After Arrest for His Faith, Bail Denied Despite Serious Condition
78-Year-Old Retired Engineer Remains in Custody for His Faith, Despite Serious Health Condition
77-year-old Man in Custody Develops Hypertension, Impairing his Eyesight and Hearing
Eight Guangzhou Residents, Including Six in Their 70s and 80s, Arrested for Their Faith in Two Days
Retired Engineer Develops High Blood Pressure in Custody, Family Calls for His Release
All articles, graphics, and content published on Minghui.org are copyrighted. Non-commercial reproduction is allowed but requires attribution with the article title and a link to the original article.
Category: Accounts of Persecution