Zhejiang Resident in Serious Condition After Going on Hunger Strike To Protest Arbitrary Detention
July 25, 2021 | By a Minghui correspondent in Hubei Province, China
(Minghui.org) A man in his sixties is now in serious condition after being on a hunger strike for months to protest his latest arrest for practicing Falun Gong, a spiritual discipline that has been persecuted by the Chinese communist regime since 1999.
Mr. Li Qiguo, a native of Wuxue City, Hubei Province, was arrested on March 18, 2021, while working at a construction site in Wenzhou City, Zhejiang Province. He started a hunger strike after being taken to the Ouhai Detention Center.
When his lawyer recently visited him, he was emaciated and disfigured. It was reported that he has been taken to the hospital for treatment. More detail about his case is being investigated.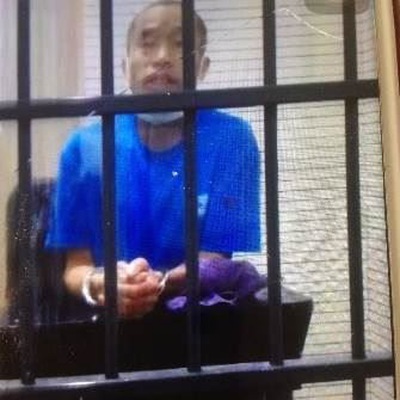 Mr. Li Qiguo in a previous detention
Arrested in 2008
Since the onset of the persecution in 1999, Mr. Li has been targeted for upholding his faith in Falun Gong, which he credits for curing his Hepatitis B, enteritis, and a stomach problem.
He lived away from home since 2002 to avoid the persecution, and was arrested on the evening of July 30, 2008. He was on the verge of death as a result of being tortured while in custody.
Mr. Li resumed practicing Falun Gong after being released. Upon seeing how quickly he recovered, his son, Mr. Li Huafeng, then 24, took up Falun Gong in 2012.
Son Sentenced to 3.5 Years in 2014
Mr. Li Huafeng was discovered by the police when he was distributing informational materials about Falun Gong while working in Songyang County, Zhejiang Province. The police ransacked his home on the evening of July 22, 2013.
As he was still working on a construction site when the police came, he escaped the arrest. The police instead arrested three of his family members and interrogated them until midnight.
Mr. Li went to Changchun City, Jilin Province to hide from the police, only to be arrested on August 29, 2013, by the police who traveled 1,500 miles from Songyang County to Changchun.
After he was taken back to Songyang County, the police and agents from the Songyang County 610 Office deceived his wife into providing false information against him, which led to his official arrest on October 5. Threatened by the police, his wife soon left the family, leaving their three children with Mr. Li's mother.
Mr. Li's mother twice traveled over 300 miles with his three young children and grandfather in his 80s from Hubei Province to visit Mr. Li in Songyang. The guards rejected her request and only gave them a photo of Mr. Li being locked up in a wooden cage.
Mr. Li's father (Mr. Li Qiguo) later hired a lawyer to represent his son, and collected online petition signatures to rescue him. The 610 Offices in Songyang County and Wuxue City ordered the arrest and home raid of the elder Mr. Li on November 10, 2013.
The elder Mr. Li held a hunger strike after being taken to the Wuhan Brainwashing Center. He was emaciated and unable to walk.
When his daughter, Ms. Li Huali, tried to rescue him, she was interrogated.
The police beat Ms. Li at her own delivery shop on January 4-5, 2014, after she refused to cooperate in persecuting her family members. She was then arrested and held in a detention facility in Xishui County.
Her brother Mr. Li Huafeng was secretly tried and sentenced to 3.5 years by the Songyang County Court. The judge didn't inform his lawyer or family of the trial. He appealed with the Lishui City Intermediate Court, but the judge ignored his appeal and sent him directly to the Zhejiang No. 2 Prison on July 30, 2014.
Perpetrators' contact information:
Pan Linya (潘林娅), prosecutor: +86-577-56679031
Related report:
All articles, graphics, and content published on Minghui.org are copyrighted. Non-commercial reproduction is allowed but requires attribution with the article title and a link to the original article.
Category: Accounts of Persecution