Young Man Secretly Sentenced, Imprisoned During His Appeal
September 24, 2014 | By a Minghui correspondent from Zhejiang Province, China
(Minghui.org) Mr. Li Huafeng (李华鋒), 26, has been detained in the Zhejiang No. 2 Prison for about two months. He has appealed his sentence to the local intermediate court.
According to Chinese law, the prison sentence should not take effect until the intermediate court decides to uphold it. Despite this fact, he was sent to prison on July 30, 2014.
A show trial of his case was held on April 18th. Under the pressure from the local 610 Office, the judge didn't allow Mr. Li's lawyer to plead not guilty, and refused to accept the defense's statement. The session adjourned without a verdict.
A second trial, of which his family and lawyer were unaware until after the fact, sentenced him to 3.5 years in prison. More background follows:
Mr. Li was arrested in Changchun, Jilin Province on August 29, 2013. He had fled there upon escaping from his July 22 arrest in Zhejiang, where he worked and his immediate family resided. He was transferred back shortly after.
The local procuratorate approved his arrest based on statements that police coerced from his wife, who soon left the family, leaving their three children with Mr. Li's mother.
Mr. Li's mother, with the three children and Mr. Li's grandfather, traveled twice from their hometown in Hubei to visit him, but were denied of their visitation rights. A domestic security policeman finally showed them a picture of Mr. Li being detained in a wooden cage. Seeing the picture, the mother and grandfather burst into tears.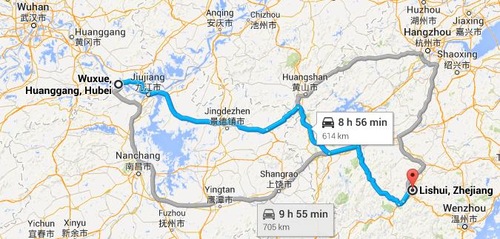 Mr. Li's family traveled twice from their hometown in Hubei to Zhejiang, where he is detained, but couldn't see him. The one-way distance between the two cities is nine to ten hours in a private vehicle and without traffic. (Source: Google Maps)
Mr. Li's father Li Qiguo (李其国) sought his son's release and was taken to the Wuhan Brainwashing Center on November 10, 2013. There he went on a hunger strike to protest the injustice. Due to the torture he was subjected to, he was emaciated, skin and bones, and couldn't walk on his own. His current situation is unknown.
The Zhejiang No. 2 Prison:
Address:P.O. Box 52-5032 Anping RoadLiping Township, Yuhang District, Hangzhou, Zhejiang Province 311100
Supervision division of the Discipline Committee: +86-571-86141099 (Office)Prison administrative brigade: +86-571-86244846 (Office)