New York: Victims of 22-Year-Long Persecution Commemorated with Candlelight Vigil
July 24, 2021 | By a Minghui correspondent in New York
(Minghui.org) Falun Dafa practitioners in New York held a candlelight vigil near the Hudson River across from the Chinese Consulate. They commemorated the 22nd anniversary of practitioners' peacefully resisting the Chinese Communist Party's (CCP) persecution, and mourned their fellow practitioners who died in the persecution.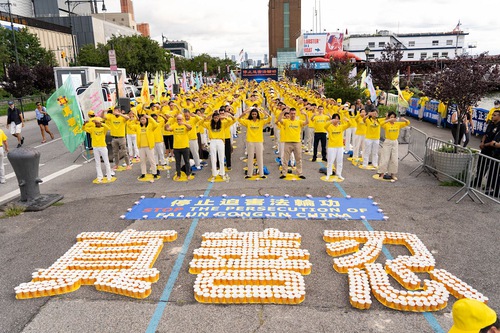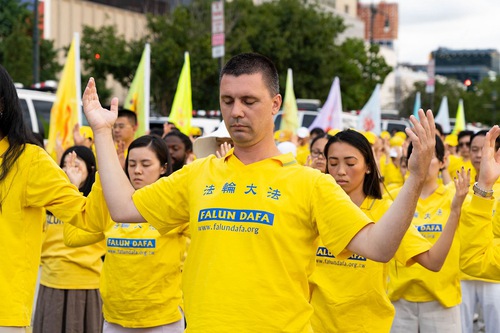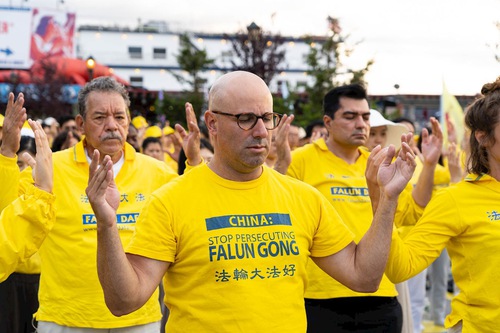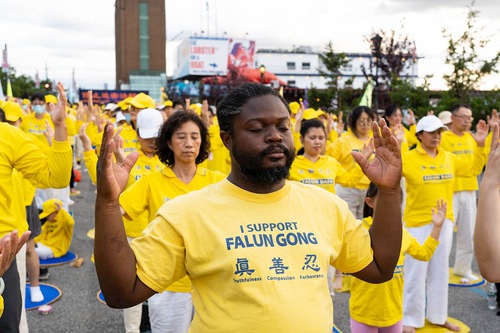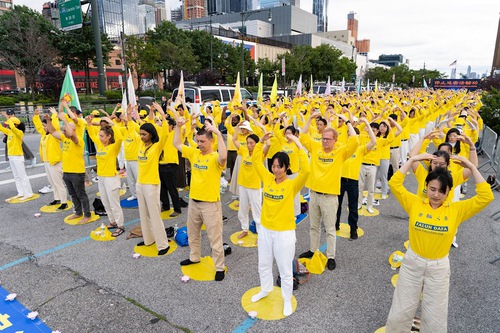 Practitioners in New York call for an end to the persecution by communist regime.
According to the Minghui website, the persecution against Falun Dafa has caused over 4,000 deaths. Hundreds of thousands of practitioners have been imprisoned and tortured, and countless others have been forced to leave their homes, jobs, or schools.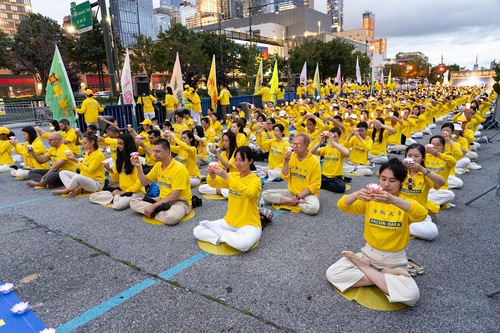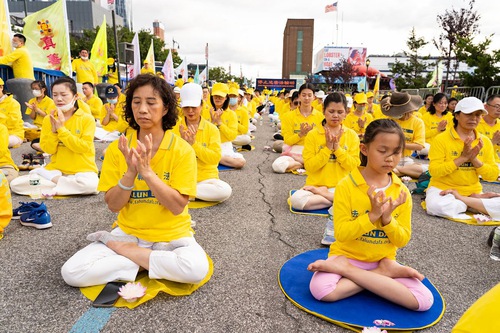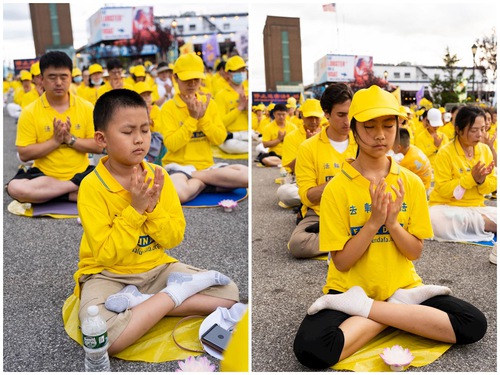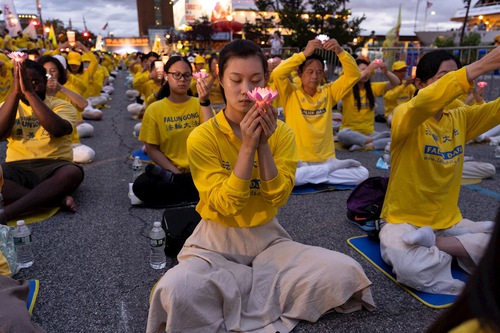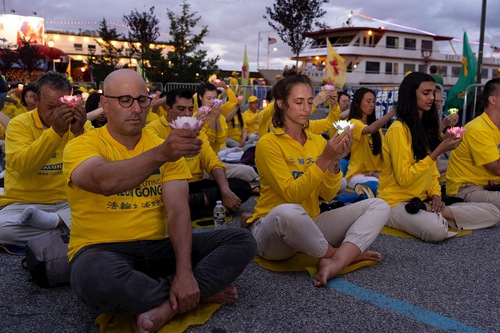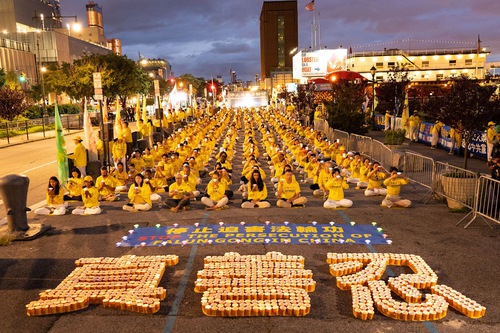 As evening enveloped the city, practitioners' twinkling candles sent a strong message calling to end the persecution in China.
"Several people I knew died as a result of this persecution," said Ms. Feng Liping, a pharmacist from Shenzhen, China. "I come here every year to tell people about the Chinese Communist Party's crimes against innocent people."
Before Ms. Feng escaped to the U.S. in 2008, she was imprisoned by the CCP several times, including while she was three-months pregnant. She had a miscarriage in custody, and lost her baby. A few months after she gave birth to her second baby, the CCP arrested her again. She was thrown into forced labor camps twice. Her family also suffered tremendous pressure. She only got a chance to see her son three times during his childhood. 
Mrs. Ju Ruihong recounted the experience of her husband Li Delong, who died at age 48 due to the persecution. Li was arrested because he went to Beijing to appeal for Falun Dafa. The police slapped his face with a leather shoe. After suffering various forms of persecution for years, he passed away in 2009. 
"My eleven-year-old daughter used to be an outgoing girl, but she became depressed after her father died," Ruihong said. She was also imprisoned for no reason, and suffered various tortures. She and her daughter finally escaped China.
Ms. Jiang Li said that her father died from the persecution. The CCP authorities openly told her family that all her father's organs were removed to be used as biological specimens.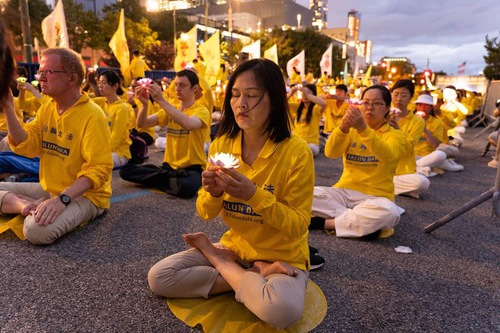 Falun Dafa practitioner Jiang Li
Jiang Li's father was an official at the local tax bureau. He was thrown into a forced labor camp in 2008. When his family visited him in February 2009, he looked fine, but they were notified the next day that her father had passed away.
"My sister put her hand on Father's face in the funeral home and said that his face was still warm. She cried out, 'Father is still alive!' The policemen on site rushed over as soon as they heard it, and forcefully pushed my father into a freezer," Jiang said, "On March 26, a director of Chongqing City Procuratorate told us that all my father's organs had been removed. We have a recording of the conversation." 
Six people in Jiang Li's family practice Falun Dafa. Her mother was sentenced to 8 years in prison, her older sister was sentenced to 3 years in prison, and her older brother was thrown into a forced labor camp for 3 years. Jiang Li was imprisoned several times, and her properties were confiscated. She eventually escaped China.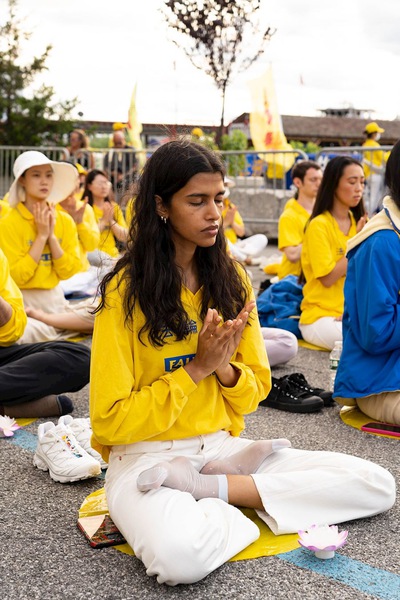 Ms. Pooja Mor, a fashion model and Falun Dafa practitioner, at the candlelight vigil
Pooja Mor a fashion model who has been featured on the covers of Vogue magazine, said that she began practicing Falun Dafa 7 years ago. "I was deeply saddened when I heard about the persecution. How can a government treat people like this? It's totally unacceptable, and it's the reason why everyone should step out to say 'no,' because it's about upholding basic human rights."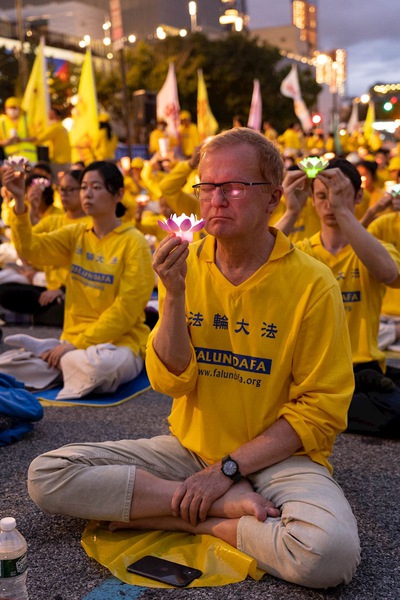 Mr. Tom Zateck, an architect, graphic designer, and Falun Dafa practitioner, participated in the candlelight vigil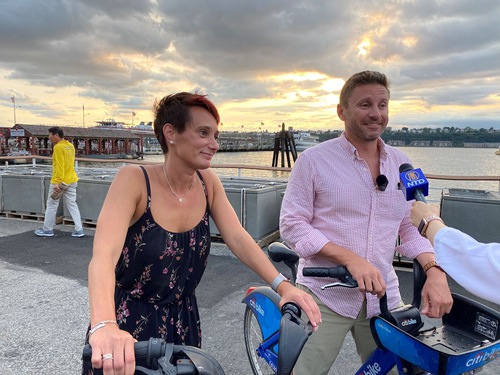 Lawyer Mr. Hoover and his wife said what Falun Dafa practitioners are doing to expose the persecution is important, and it allows the American people to know what's happening in China.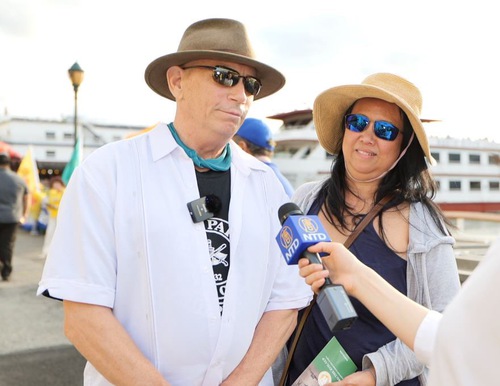 Dr. Bruce Walchek, a university professor, and his wife Melkham said that Communism harmed the world. The whole world should unite and fight back.
All articles, graphics, and content published on Minghui.org are copyrighted. Non-commercial reproduction is allowed but requires attribution with the article title and a link to the original article.
Category: July 20 Events