Four Parliament Members Speak at Event in French-Speaking Switzerland To Oppose Persecution in China
July 23, 2021 | By a Falun Gong practitioner in Switzerland
(Minghui.org) After an event in Geneva on July 15, Falun Gong practitioners in French-speaking Switzerland held another activity on July 20 calling for stopping the 22-year-long suppression in China.
Four parliament members attended this event at Neuchâtel, capital of the Swiss canton Neuchâtel. They include Niels Rosselet-Christ (chairperson of the People's Party), Johanna Lott-Fisher (Neuchâtel parliament member), Jean Paul Weittstein (former spokesperson of Neuchâtel parliament), and Jean Fehlbaum (former Neuchâtel parliament member).
Located by Lake Neuchâtel, the largest lake entirely in Switzerland, Neuchâtel is known for traditional handmade watchmaking. At Place des Halles, practitioners set up a booth, demonstrated the exercises, and raised awareness of the persecution against Falun Gong in China, including forced organ harvesting. Many passersby stopped to learn more.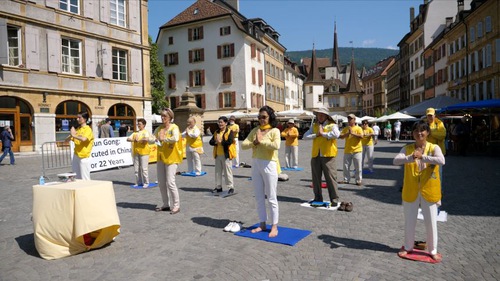 Event of Falun Gong practitioners at Neuchâtel, Switzerland, on July 20, 2021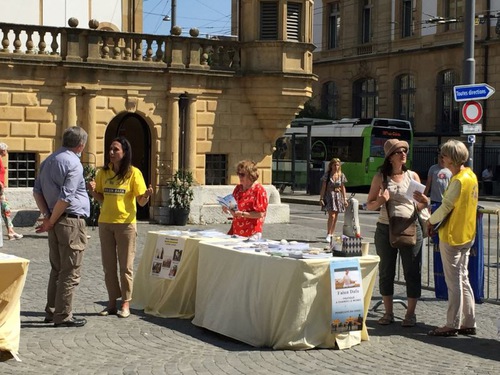 Passersby come up to obtain more information.
Persecution Has Proven Communism Is Like a Toxin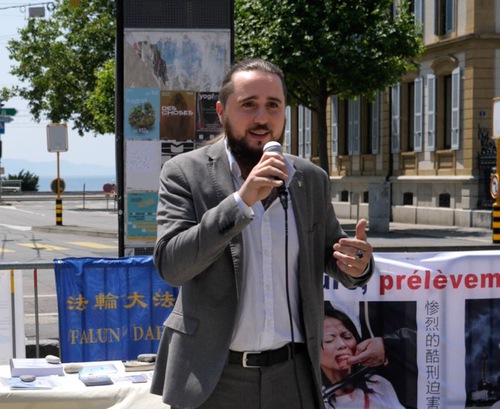 Niels Rosselet-Christ, chairperson of the People's Party in Neuchâtel canton
In his speech, Rosselet-Christ said history in the past 100-plus years has shown that communism is a deadly ideology. Tens of millions of people, or even more, have lost their lives because of it.
Brutality of the Chinese Communist Party (CCP) is specifically astonishing, he added. It has suppressed numerous minority groups including Uyghurs, Tibetans, and Falun Gong practitioners. These atrocities indicate the ideology that communism represents is harmful like a toxin.
Here in Switzerland, practitioners can freely practice their belief. That is why it is very important to safeguard the values of democracy and freedom. This allows everyone to peacefully follow their belief. In fact, faith can liberate people from totalitarian regimes with the help from the divine. And this is what the authoritative regimes fear.
A Peaceful Scene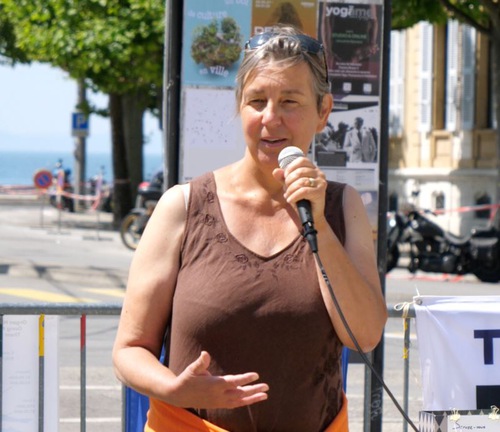 Johanna Lott-Fisher, parliament member from Neuchâtel
Lott-Fisher said that events like this give her an opportunity to get to know Falun Gong practitioners, who have persistently protested peacefully. On the other hand, she is very sorry to hear about the brutal suppression in China, especially forced organ harvesting and the organ trade.
After giving a speech, Lott-Fisher stood by the side quietly watching the practitioners do the group exercises. She was very touched and didn't want to leave. She said this was a peaceful scene, one with strong energy collectively. It is important for one to look within upon encountering conflicts. This will help us to improve individually and cooperate better with one another.
Unimaginable Tragedies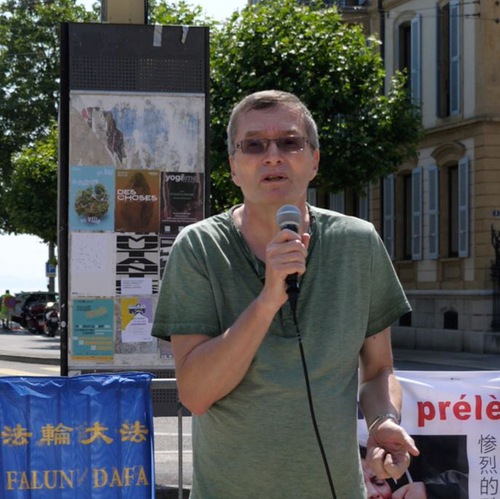 Jean Paul Weittstein, former spokesperson of Neuchâtel parliament
Weittstein came to the rally after riding a bike over 30 km (18.6 miles) and he thanked practitioners for their efforts in defending freedom of speech. What Falun Gong practitioners have suffered in China is horrifying, as no one has the right to torture others. Moreover, the victims in these cases are a group of people who seek peace, kindness, and happiness. That is why he was shocked at how they could be mistreated like this.
While observing the group exercises, he said he liked the peaceful atmosphere of the event, as well as the harmony of practitioners.
More Pressure to the CCP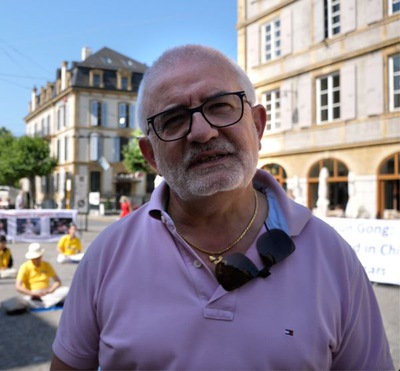 Jean Fehlbaum, former Neuchâtel parliament member
Fehlbaum said that watching the practitioners' group exercise was relaxing. He said it was hard to understand why the CCP would view the practice as a threat and suppress it for the past 20-plus years.
The forced organ harvesting from practitioners also reminded him of the barbarism in the Middle Ages. He said the international community should wake up and apply more pressure on the CCP to stop the brutality.
Fehlbaum also thinks Falun Gong's teaching the principles of Truthfulness-Compassion-Forbearance is very important. These values are consistent with the values that Switzerland and Europe in general have safeguarded. He looks forward to seeing more people from the younger generations participate in it because it is very meaningful.
Time To Be Awakened
Nurse Christine Piffaretti said that she and her daughter both liked the peaceful feel of the event and the kindness of practitioners, and that it was hard to imagine the CCP could persecute such people, especially with the hideous crime of forced organ harvesting.
Furthermore, she said the principles of Truthfulness-Compassion-Forbearance are universal values. They are important everywhere and throughout the world, not just in China.
Other people encouraged practitioners to keep up the good work and some signed petitions to support the efforts. Impressed by the peace and calm environment, one woman said she would like to learn the exercises. She also said our society needs the principles of Truthfulness-Compassion-Forbearance.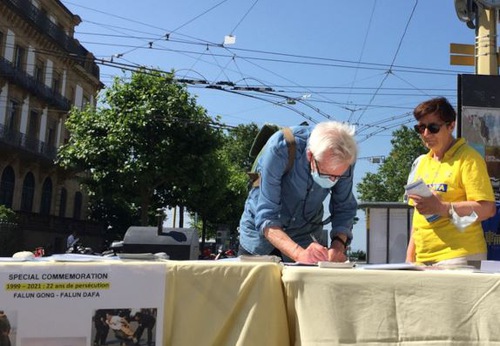 People sign petitions calling to stop the persecution in China.
One woman said it was too tragic that the CCP would persecute a group of people who intend to improve their health and become better citizens. The Swiss government should no longer have business dealings with a regime that violates human rights.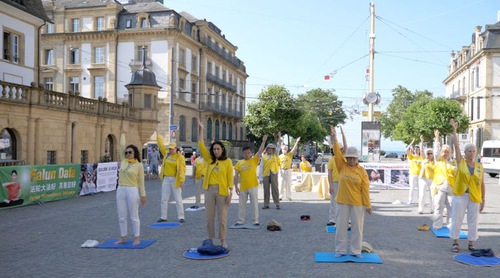 Group exercises by Falun Gong practitioners
The CCP has harvested organs for profit, one passerby said. It is time for Swiss citizens to open their eyes, be awakened to the reality, and stop doing businesses with such a regime.
Another person said that there is no freedom of belief or freedom of thought in China. And the CCP even censors the Internet. What the regime wants is to control people's minds and push through the communist ideology. She encouraged Falun Gong practitioners to continue their efforts until the persecution comes to an end.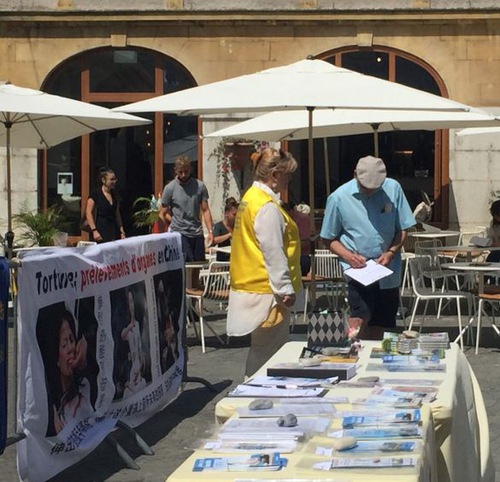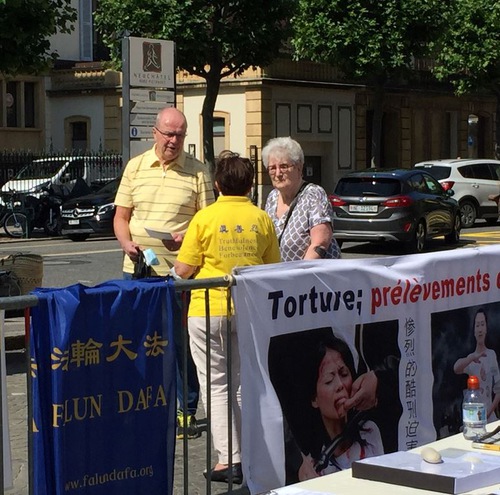 People ask questions and sign petitions to support practitioners.
All articles, graphics, and content published on Minghui.org are copyrighted. Non-commercial reproduction is allowed but requires attribution with the article title and a link to the original article.
Category: Voices of Support Worldwide