Inter-Parliamentary Alliance on China Calls on Western Countries To Stop the CCP's Persecution of Falun Gong
(Minghui.org) On July 19, 2021, the Inter-Parliamentary Alliance on China (IPAC), a group of hundreds of parliamentarians from 20 democratic countries, issued a statement to condemn the Chinese Communist Party's (CCP) 22-year-long persecution of Falun Gong, especially the crime of live organ harvesting from Falun Gong practitioners, and call on western countries to help stop the persecution.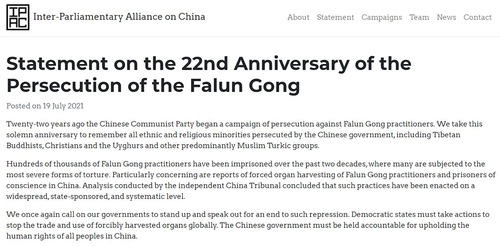 IPAC Issues Statement Calling on Western Countries to Stop the CCP's Persecution of Falun Gong.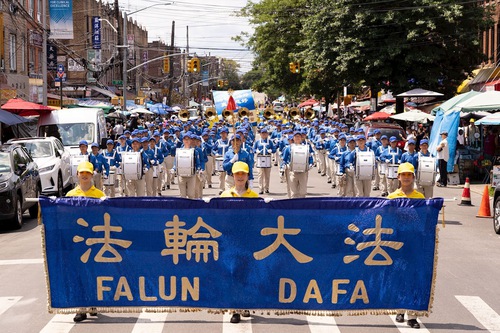 Nearly 1,000 Falun Gong practitioners marching on Eighth Avenue in Brooklyn, New York on July 18, 2021, call for an end to the persecution.
"We Call on Our Governments to Stand up and Speak Out for an End to Such Repression"
In the statement, the IPAC said, "Twenty-two years ago the Chinese Communist Party began a campaign of persecution against Falun Gong practitioners… Hundreds of thousands of Falun Gong practitioners have been imprisoned over the past two decades, where many are subjected to the most severe forms of torture. Particularly concerning are reports of forced organ harvesting of Falun Gong practitioners and prisoners of conscience in China. Analysis conducted by the independent China Tribunal concluded that such practices have been enacted on a widespread, state-sponsored, and systematic level.
"We once again call on our governments to stand up and speak out for an end to such repression. Democratic states must take actions to stop the trade and use of forcibly harvested organs globally. The Chinese government must be held accountable for upholding the human rights of all peoples in China."
IPAC is a non-governmental political alliance of democratic countries formed to curb the CCP's totalitarian influence in the world. The coalition was founded in June 2020 and more than one hundred senior politicians from 20 countries have joined so far.
U.S. Government Speaks Out To Stop Persecution
U.S. State Department spokesman Ned Price issued a statement on July 19 at a press briefing demanding that the Chinese communist regime immediately cease its persecution of Falun Gong and release all Falun Gong practitioners imprisoned for their beliefs.
Price said in the statement, "Thousands of Falun Gong practitioners face detention, harassment, and reported torture and abuse each year for simply seeking to peacefully practice their beliefs. We call on the PRC to immediately cease its campaign against Falun Gong practitioners and release those imprisoned due to their beliefs."
Thirty-Four Canadian Parliamentarians Sign Letter, Urging Government to Sanction Perpetrators
Thirty-four Canadian parliamentarians sent a joint letter to Prime Minister Justin Trudeau, asking the Canadian government to stop the CCP's ongoing persecution of Falun Gong and impose sanctions on CCP officials who initiate and actively participate in the persecution.
In the letter, the MPs and senators asked the Canadian government to condemn the CCP's brutal human rights violations against Falun Gong practitioners, and urged the government to impose sanctions on Chinese officials who commit serious human rights violations against Falun Gong practitioners under the Victims of Foreign Corrupt Officials Act (Sergei Magnitsky Act).
In their letter, the parliamentarians said, "On account of the gravity and scale of the human rights violations of Falun Gong, we believe that sanctions against the perpetrators will be effective in furthering the interests of international justice and human rights."
Latest List of Persecutors Submitted to 37 Governments
Falun Gong practitioners in 37 countries recently submitted another list of perpetrators to their respective governments, demanding that the evil-doers and their families be banned from entering their countries and their assets frozen in accordance with the law.
The 37 countries that submitted the list include the United States, Canada, the United Kingdom, Australia, and New Zealand of the Five Eyes Alliance, 23 countries of the European Union: Germany, France, Italy, Spain, the Netherlands, Poland, Belgium, Sweden, Austria, Ireland, Denmark, Finland, the Czech Republic, Romania, Portugal, Greece, Hungary, Slovakia, Luxembourg, Croatia, Slovenia, Cyprus, and Malta, as well as nine other countries: Japan, Korea, Indonesia, Switzerland, Norway, Liechtenstein, Israel, Brazil, and Mexico. Indonesia and Brazil are participating in this joint initiative for the first time.
All articles, graphics, and content published on Minghui.org are copyrighted. Non-commercial reproduction is allowed but requires attribution with the article title and a link to the original article.
Category: Voices of Support Worldwide