Thrice Incarcerated Man Detained Again for Practicing Falun Gong
July 21, 2021 | By a Minghui correspondent in Sichuan Province, China
(Minghui.org) A Mianyang City, Sichuan Province resident was arrested on June 22, 2021, for his faith in Falun Gong. 
Mr. Mu Zhitai, 52, was seized by officers from the Fucheng District Police Department. Everything in his rental apartment was taken away. He is currently detained in the Mianyang City Detention Center.
Mr. Mu started practicing Falun Gong, a spiritual and meditation discipline, in 1997. After the Chinese communist regime ordered the persecution of the practice two years later, Mr. Mu was arrested and detained multiple times for upholding his faith. He served two forced labor camp terms and one prison term and was subjected to a variety of torture methods.
Tortured for Appealing in Beijing
Mr. Mu was arrested when he went to Beijing to appeal for the right to practice Falun Gong on December 28, 2000. The police submerged his head in the toilet for drowning torture. They also handcuffed him and slammed his wrists against the wall. The handcuffs broke as a result. Additionally, the officers beat him brutally and snatched away his watch and 400-yuan in cash.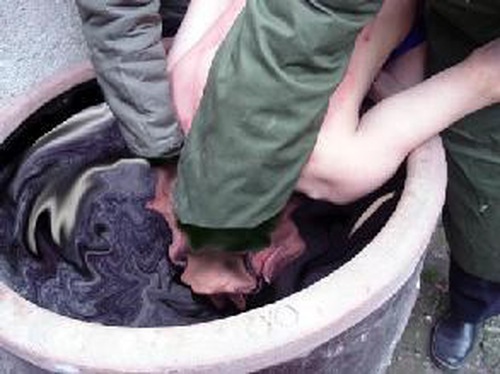 Torture reenactment: Drowning torture
After he was released, he went to Tiananmen Square to appeal, only to be arrested again.
On January 15, 2001, Mr. Mu was taken back to the Beichuan County Detention Center in Mianyang. The guards often instigated the inmates to beat him and slap him in the face. Two months later, he was given two years at the Xinhua Forced Labor Camp.
Tortured in Forced Labor Camp
In the Xinhua Forced Labor Camp, Mr. Mu was forced to stand, run, or sit on a tiny bench for a long time every day. He was also forced to do intensive labor without pay. Because he refused to write a statement to give up his faith, he was deprived of sleep. For over one month in June 2002, he was only allowed to sleep between 3 a.m. to 5 a.m. every day.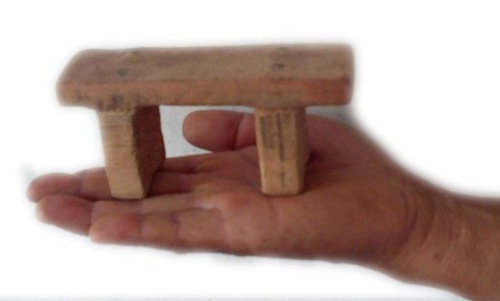 The tiny bench practitioners forced to sit on
Mr. Mu was arrested at home again in August 2005. He was first held in a local hotel before being transferred to a detention center. A month later, Mr. Mu was given his second forced labor camp term for one year. 
After Mr. Mu was released in August 2006, the police kept harassing him at home. To avoid further persecution, he was forced to live away from home in 2007.
Torture in Jiazhou Prison
Mr. Mu was arrested on April 1, 2012, by Zhou Ze, a police officer from Fucheng District Domestic Security Office. His personal belongings such as his bank card, ID card, and tricycle were taken away. He was interrogated for long hours after the arrest.
Mr. Mu was tried by the Fucheng District Court of Mianyang City on March 1, 2013. He was sentenced to three years in Jiazhou Prison. 
Right after he was taken to prison, the guards threatened that he would face severe persecution if he refused to write a statement to renounce Falun Gong. They would make him "to be haggard in three days, have a nervous breakdown in a week, become bedridden in half a month, and then go to hell in a month."
Mr. Mu was imprisoned in the 9th ward. He was only allowed to sleep for two hours from 12 a.m. to 2 a.m. For the rest of the time, he was forced to stand or sit. A week later, the prison guards shocked him with three electric batons simultaneously. 
The guards forced Mr. Mu to write the statement to give up his belief every day. When Mr. Mu wrote an article to testify the benefits of practicing Falun Gong, the guards dragged him to the restroom, where there was no surveillance camera, and beat him.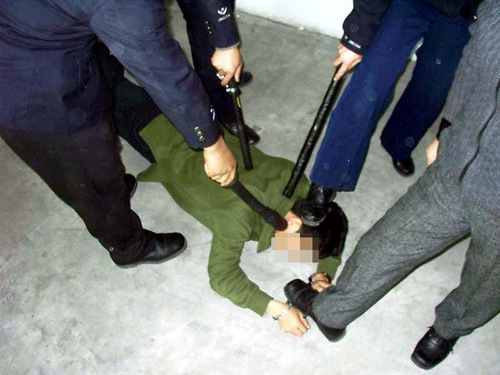 Torture re-enactment: shocked by multiple electric batons at the same time.
Related article:
Three Months into His Three-Year Term: Mr. Mu Zhitai Suffers Brainwashing and Torture Daily
All articles, graphics, and content published on Minghui.org are copyrighted. Non-commercial reproduction is allowed but requires attribution with the article title and a link to the original article.
Category: Accounts of Persecution