Washington DC: March Held to Call Attention to CCP's 22 Year Long Persecution of Falun Gong in China
July 18, 2021 | By Minghui correspondent Jingfei Li
(Minghui.org) Nearly 2,000 Falun Gong practitioners from the eastern United States held a grand march in Washington, D.C. on July 16, 2021. The march started from the National Mall and proceeded along Constitution Avenue to the Washington Monument.
As of July 20, 2021, Falun Gong (also known as Falun Dafa) practitioners have been persecuted by the Chinese Communist Party (CCP) for 22 years. Many people who witnessed the march for the first time were shocked to learn the details of this cruel persecution, particularly the CCP's state-sanctioned organ harvesting from living practitioners. A man who just heard about the persecution of Falun Gong two days before, joined the march and called for the persecution to end.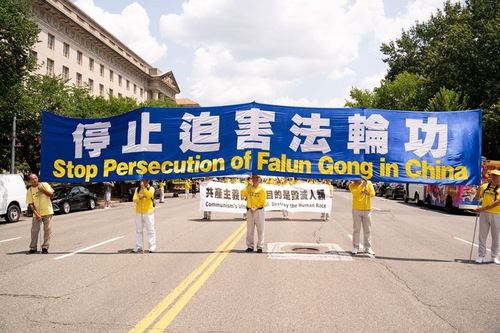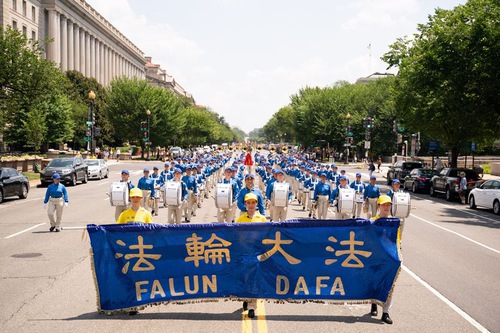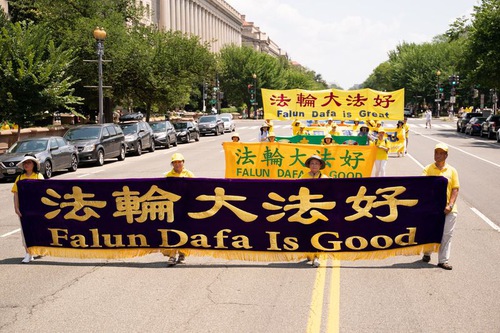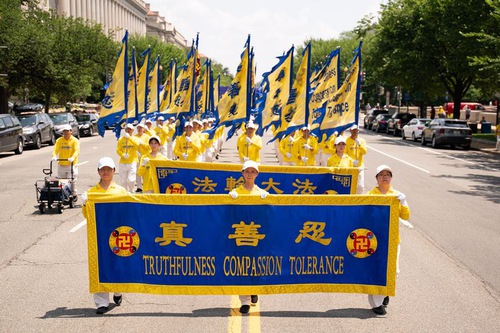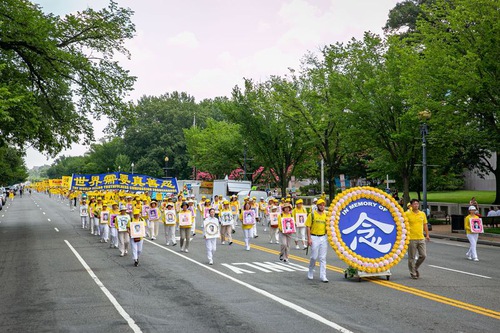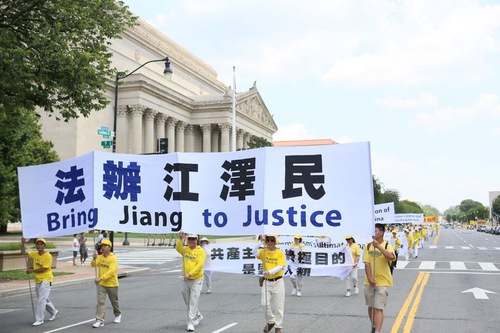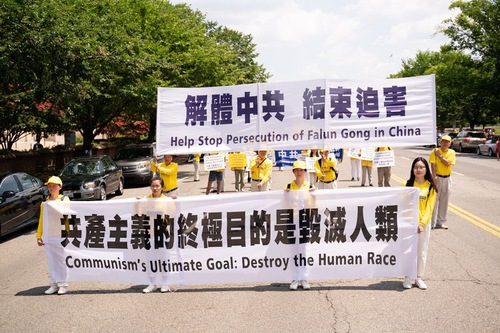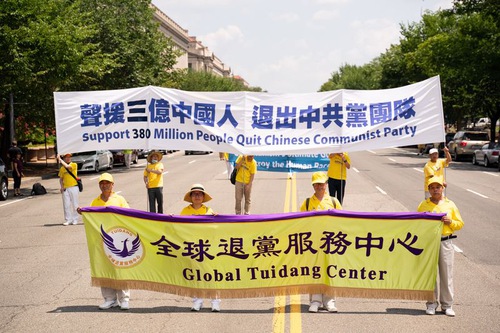 Falun Gong practitioners march in Washington DC and call for an end to the CCP's 22-year-long persecution.
Since the CCP initiated the persecution on July 20, 1999, Falun Gong practitioners from around the world have gathered in Washington DC each July to raise awareness of the persecution and call for it to end.
The coronavirus pandemic led to the closure of tourist attractions and large gatherings in Washington DC for nearly one and a half years. The tourist destinations just re-opened in early July.
The march consisted of three sections: Falun Dafa is Great, Stop the Persecution of Falun Gong, and Support the 380 million Chinese People Who Quit the CCP Organizations.
The March Wins Support
The peaceful march drew the attention of many tourists, some of whom had not heard of Falun Gong before.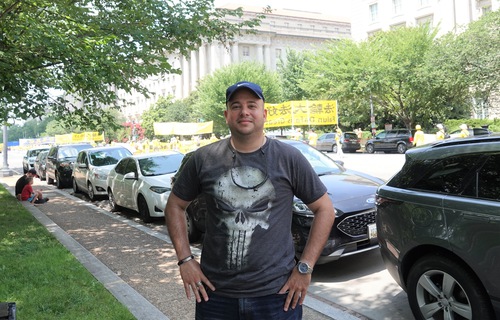 Larry from Virginia said everyone needs Truthfulness, Compassion, and Forbearance.
Larry from Virginia accepted a flyer and said it was the first time he heard about Falun Gong. While reading a banner carried in the march he said, "Truthfulness-Compassion-Forbearance is great! Everyone needs Truthfulness-Compassion-Forbearance."
When seeing a group of practitioners holding portraits of fellow practitioners who died in the persecution, Larry said, "It's sad they suffered the persecution. They were tortured and killed, which is so sad."
Ed and Justin, father and son from Pennsylvania
Ed and Justin, a father and son from Pennsylvania, heard about the persecution for the first time. Ed said, "It is difficult to describe in words. For the freedom of belief that we have here, they (practitioners) have to fight for it in their own country. So shocking, unbelievable."
Justin said, "I accepted a flyer and came to know this is a meditation practice. They are brutally persecuted for practicing. They are so peaceful."
Ella said she first saw Falun Gong practitioners ten years ago. This year she saw the march in Washington DC again. She said, "Perhaps I should learn to practice Falun Gong." She accepted a flyer and learned about the persecution. She said she would learn more about it after going home.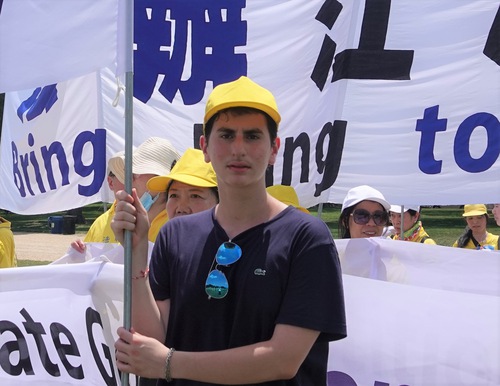 Moved by the brutality of the persecution, Isaac Saadi from Texas decided to participate in the march.
Isaac Saadi from Texas was in Washington DC to participate in the International Religious Freedom Summit. He talked with practitioners and learned about the persecution. Saadi decided to join the march.
He said, "It's horrible. I am not surprised by the persecution launched by the CCP. I just feel disgusted. The CCP has continued to persecute people for so many years. Everyone should have the right to choose their beliefs."
Practitioners Continue To be Imprisoned and Persecuted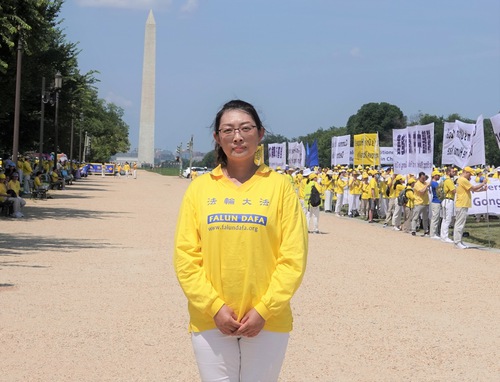 Falun Gong practitioner Jing Wang from New York
Jing Wang from New York walked in the march with a heavy heart. She just learned that her husband Ren Haifei, who is still in China, will face an unlawful trial on July 29.
Jing said, "I don't know his current health condition, or whether he can withstand this kind of mental and physical persecution."
Her husband Ren started practicing Falun Gong in 1994 and applied the principles of Truthfulness-Compassion-Forbearance in his daily life. He was arrested and imprisoned for seven and a half years for printing Falun Gong informational materials. He was imprisoned in Liaoyang and Dalian, and tortured. He was handcuffed and shackled and locked up in a tiny cell measuring 10.8 square feet.
Jing said that she did not recognize her husband when he was released in 2008, "He changed from a young man to an old man with a haggard face. The torture he suffered was unimaginable."
On June 26, 2020, Ren was abducted and robbed by the police from the Ganjingzi Street Police Station in Dalian. He was robbed of more than 500,000 yuan (77,170 US dollars) in cash, as well as TF memory cards and USB flash drives worth more than 200,000 yuan (30,868 US dollars).
He went on a hunger strike to protest the persecution and to demand acquittal. Due to heart and kidney failure, he was sent to a hospital for emergency treatment. Two days later, he was forcibly taken to a detention center.
Jing said that after her husband began practicing Falun Dafa, he understood the true meaning of life. He never gave up telling everyone he knew the truth about Falun Gong's persecution. He regards Dafa as his life, which is why he can disregard his own safety and continue clarifying the truth when the persecution in China is so severe.
Practitioner Chunhua Yang
Chunhua Yang once had a happy family of four. However, under the CCP's brutal persecution, three family members—sister, mother, and father—have passed away one after another.
Yang said, "I am now the only survivor in my family and a witness to this tragedy of the persecution launched by the CCP. I come to participate in today's march and call on the international community and people of justice and conscience to help stop this persecution as soon as possible, because it has been going on for 22 years."
She said that she felt gratified that in the past 22 years, through the continuous peaceful truth clarification by practitioners, many people who had been misled by the CCP's propaganda learned the truth about the persecution and the CCP's live organ harvesting.
She pointed out that many people's attitudes began to change from hostility, prejudice, and hatred towards Falun Gong practitioners, to firm support for practitioners opposing the persecution. Now more than 380 million people have withdrawn from the CCP and its affiliated organizations.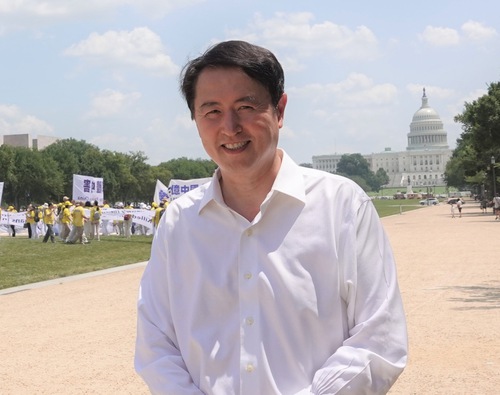 Spokesperson Erping Zhang of the Falun Dafa Information Center
Spokesperson Erping Zhang of the Falun Dafa Information Center said, "Twenty two years have passed, and we have seen a rapid change in the attitudes of people around the world, including in China, towards Falun Gong. People pay more attention to what you do than what you say.
"In the past 22 years, people have seen that Falun Gong practitioners clarify the truth in a peaceful way. People admire the Falun Gong practitioners they have contacted, including those imprisoned in China. The practitioners risk their lives to provide other people with an opportunity to stand on the side of history and justice."
Background: What is Falun Gong?
Falun Gong (also known as Falun Dafa) was first taught to the public in 1992. Nearly 100 million people across China were soon practicing Falun Gong after experiencing improvements in their health and character. Jiang Zemin, former head of the Chinese Communist Party (CCP), perceived the spiritual discipline's growing popularity as a threat to the CCP's atheistic ideology and issued an order to ban Falun Gong on July 20, 1999.
Minghui.org has confirmed the deaths of thousands of Falun Gong practitioners in the persecution over the past 22 years; the actual number is suspected to be much higher. More have been imprisoned and tortured for their faith.
There is concrete evidence that the CCP sanctions the harvesting of organs from detained practitioners, who are murdered to supply the organ transplant industry.
Under Jiang's personal direction, the CCP established the 610 Office, an extralegal security organization with the power to override the police and judicial systems and whose sole function is to carry out the persecution of Falun Gong.
All articles, graphics, and content published on Minghui.org are copyrighted. Non-commercial reproduction is allowed but requires attribution with the article title and a link to the original article.
Category: Rallies & Protests