Texas: Elected Officials Issue Letters to Condemn the CCP's 22-Year-Long Persecution of Falun Gong
July 17, 2021 | By Minghui correspondent Shu Jing
(Minghui.org) July 20, 2021, marks the Chinese Communist Party's (CCP) 22-year-long persecution of Falun Gong. It is also the 22nd anniversary of Falun Gong practitioners' efforts to peacefully expose this persecution. One senator and four state representatives wrote letters to express their support for Falun Gong and to condemn the CCP's persecution. They are Senator Larry Taylor of District 11, State Representative Alma Allen of District 131, Representative Leo Pacheco of District 118, Representative Lyle Larson of District 122, and Representative Harold V. Dutton of District 142.

Senator and State Representatives who sent letters of support
Falun Gong practitioners held a rally in Hermann Park on July 10, 2021, to peacefully protest the persecution. These letters of support were read at the event.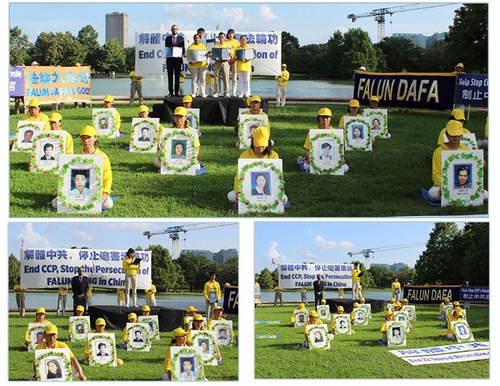 Falun Gong practitioners read the letters of support during the rally in Hermann Park.
Senator Larry Taylor wrote, "When this country was formed almost 250 years ago it was founded on the principles that all men are created equal and that we are each endowed at birth with inalienable rights to life, liberty, and the pursuit of happiness. Our Founding Fathers understood that these rights were not inalienable due only to the place and circumstances of one's birth but, rather, that these truths were universal and self-evident. It was this understanding that inspired the Bill of Rights and, specifically, the First Amendment to the United States Constitution."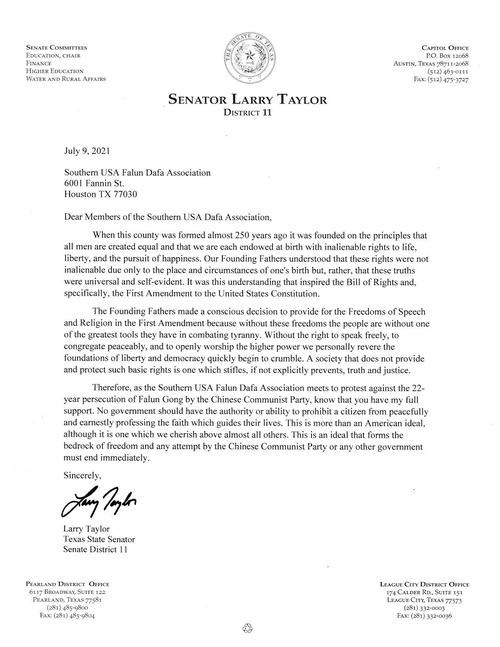 Letter from Senator Larry Taylor of Senate District 11
Senator Larry Taylor stated in his letter, "Therefore, as the Southern USA Falun Dafa Association meets to protest against the 22-year persecution of Falun Gong by the Chinese Communist Party, know that you have my full support. No government should have the authority or ability to prohibit a citizen from peacefully and earnestly professing the faith which guides their lives. This is more than an American ideal, although it is one which we cherish above all others. This is an ideal that forms the bedrock of freedom and any attempt by the Chinese Communist Party or any other government must end immediately."
State Representative Alma Allen said in her letter, "I applaud the efforts of each of you to continue to raise awareness and stand in support with you to condemn the actions of the Chinese government. In China, people are risking their lives to raise awareness of the truth. Although I'm not able to join you in-person, I join you in support of your fight and your efforts to protect the innocents being persecuted."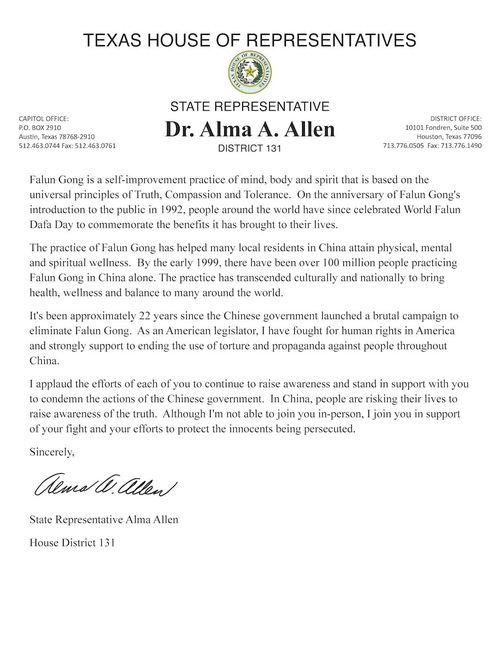 Letter from State Representative Alma Allen of House District 131
State Representative Leo Pacheco wrote, "This letter is to show support for the Falun Gong and denounce the persecution which Falun Gong has endured from the CCP, the Chinese Communist Party. Your organization promotes the health and well being of all human beings and I support your desire to help the members and non-member alike."
Letter from State Representative Leo Pacheco of House District 118
State Representative Lyle Larson wrote in his letter, "The Chinese Communist Party's brutal ongoing attack for the last two decades on folks who practice Falun Gong is unacceptable and must end."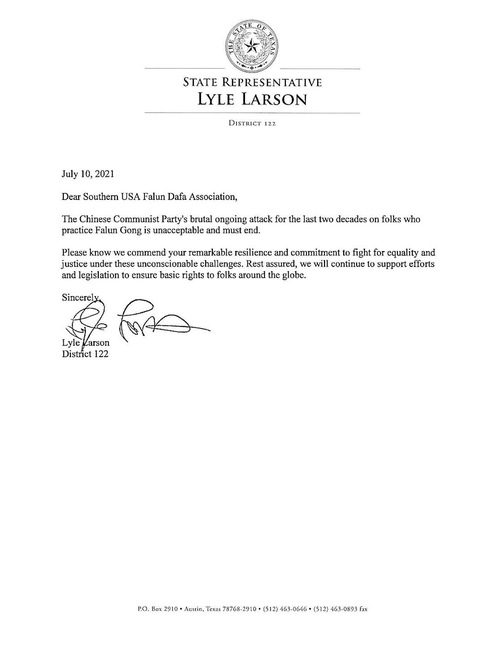 Letter from State Representative Lyle Larson of District 122
State Representative Harold V. Dutton said in his letter, "My advocacy for human rights and dignity of all people have always remained at the top of my beliefs and I encourage everyone to stand with you and me, only then will there be an end to the injustice being endured by the Falun Gong."
"Finally, I call on the Chinese government to end immediately the atrocities to Falun Gong."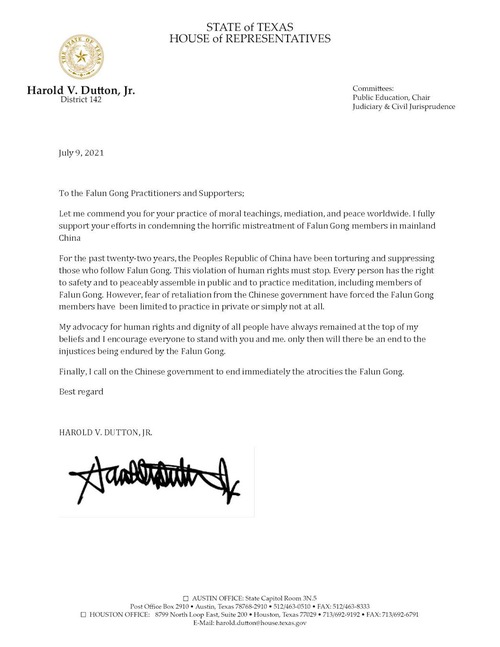 Letter from State Representative Harold V. Dutton of District 142
Background: What Is Falun Dafa?
Falun Dafa (also known as Falun Gong) was first introduced to the public by Mr. Li Hongzhi in Changchun, China in 1992. The spiritual discipline is now practiced in over 100 countries and regions worldwide. Millions of people have embraced the teachings—which are based on the principles of Truthfulness, Compassion, Forbearance and include five gentle exercises—and experienced uplifted health and well-being.
Jiang Zemin, former head of the Chinese Communist Party (CCP), perceived the spiritual discipline's growing popularity as a threat to the CCP's atheistic ideology and on July 20, 1999, issued an order to ban the practice.
Minghui.org has confirmed the deaths of thousands of practitioners as a result of the persecution over the past 22 years. The actual number is believed to be much higher. More have been imprisoned and tortured for their faith.
There is concrete evidence that the CCP sanctions the harvesting of organs from detained practitioners, who are murdered to supply the organ transplant industry.
Under Jiang's personal direction, the CCP established the 610 Office, an extralegal security organization with the power to override the police and judicial systems and whose sole function is to carry out the persecution of Falun Dafa.
All articles, graphics, and content published on Minghui.org are copyrighted. Non-commercial reproduction is allowed but requires attribution with the article title and a link to the original article.
Category: Voices of Support Worldwide