Shen Yun Performing Arts Opens in Connecticut: "A Must-See Show"
July 1, 2021 | By a Minghui correspondent
(Minghui.org) Shen Yun Performing Arts has returned, launching its 2021-2022 global tour at the Palace Theatre in Stamford, Connecticut. After three shows on the weekend of June 26, more performances will be held in July in Colorado before the company returns to Connecticut later in the month.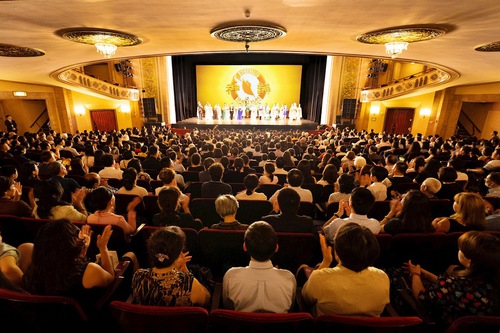 Shen Yun Performing Arts opened its 2021-2022 season with three performances at the Palace Theatre in Connecticut.
Feast of Art Returns
The world's premiere classical Chinese dance and music company, Shen Yun Performing Arts, quickly expanded and grew in popularity. The company has toured to 150 cities across five continents and was enjoyed by over one million audience members. Over 700 shows were scheduled for the 2020 season.
However the coronavirus pandemic changed the world in many ways, including Shen Yun's schedule. Between May 2020 and June 2021, many people who purchased tickets had to seek replacements or refunds, given the difficulty of securing performance dates and venues.
Like nearly every performing arts facility, the Palace Theatre in Connecticut was also closed for over a year. The arrival of Shen Yun on June 24 drew people from mainstream society, bringing them surprise and joy. Many praised the artists, great performances, and traditional Chinese culture.
Company Executive: "A Must-See"
Charlie Jones, strategy executive at a New York firm, attended Shen Yun on the afternoon of June 27 and said the performances are a "must-see." He was impressed by all the programs presented throughout the performance.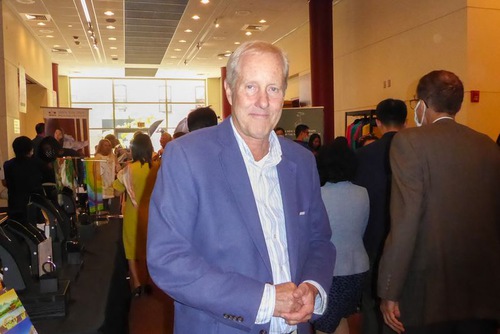 Strategy executive Charlie Jones praised Shen Yun.
He said, "The beauty of color is amazing. Not only that, the dance has combined elegant movement and highly skilled techniques, while the synchronization of dance and backdrop was unbelievable." He added that what touched him the most was the Shen Yun artists' genuine smiles.
Company President: Connection with the Divine
Nicholas Christiano, president of the New York State HIMSS Chapter, found the Shen Yun performances, "inspirational and informative." "You need more shows, because the West needs to hear the origin of China, not just what we have seen in movies today," he explained after watching on the afternoon of June 27.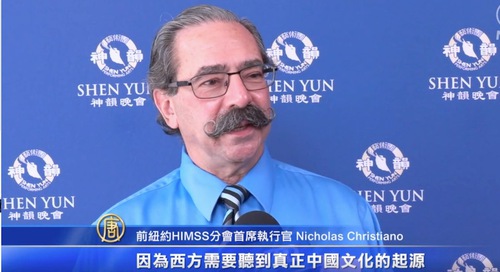 Company president Nicholas Christiano thanked Shen Yun for reviving traditional Chinese culture.
Nicholas watched the performance with his wife Francis, and said the couple was pleased to see authentic Chinese culture presented on stage. Referring to the show as "breathtaking," Nicholas said that the part about the divine was, "informative, surprising, and very, very appealing."
"It forms a connection with you at very, very basic level," he explained, "Wow! They believe what they do."
Public Safety Director: "Amazing Performance"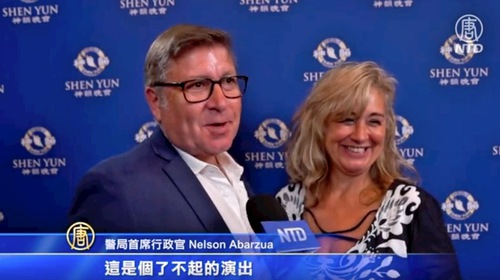 Nelson Abarzua, director of public safety of Prospect, Connecticut, and his wife Terri Abarzua
"I think the singer was amazing," said Nelson Abarzua, the public safety director for Prospect, Connecticut, after watching the show on June 26. "The story, the storyline, how it is explained for [people] like us who have never experienced something like this, is very, very important."
"And I think that the men were dancing beyond," he added, "the ladies were dancing very, very well. So the show is an amazing show. It's a great experience."
"It's very interesting to learn the tradition, and all of the heritage behind the dances and the songs," said his wife, former police officer Terri Abarzua, "And the flowers, the sleeves, and the elegance of it all. It's very interesting to learn that. We're blessed to be invited today to learn a little bit more culture."
Filmmaker: "Showcasing the Breadth of Humanity That We All Share"
Filmmaker Gillian Fritzsche attended the show on the afternoon of June 26, and said she found Shen Yun performances innovative. She praised the backdrops and said, "It was just being used in a way that really supported the story it was trying to tell. I really enjoyed that."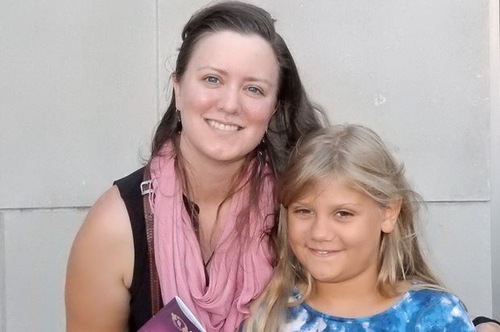 Filmmaker Gillian Fritzsche and her daughter attended the Shen Yun performance on June 26, 2021.
She felt the performance seemed to connect people from all backgrounds by, "Showcasing the breadth of humanity that we all share… there's things that are universal to all of us." She continued, "There are things that I can see in myself when I see these stories presented on stage—hopes and dreams and fears and goals. A hero, an obstacle—it's all there."
Translation Program Director: "Authentic Purity"
After waiting nearly three years to attend a Shen Yun performance Diego Mansilla and his wife Adel were thrilled. "You can feel a connection from me to the dancers and the situation they're trying to portray. I feel wonderful. It's an incredible experience," said Diego Mansilla, director of the Translation Program at the University of Massachusetts, after he watched the show on June 27.
His wife Adel said she was surprised to see cultures from, "all different corners of China… bringing so many different ethnic groups and keeping the traditions, the beauty of each. It's amazing!" she exclaimed.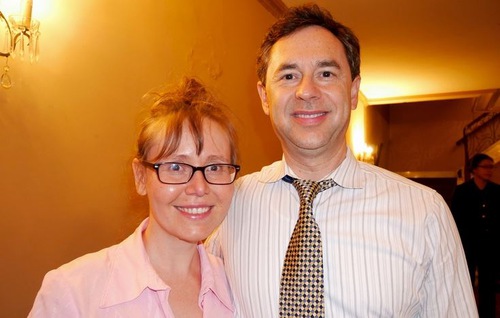 Diego and Adel Mansilla attended a Shen Yun performance at the Palace Theatre in Stamford on June 27, 2021.
Impressed by the kindness reflected in the program, Adel felt it was important "to make sure that this bad side never wins inside of us… [and] that the goodness they [the performers] show—to keep it inside of me and make the conscious choice that I don't want to be with the bad forces."
She explained that this is why she felt the performances were very encouraging. "They're doing so much to show it to us, to inspire… this authentic purity," she said. "How can I come home and be mad about things? I can't… I feel like I'm responsible now to continue what they gave us. They gave with so much effort."
Launched in 2006, Shen Yun Performing Arts quickly became the world's premiere performing arts group. Known for classical Chinese dance and vocal performances, along with some lost talents, Shen Yun showcases authentic costumes, backdrop designs, and a blend of Western and Chinese music. The original dance, music, and vocal creations every year have earned Shen Yun high praise as a "must-see show" and a feast of art.
Performances continue to be added. Please visit shenyun.com for the updated schedule and more detailed information.
All articles, graphics, and content published on Minghui.org are copyrighted. Non-commercial reproduction is allowed but requires attribution with the article title and a link to the original article.
Category: Shen Yun Performing Arts