Japanese Member of House of Representatives: I Hope My Country Can Speak Out More About China's Human Rights Abuses
July 1, 2021 | By Falun Dafa practitioners in Japan
(Minghui.org) On Friday, June 25, 2021, at 10 a.m, Falun Dafa practitioners in Tokyo, Japan gathered outside the country's Ministry of Foreign Affairs. They hung banners with information about Falun Dafa and how it's practiced around the world and the brutal persecution in China. They handed out flyers to staff and passersby and called on people to help stop the ongoing, 22 year-long persecution.
Ms. Mao Jiaping, a practitioner in Dalian, China was arrested at the beginning of June and is detained illegally at a detention station in Dalian. Her daughter Fu Weitong who works in Japan came to appeal for her mother's release. She told people how her mother who was a terminal stage cancer patient gained a new lease on life after practicing Dafa yet she was persecuted for her belief.
Yoshitaka Sakurada, former diplomat and Member of the House of Representatives who visited China in the past, was very sympathetic when he learned what happened to Ms. Fu's mother. He hopes practitioners in China can take part in the practice openly like practitioners overseas do. He said he would urge the Ministry of Foreign Affairs to tell the Chinese government to handle the matter on humanitarian grounds.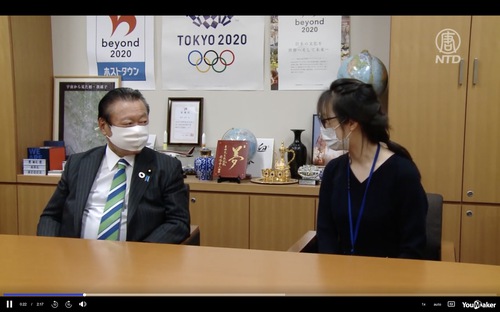 Member of the House of Representatives Yoshitaka Sakurada (left) met with Falun Dafa practitioner Fu Weitong (right).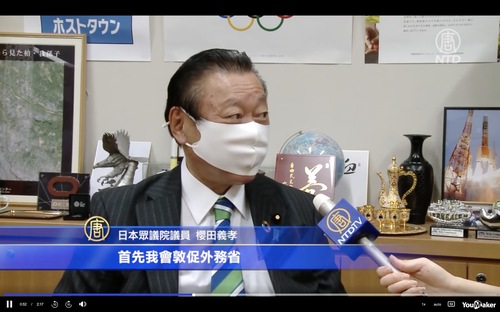 Yoshitaka Sakurada said he sympathizes with practitioners and will urge the Ministry of Foreign Affairs to speak out.
Mr. Yoshitaka Sakurada said, "The Chinese Communist Party's (CCP) persecution of human rights has been regarded as "genocide" in the U.S. China is ruled by one party. If it doesn't resolve its human rights abuses and is not recognized by the international community, it cannot become a first class nation. America is very strong on human rights issues and so is Japan. I hope Japan will speak out more about this." 
He thinks the Chinese economy today has improved tremendously thanks in part to aid from Japan. However, the CCP continues to persecute Falun Dafa practitioners, Uyghurs, Tibetans, Hong Kong citizens and other groups. Its suppression of those with religious faith is extremely severe and very worrying to democratic countries ruled by law. Japan should of course raise its voice to stop human rights abuses, he said. He called on the international community to condemn the CCP's persecution of human rights. 
According to Ms. Fu, the persecution of practitioners in her hometown of Dalian City has escalated since November 2020. Local policemen forced their way into private homes without any legal procedures to arrest people. They did not issue any written documents or verbal notices afterwards. She learned that at least 29 practitioners were arrested at the same time as her mother. One of them was a family member who does not practice Falun Dafa.
On June 24, 2021, Ms. Fu and other local practitioners also went to the Japanese Parliament [National Diet of Japan] to ask representatives to help rescue her mother as well as other practitioners who were arrested. 
Background: What is Falun Dafa?
Falun Dafa (also known as Falun Gong) was introduced to the public in 1992. Nearly 100 million people across China were soon practicing Falun Dafa after experiencing improvements in their health and character. Jiang Zemin, former head of the Chinese Communist Party (CCP), perceived the spiritual discipline's growing popularity as a threat to the CCP's atheistic ideology and on July 20, 1999, issued an order to ban the practice.
Minghui.org has confirmed the deaths of thousands of practitioners as a result of the persecution over the past 22 years. The actual number is believed to be much higher. More have been imprisoned and tortured for their faith.
There is concrete evidence that the CCP sanctions the harvesting of organs from detained practitioners, who are murdered to supply the organ transplant industry.
All articles, graphics, and content published on Minghui.org are copyrighted. Non-commercial reproduction is allowed but requires attribution with the article title and a link to the original article.
Category: Voices of Support Worldwide