70 Police Officers Dispatched During Female Falun Gong Practitioner's Court Hearing
June 9, 2021 | By a Minghui correspondent in Hunan Province, China
(Minghui.org) The authorities in Changsha City, Hunan Province dispatched nearly 70 police officers to patrol outside of the Liuyang City Court, when Ms. Zhang Lingge was tried on May 8, 2021, for her faith in Falun Gong, a spiritual discipline being persecuted by the Chinese communist regime since 1999. 
The prosecutor in charge of Ms. Zhang's case told a colleague that throughout his career, he has never seen so many officers being dispatched during a hearing, especially when the defendant is a woman.
The 610 Office
One insider revealed that the heavy police presence during Ms. Zhang's hearing was related to the national conference of representatives from all levels of the 610 Office in Changsha. Thirty of the 610 Office officials reportedly attended her hearing and the police force was dispatched to prevent local Falun Gong practitioners from protesting near the court. 
The 610 Office, a Gestapo-like organization launched on June 10, 1999, was created specifically to oversee and execute the persecution of Falun Gong, which was started a month later, on July 20. 
Due to its notorious participation in the persecution in the past two decades, the central Chinese Communist Party government removed the top leadership of the 610 Office in March 2018 and merged most of its functions into the Political and Legal Affairs Committee and China's Ministry of Public Security, another two agencies that have actively participated in the persecution. 
While it looked to the outside world that the 610 Office no longer exists, its offices at all levels, including those inside township governments and residential neighborhoods, remained active in the persecution of Falun Gong.
When Zhao Leji, secretary of the CCP Central Commission for Discipline Inspection, visited a city in May 2020, he specifically requested updates from the local 610 Office.
"Following and solidifying the Party's leadership is our highest priority," Zhao reprimanded the officials, "It is true that the news media said the central 610 Office was disbanded, but that was just to silence those anti-China forces who always make noise about so-called human rights violations."
Zhao said that Falun Gong still exists and the responsibilities of the 610 Office are still critical. "Next year will be the centennial celebration for the CCP. We need to celebrate and celebrate big, without noises!"
Targeted in a Group Arrest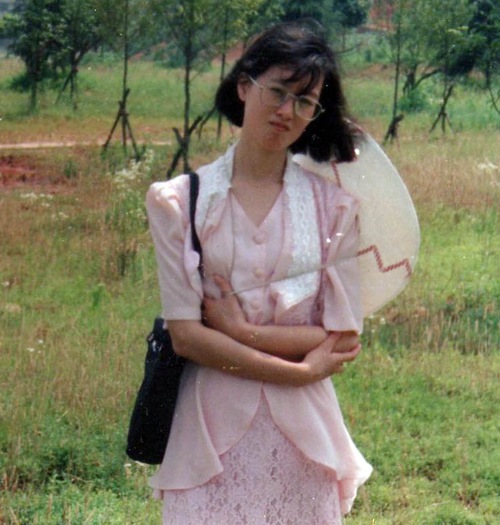 Ms. Zhang Lingge
Ms. Zhang, 52, was arrested at her mother's home at 11 p.m. on October 27, 2020, during a police sweep of 22 locals.
The police handcuffed Ms. Zhang and held her mother in her bed as soon as they broke into her mother's home. They then confiscated their cellphones and ransacked the place. Ms. Zhang's Falun Gong books were confiscated. At around 2 a.m., the police brought Ms. Zhang to her own residence, without allowing her to change her slippers. Her mother chased after the police car with her socks and shoes, but the police didn't stop to take it.
The police submitted the case of 15 of the arrested practitioners to the Liuyang Procuratorate, which returned the cases for insufficient evidence between March and April 2021, before finally indicting the practitioners.
Different from past group arrests, the prosecutor submitted the practitioners' cases to the court separately, instead of a joint case. A person familiar with the case revealed to some practitioners' families that the court hearing is only a formality and some of their prison terms have already been determined by the local Political and Legal Affairs Committee, an extrajudicial agency tasked with overseeing the persecution.
The practitioners are now held at several local facilities, including the Changsha City No. 1 Detention Center, Changsha City No. 2 Detention Center and Changsha City No. 4 Detention Center. The authorities threatened their lawyers and also blocked them from visiting the practitioners. Some practitioners were forced to accept court-appointed lawyers, who are instructed to enter a guilty plea for them.
Past Persecution
Ms. Zhang took up Falun Gong in 1997. For upholding her faith, she was sentenced to six years in Hunan Women's Prison in 2002. Only thirteen months after she was released, she was arrested again on April 27, 2009, and given 1.5 years at the Baimalong Forced Labor Camp.
Ms. Zhang was sentenced to another 3.5 years at the Hunan Province Women's Prison following her next arrest on March 29, 2014. Her low-income subsidy was also suspended. After she was released in 2017, she was arrested a few more times and held in local lockups or brainwashing centers from two days to two weeks.
Related reports:
15 Hunan Residents Face Predetermined Prison Sentences for Practicing Falun Gong
Hunan Police Refuse to Meet with Falun Gong Practitioners' Lawyers
Changsha City, Hunan Province: 17 Falun Gong Practitioners and One Family Member Arrested, Two Harassed for Their Faith
Updates on Falun Gong Practitioners Targeted in Changsha City, Hunan Province Group Arrest
13 Hunan Residents Detained Incommunicado for Two Months and Counting
Changsha City, Hunan Province: Fourteen Arrested and One Harassed for Their Faith
Eight Hunan Residents Charged with Intercepting TV Signals
Ms. Zhang Ling-ge from Changsha City, Hunan Province Arrested Again After Six Years of Imprisonment
All articles, graphics, and content published on Minghui.org are copyrighted. Non-commercial reproduction is allowed but requires attribution with the article title and a link to the original article.
Category: Accounts of Persecution