Sichuan Woman Suffers Decades of Persecution for Her Faith, Family Implicated
June 25, 2021 | By a Minghui correspondent in Sichuan Province, China
(Minghui.org) After Ms. Li Jinru, 58, of Dazhou City, Sichuan Province, started practicing Falun Gong, a mind-body discipline based on the principles of Truthfulness-Compassion-Forbearance, in October 1995, she was often praised by her parents-in-law for being a good daughter-in-law. However, since the Chinese communist regime began the persecution of Falun Gong in 1999, Ms. Li has been detained three times, sent to forced labor camps, and sentenced. She was on the brink of death several times due to the torture. 
Ms. Li's family was also affected during the decades-long persecution. Her father, who had dementia, became paralyzed after she was sentenced and passed away in 2006, five years after her mother's death. Her husband almost died from hypertension due to the distress.
Fearing being implicated in the persecution, Ms. Li's parents-in-law, who were living with her and her husband, often scolded her and attempted to drive her out of the home if she continued to practice Falun Gong. As she nearly lost her life twice, they were worried it could affect her son, who became withdrawn and eccentric in the persecution. They once admitted that if this persecution didn't happen, they wouldn't treat Ms. Li this way, and would recognize her as a good daughter-in-law.
Below is an account of her persecution:
A Good Daughter-in-law
In 1987, Ms. Li suffered severe blood loss when she gave birth via Caesarean section. She experienced pain in various parts of her body. She was so weak that she had no strength to carry her son. She often had insomnia and vomited. To avoid doing housework and caring for her child, she often played mahjong and fought with her husband. She tried learning some qigong exercises to relieve her pain but none had much effect on her.
Ms. Li's mother, Ms. Huang Jinglan, started practicing Falun Gong in 1995. Many of her illnesses such as liver cirrhosis and stomach disease were cured within a month. At her mother's recommendation, Ms. Li also started practicing in October that year and benefitted from it—she soon discovered she could walk without feeling tired and her rheumatism was cured.
Ms. Li took the initiative to learn how to do housework after she recovered, and help her husband run errands as he has vision problems.
Before practicing, Ms. Li, who was a sales associate at the food factory her husband worked at and dreamed of becoming rich overnight. She would deliberately not notify her clients when the products' prices were reduced and pocketed the difference. After practicing Falun Gong, she returned all the difference to her clients. She also quit gambling.
At the end of 1995, Ms. Li, who at the time worked at the Tianli Textile Factory, donated 2,000 yuan to the workplace as a living allowance for poor employees. She requested to remain anonymous and to say that the money was donated by a Falun Gong practitioner. She only stopped the donations after both she and her husband were laid off in 1998.
One day in 1997, Ms. Li and her son were on their way home when they saw a few hundred yuan on the street. Her son wanted to pick them up but Ms. Li stopped him and put the money back in the original place.
Ms. Li's mother-in-law has hypertension, heart disease, diabetes, and gallstones. After her mother-in-law was paralyzed in 2009 and often defecated in her pants, Ms. Li would clean and wash her up. Ms. Li often made the favorite dishes of her parents-in-law and chopped the food into smaller pieces due to their dental problems.
Regardless of how her parents-in-law treated her, Ms. Li has never raised her voice at them and always talked to them calmly. Due to her kindness, her husband said that marrying her is the best thing he had ever done in this life; her mother-in-law tells everyone that it is her luck to find such a good daughter-in-law.
Arrested and Tortured in Police Department
With the onset of the persecution, Ms. Li went to Beijing to appeal for the right to practice Falun Gong in late February 2000. She was arrested at Tiananmen Square, and taken to the Tiananmen police department to be interrogated and tortured.
The police handcuffed her behind her back for several hours, with one hand pulled over her shoulder to be linked with the other hand pulled up from her back. The numbness in her hands and back from the torture didn't go away until six months later. The scar around her wrists took a year to heal.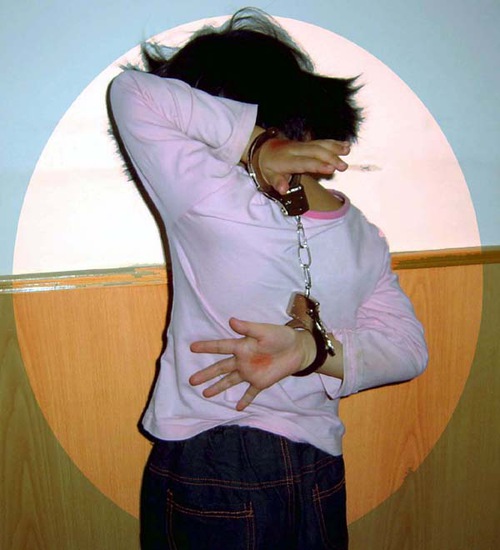 Torture re-enactment: Handcuffed behind the back
Ms. Li was also forced to bend 90 degrees with her legs straight and arms out, parallel to the ground, and holding a weighted bag in each hand. If her hands dropped slightly, the guards would beat her.
For a few days after this torture, Ms. Li was unable to keep her balance while walking and had to walk very slowly so as not to fall. Other torture methods include being slapped in the face and having her nose scraped.
The next morning, a tall, young man came and started beating and kicking Ms. Li in the head and face. He grabbed her hair and slammed her head against the wall. He also kicked her into a corner. Before leaving, he said, "I will take care of you tomorrow so that you'd rather die than live. Just wait and see."
Ms. Li's eyes and face were bruised from the beatings. It took a month for the bruises to disappear, and the lumps on her head remained for several years.
Torture re-enactment: Smashing the head against the wall
The next day, the police transferred Ms. Li to Dazhou City Office in Beijing, and she was taken back to Dazhou City by the security guards from her workplace two days later. The guards handed her to the Tongchuan District Police Department and she was later held at Fenglingguan Detention Center for over 20 days before she was released. She learned that her husband paid 2,000 yuan for her bail release.
Ms. Li was also made to pay 2,000 yuan for travel expenses for the guards to bring her back.
Chased Out By Parents-in-law
Ms. Li's father had hypertension episodes and fainted when he heard that she was detained for going to Beijing. Her parents-in-law, both retirees, forced Ms. Li to choose between Falun Gong and her family. When Ms. Li chose to continue practicing and her husband refused to divorce her, her parents-in-law chased her out as her father-in-law was afraid the bank he worked at would be implicated.
For about nine years, Ms. Li was forced to live alone in her husband's workplace assigned apartment. She was called to take care of her husband and parents-in-law when they were hospitalized. Once they were discharged, she was chased out again. Her parents-in-law finally agreed to let her return home in 2008 to care for them.
For a few years after 2000, Ms. Li's son was preparing for high school exams and the college entrance exam. As Ms. Li couldn't be by his side, he became withdrawn and eccentric and resented her and her husband after hearing his grandparents and aunt scolding and insulting his parents.
Ms. Li was arrested on May 6, 2000, when she traveled to Wangyuan County with another practitioner. The practitioner's workplace had thought they were going to Beijing and had the police follow them. Both were arrested at Wangyuan Train Station and sent to the police station to be interrogated for one day and two nights. Afterward, they were transferred to the police department and interrogated for a day. They were held for 15 days before Ms. Li was taken home by her workplace's security guard.
A few days later, Ms. Li was informed by the police that her bail bond was forfeited, as she violated her bail condition by leaving her place of residence.
Ms. Li's mother was critically ill in January 2001. Ms. Li applied to leave for a few days to take care of her mother but was arrested when she returned to her hometown. The police wanted her to guarantee that she would not contact the local practitioners but she refused to agree to the unreasonable demand. The police ended up detaining her for two days at the Xuyong County Detention Center, before releasing her and ordering her to go home immediately without seeing her mother.
1.5 Years in Forced Labor Camp
Ms. Li sent basic living supplies to a disabled young practitioner on May 6, 2001, who was held in the detention center and separated from her practitioner parents. The police suspected that Ms. Li was a practitioner and notified police from Tongchuan District. An officer came and recognized Ms. Li. He then searched her bag and found Falun Gong books. Ms. Li was arrested and sent to Fenglingguan Detention Center. Her home was also ransacked and many Falun Gong books and materials were confiscated.
Ms. Li was hit on her head and face with a shoe and handcuffed for half a month in July 2001 when she refused to memorize the prison rules. Later, she had persistent vomiting, abdominal cramping and breathing difficulties. She was unable to eat, and her four limbs became numb and weak. After three weeks of detention, she was given 1.5 years of forced labor.
Ms. Li was taken to Zizhong Women's Forced Labor Camp in October 2001. A physical exam shows that she had high blood pressure and heart disease. The labor camp refused to accept her, and the police took her back to Fenglingguan Detention Center. The police released her a few days later as her condition became critical.
Harassment and Brainwashing
The police suspected that Ms. Li had something to do with the Falun Gong materials that were distributed in a workplace and tried to break into her husband's workplace-assigned apartment in May 2003. Ms. Li locked the door and they couldn't get in. She shouted, attracting her neighbor's attention when the police wanted to arrest her.
Between March and April 2006, the police suspected that Ms. Li collaborated with practitioners in another town to put up big slogans on the street. They arrested her when she was staying with her son, who was living in his aunt's home as it was nearer to his school and he was preparing for the college entrance exam. She was held in a brainwashing center for two days and was later released after she went on a hunger strike. 
Released on the Verge of Death Shortly After 5-year Prison Sentence
The police arrested over 30 practitioners in July 2011 for transporting Falun Gong books and materials. The police suspected Ms. Li had participated in it and arrested her at home on July 19, 2011. Her husband's workplace-assigned apartment was also ransacked and tens of thousands of yuan worth of personal belongings, including a laptop, portable hard disk, DVDs, cell phones, mini camera, and even a laptop fan, were confiscated.
Ms. Li was held at the Fuxing Detention Center. Her arrest was approved a few days later.
As Ms. Li refused to do roll call upon arriving at the detention center, she was forced to stand facing the wall for half a day, and also do unpaid labor work. Upon discovering on October 23 that Ms. Li had high blood pressure, the detention center no longer assigned her to do night duty and labor work.
While in the detention center on October 23, 2011, Ms. Li had a fall. A physical exam showed that she had high blood pressure (170-260 mmHg). She was taken to Dazhou City Second People's Hospital for treatment, where she was also found to have heart disease.
Despite the detention center's dozens of requests to release her on bail, the 610 Office and Political and Legal Affairs Committee (two agencies tasked with overseeing the persecution) rejected it, with the excuses of "stability maintenance" ahead of major political meetings.
Ms. Li was sentenced by the Tongchuan District Court in Dazhou City to 5 years in prison on December 28, 2011. Her family members weren't notified of her verdict. 
Ms. Li lost consciousness in the detention center on April 3, 2012, and was taken to the hospital, where she was diagnosed with high blood pressure, diabetes, and heart disease. During the five days she was hospitalized, her feet were cuffed to the bed and the police monitored her around the clock. Her husband asked that she be released on medical parole but to no avail.
Ms. Li was transferred to the Sichuan Province Women's Prison in late April 2012. She was denied admission due to her health and returned to the detention center.
In mid-May 2012, she was in critical condition and was thus released to serve time at home. A few months later, officers from the justice bureau went to Ms. Li's home and requested her to sign a document. They also told her not to go out without getting approval from the authorities. She was often harassed on the phone and told to report regularly to the authorities.
Ms. Li was monitored around the clock in early November 2012 during the 18th National Congress of the Chinese Communist Party and was followed by a few people whenever she went out. The monitoring only stopped in mid-November.
Ms. Li went back to her hometown in Xuyong County in early 2013 to settle house demolition matters. The Dazhou District justice bureau demanded that she report to the Xuyong County justice bureau. Otherwise, she would be arrested and taken back to Dazhou.
Threatened for Filing Complaint Against Former Dictator
In mid-April 2014, Ms. Li was alone at home and was about to travel to the hospital to visit her parents-in-law when two police officers showed up. They asked if she was still practicing Falun Gong and started looking around the apartment, asking if she had a computer.
Ms. Li filed a criminal complaint against Jiang Zemin, the former leader of the Chinese Communist Party who ordered the persecution, in July 2015. Afterward, she was harassed by the police and officers from the justice bureau. They slandered her for disturbing public orders and disrupting social order.
The justice bureau tried to find ways to persecute her. On March 10, 2016, Ms. Li received a warning, informing her that she didn't submit the physical exam report as required (although she was never aware of such a requirement). She was ordered to go for a medical check within the week, or she would be punished if she refused to cooperate.
Parents Passed Away
Ms. Li's mother, Ms. Huang, a retired teacher, was arrested in Beijing in April 2000 when she went there to appeal for the right to practice Falun Gong. She was sent back to Xuyong County Detention Center to be detained for a month and fined 5,000 yuan. She was also forced to pay the 4,000 yuan travel expense for the police to bring her back home. When she was released, her husband, Mr. Li Zhengfang, was forced to monitor her and not allow her to go out of the house, or he would bear the consequences.
Due to the mental pressure, Mr. Li verbally abused Ms. Huang and Falun Gong almost every day. The security guard at Ms. Huang's workplace was also instructed to monitor her and record the time she went out and returned home. Once, Ms. Huang went to visit her younger sister and returned the next day. The guard told her, "We were going to call the police and send out a wanted notice if you were still not back."
Ms. Huang's relatives started visiting her and asking her to give up practicing Falun Gong. Due to the mental pressure, she became paralyzed in early 2001. Her condition worsened in June 2001 after hearing that her daughter had been arrested for the fourth time. She passed away days later.
A few days after Ms. Huang died, the local TV station attempted to have her sisters appear on camera to slander Falun Gong and blame Falun Gong for her death. One of her sisters refused to comply and another sister was forced to cooperate after being threatened with losing her job.
When Ms. Li was released in critical condition in early November 2001, she learned that her husband had written four letters to her, but the detention center confiscated them all.
Her husband wrote to her about her mother's becoming seriously ill and her passing. He requested the temporary release of Ms. Li so that she could see her mother one last time, but the authorities rejected it.
He also mentioned in the letters that her father couldn't bear the huge blow of her mother's illness and her imprisonment that he suffered episodes of hypertension and developed dementia. He couldn't recognize anyone. He later became paralyzed and lost the ability to take care of himself. He eventually passed away in September 2006.
Parents-in-law Endure Mental Pressure
Ms. Li's grandfathers-in-law were executed during the early days of the Chinese Communist Party, leaving a scar in their hearts. For the following years, her parents-in-law lived carefully and didn't dare to say things criticizing the government. As Ms. Li practices Falun Gong, they tried many times to force their son to divorce her. But their son refused.
Her father-in-law was afraid that she would affect the status of his workplace and refused to let her stay at home from 2000 and 2008. 
In 2008, Ms. Li returned home to take care of her parents-in-law. Whenever she goes out, they would be anxious. They are extremely worried when she returns home late. Her mother-in-law would keep looking out of the window for the sight of her return. After she returned home, her mother-in-law would nag and scold her for a long time, and sometimes dragging in her husband. When at home, her father-in-law forbids the mentioning of any sensitive topics and wants to drive her away if he's unhappy.
Ms. Li's husband has high blood pressure, insomnia, and often has headaches. He knows that Ms. Li is a good person, and thus bore the pressure from home and society. He had a severe headache for a few days in December 2010 and had a cerebral hemorrhage. He was take for emergency treatment and the doctor issued six critical condition notices. He was saved after reciting the auspicious phrases "Falun Dafa is good."
Her husband was very worried when she was imprisoned between 2011 and 2012. Despite having vision problems and difficulty walking, he took a walking stick, put on a pair of sunglasses to keep out the sunlight, and visited her. His actions moved the police and inmates.
Related report:Additional Information about Six Practitioners Sentenced to Prison and Forced Labor in 2011
All articles, graphics, and content published on Minghui.org are copyrighted. Non-commercial reproduction is allowed but requires attribution with the article title and a link to the original article.
Category: Torture of Women