Canada: Falun Dafa Practice at Niagara Falls Resumes, Many Tourists Eager to Learn the Exercises
June 25, 2021 | By a Minghui correspondent in Toronto
(Minghui.org) With the easing of the coronavirus epidemic in Canada, large numbers of tourists have returned to scenic Niagara Falls. On June 12, 2021, Falun Dafa practitioners in Toronto also resumed their group practice site at the popular attraction. 
The Falun Dafa practice site at Niagara Falls is open every day. Many people who learn the exercises there say they feel they've entered a peaceful oasis despite the noisy traffic, people, and water. The following are a few testimonies from the practice site on June 19 (Saturday).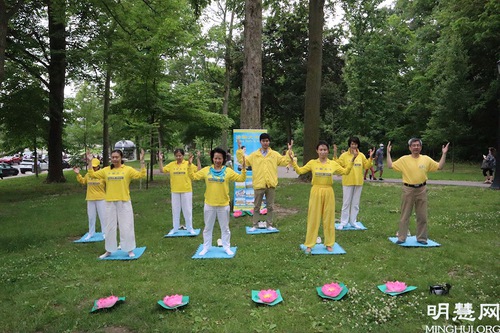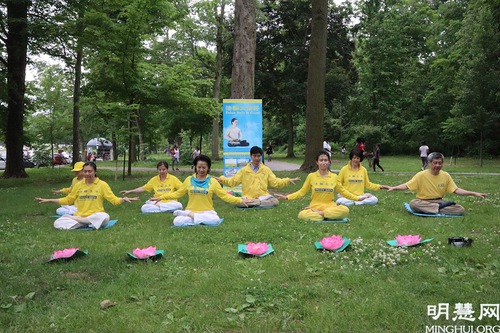 Practitioners demonstrate the Falun Dafa exercises at the Niagara Falls practice site.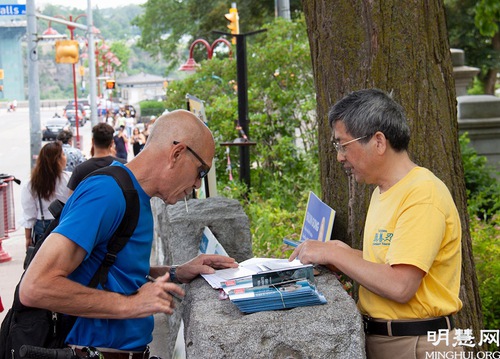 A tourist takes a moment to learn about Falun Dafa.
Peace and Tranquility in a Noisy Environment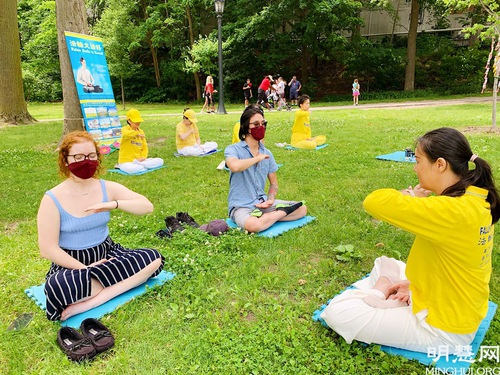 Andy and Dina learn the Falun Dafa exercises.
Andy and Dina are undergraduate students and live in Niagara Falls. They were drawn by the practitioners' exercise demonstration. Curious, they joined to learn them. 
Dina said, "I felt very relaxed and I also felt heat around my body when I practiced the third exercise." 
While he did the fifth exercise, the meditation, Andy was able to cross both his legs. He said, "During the meditation, I feel very quiet even though the surroundings are noisy with vehicles and pedestrians."
Dina said, "I could hear the noise of traffic, people, and water during the exercises, but my mind was very peaceful." 
When he learned how the CCP (Chinese Communist Party) persecutes practitioners, Andy said, "I understand what you are talking about. My grandfather and mother immigrated from China 30 years ago. They were forced to leave China [for political reasons]."
Andy explained that, as a high school student, he researched the CCP's political movements throughout the decades, so he was not surprised to learn about the persecution of Falun Dafa in China.
Dina was born and raised in Canada. She said, "I didn't know about the persecution, but I can see that Falun Dafa is beautiful and peaceful. I think this kind of persecution is very inappropriate."
They signed the petition to protest the persecution, took a leaflet, and accepted the origami lotus flowers practitioners made. They said that they would go online to learn more and return to Niagara Falls to practice the exercises in the future.
"A Sense of Peace and Quiet"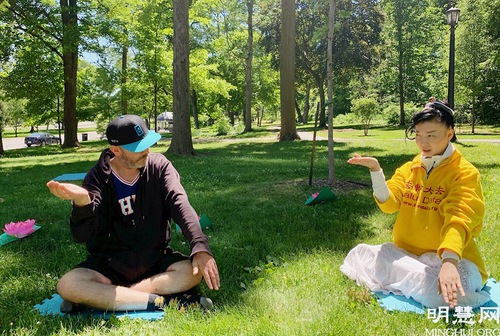 Shaun (left) learns the sitting meditation.
Shaun and his friends noticed the group practice site and paused to read the display boards about Falun Dafa. After listening to a practitioner's introduction, he said, "I like to meditate and I'd like to learn the exercises." 
A practitioner taught him the fifth exercise, which is a meditation. Afterward, Shaun said, "I'd never heard of Falun Dafa before, but I have been looking for a meditation." He said that meditation gives people a sense of peace and quiet. 
When he heard how the CCP persecutes practitioners in China, he said, "The CCP regime violates human rights. The CCP is responsible for brutal acts that violate human rights, using violence, murder, etc. This is something that many people in the world know."
Entering Another World
Bryan and his friend Mary
Bryan and his friend Mary learned the fifth exercise. Mary said, "It's the first time we've seen such a peaceful meditation. Although we haven't meditated before, we've always been interested. When I was meditating just now, I felt peaceful. Although there are a lot of people nearby, it seemed that I entered another world."
It was the first time that Bryan had heard of the CCP's persecution in China. He said that it was difficult to believe that such a thing could be happening today. Before they left, Bryan and Mary signed a card for Canadian members of Parliament and wrote: "Call on the CCP to stop the persecution. Protect human rights and freedom of belief."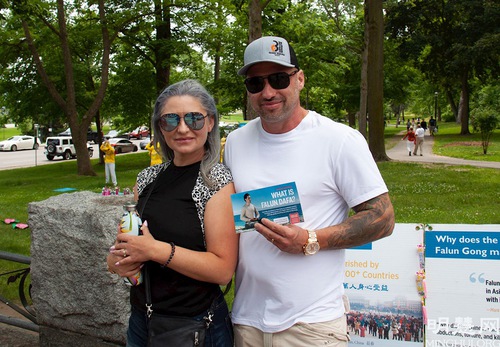 Scott and his friend 
It was the first time for Scott and his friend to meet Falun Dafa practitioners. Scott said, "You are really calm. I am very interested and would like to learn more about meditation."
When he heard the facts about the CCP's persecution, he said, "My girlfriend is from Poland, which was also a communist country. I'd heard about the persecution of human rights by the Communist Party in Poland before, but it is not as evil as the CCP. The CCP is a rogue regime. I didn't expect that someone in China would be arrested for distributing leaflets and practicing in parks."
Scott said he would pay attention to the persecution in China. 
Excited to Find Practitioners
Ms. Verna, who recently immigrated to Canada from India, had come to Niagara Falls to sightsee with her husband and brother. As soon she saw the practice site, she ran over and said, "You are Falun Dafa practitioners, right? I learned Falun Dafa at a practice site when I was in India, but I only learned the first three exercises. Can you tell me how to do the other exercises?"
When Verna was learning the meditation exercise, she was able to sit with her legs in the full lotus position right away and did so for about 15 minutes. She said, "The feeling when I meditated was simply wonderful--as if I were one with nature."
Verna said that she liked to study spiritual practices since she was a child. She said she would keep practicing Falun Dafa. 
Stands with Practitioners
Ms. Sandy, who used to work on Parliament Hill in Ottawa, accepted a leaflet and a little lotus flower as she passed by. She was very pleasantly surprised. She said, "When I worked in the human rights office, I met with Falun Dafa practitioners and learned about the CCP's persecution. I didn't expect to see you here today. This is wonderful!
"Your perseverance really touched me. Although I am now retired, I am willing to stand by your side and cheer for you. Falun Dafa is awesome!"
All articles, graphics, and content published on Minghui.org are copyrighted. Non-commercial reproduction is allowed but requires attribution with the article title and a link to the original article.
Category: Parades & Other Community Events