Mother Arrested for Her Faith, Daughter in Japan Calls for Her Release
June 16, 2021 | By a Minghui correspondent
(Minghui.org) A resident in Japan is calling on the Chinese authorities to immediately release her mother, a 54-year-old Dalian City, Liaoning Province, resident, who had been arrested on June 2, 2021, in a police sweep for her faith in Falun Gong.
Falun Gong, also known as Falun Dafa, is a spiritual and meditation discipline that has been persecuted by the Chinese communist regime since 1999.
On June 12, ten days following Ms. Mao Jiaping's arrest, her daughter, Ms. Fu Weitong, who currently works in Japan, went to the Embassy of the People's Republic of China in Japan and called on the Chinese authorities to immediately release Ms. Mao and to stop the persecution of Falun Gong.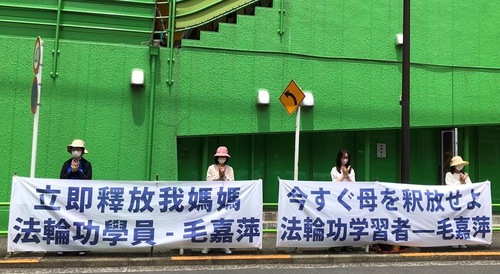 Falun Gong practitioners protesting in front of the Chinese Embassy in Japan, demanding the release of Ms. Mao Jiaping
Ms. Fu said that her mother was arrested at home on the afternoon of June 2. As no other family member was at home during the arrest, they still don't know what had happened. Her father, who also practices Falun Gong and is under strict surveillance by the police, is unable to collect information about Ms. Mao's case or freely communicate with Ms. Fu over the phone.
"I've learned from Minghui.org that my mom was targeted in an orchestrated group arrest. It's not only my mom, but they've also arrested 24 other practitioners and four of their family members." Ms. Fu said.
"Coming to the embassy today, I hope to expose the evil nature of the Chinese Communist Party. I'm also planning to contact my representatives and tell them about the persecution of my mother. I hope not only the Chinese people, but people around the world and those who live in democratic and free societies, can learn the facts [about the Chinese Communist Party] as well."
Late Stage Stomach Cancer Cured
When she was still in her youth, Ms. Mao suffered from severe anemia, migraines, and gynecological diseases. When her condition was most severe, she was unable to walk or work. She tried both Chinese and western medicine, but none alleviated her condition.
At 30, she was diagnosed with late-stage cancer. After the surgery, she began to practice Falun Gong at the recommendation of her parents-in-law. After one course of chemotherapy treatment, she returned home and completely recovered without taking any more medicine. In addition to her cancer, her severe anemia was also cured. After a few years of practice, many people commented that she looked younger than before.
Targeted in Group Arrest
Between June 1 and 3, 2021, at least 25 Falun Gong practitioners and four of their family members in Dalian City were arrested. Arrested together with Ms. Mao on June 2 was her neighbor Ms. Wang. Although Ms. Wang was released later that evening, Ms. Mao's family still doesn't know which police station was responsible for her arrest.
Ms. Fu didn't learn of Ms. Mao's arrest until she read a report on Minghui.org on June 5. Since then, no police officer has ever contacted her family about Ms. Mao's case.
Worried about Ms. Mao's safety, Ms. Fu made phone calls to the police stations near her home. She suspects that her mother might have been detained at the Malan Police Station. But when she called them and asked about Ms. Mao's situation, the person who answered the phone said she didn't have the right to know about it.
Perpetrators' contact information:
Malan Police Station: +86-411-84212854, +86-411-84516709, +86-411-82287546Shahekou District Police Department: +86-411-39771170, +86-411-39771157Shahekou District Domestic Security Division: +86-411-39771226 , +86-411-39771227Xu Baogui (徐宝贵), Dalian Public Security Bureau Political Commissar: +86-411-39771002
(More perpetrators' contact information is available in the original Chinese article.)
Related report:
Dalian City, Liaoning Province: 25 Falun Gong Practitioners and 4 Family Members Arrested in Three Days
Related article in Chinese:
All articles, graphics, and content published on Minghui.org are copyrighted. Non-commercial reproduction is allowed but requires attribution with the article title and a link to the original article.
Category: Accounts of Persecution