"The Media Hasn't Report on This Enough"--Finnish Residents Support Efforts to End the Persecution of Falun Gong
June 12, 2021 | By a Falun Dafa practitioner in Finland
(Minghui.org) Falun Dafa practitioners held activities at the Kampi Shopping Center in Helsinki, Finland on June 5, 2021. They demonstrated the exercises, introduced Falun Dafa and told people about the brutal persecution happening in China. Several people signed on the petition to end the persecution and at times they waited in line to sign.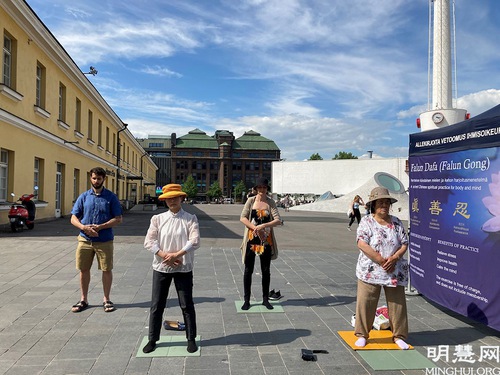 Practitioners demonstrate the Falun Dafa exercises.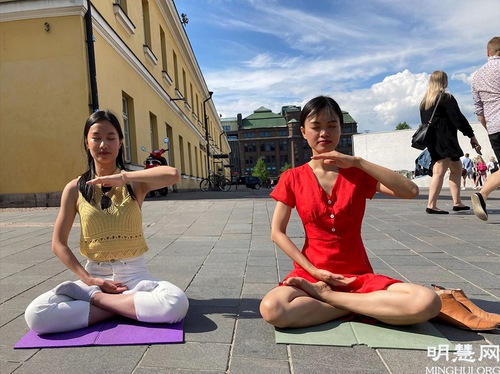 A Vietnamese girl (right) learns to do the fifth exercise, the meditation.
Several people stopped at the booth to learn more about Falun Dafa.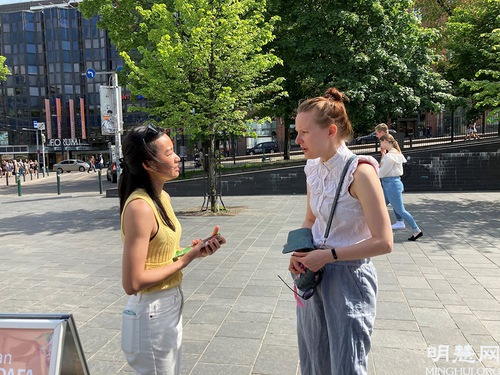 Practitioners tell people about Falun Dafa.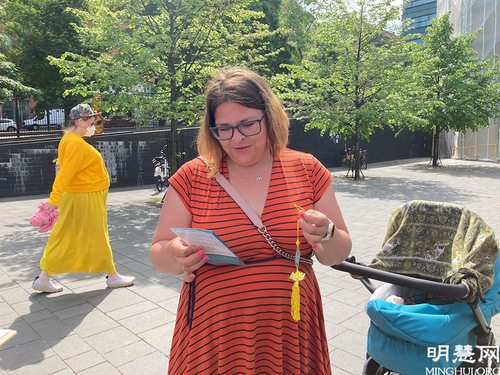 A lady reads a Falun Dafa flyer. 
Ever since China's nationwide persecution of Falun Dafa began in 1999, local practitioners in Finland began peacefully raising awareness in many different ways. With their sincere persistence, practitioners received the support of people in different fields. 
Joe, a Vietnamese working in Finland said after signing the petition, "I know that the Chinese Communist Party (CCP) has been illegally harvesting organs from Falun Dafa practitioners. I hope to add my support and do something. I know that you have been peacefully protesting for over 20 years. Joe said he felt that Falun Dafa was a genuine cultivation practice since "it has meditation exercises, is beneficial for the body, requires moral values and brings inner peace."
Joe remarked, "To put it simply, the CCP is evil! If we do not stop the CCP, it will destroy everything. We need to put pressure on the world's leaders. We have been too lenient on them for the past twenty years and they are very soft on the CCP's policies. We need to stop this leniency and I hope that someday, Chinese people can see the truth."
Joe said that he learned about the situation in China by reading The Epoch Times and watching New Tang Dynasty Television.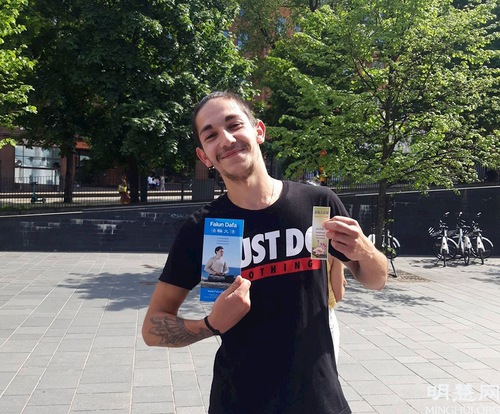 Niko said, "I can feel a strong energy field here."
Niko from Portugal said excitedly, "I've strolled around the center for about two hours and I can feel a strong energy field. It is truly amazing! I even called my friend and asked him what Falun Dafa was. He did not know either, so I decided to come and check it out myself." A practitioner explained what Falun Dafa is and told him about the ongoing persecution of practitioners in China. Niko immediately signed the petition and took informational materials before leaving.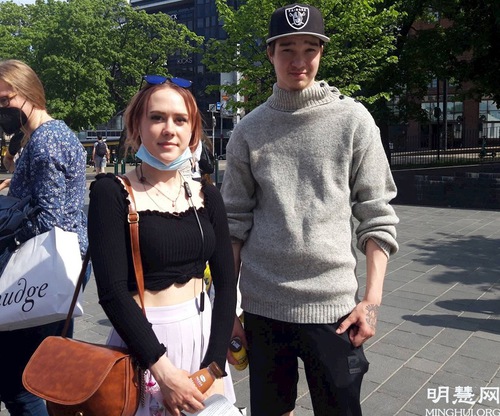 Janika and Wiljami support practitioners and call for an end to the persecution. 
Janika said, "I did some research on the topic of forced live organ harvesting, and this is very inhumane. After people practice Falun Dafa, they become peaceful and serene. How can such a group of people like this be persecuted? Janika sadly said, "The international community should stand up and do something about this. Many people are being killed and this persecution needs to end."
Alibert from Prague was visiting a friend in Finland. She started reading the informational materials and a practitioner told her about the persecution happening in China. She said, "This is a very important matter and I will let everyone know by posting on social media."
Niko has several social media channels with many subscribers and has once invited practitioners to talk about forced live organ harvesting on his channel. He came again to invite practitioners on his channel and said, "The media has not reported on this enough and I want your voices to be heard."
All articles, graphics, and content published on Minghui.org are copyrighted. Non-commercial reproduction is allowed but requires attribution with the article title and a link to the original article.
Category: Parades & Other Community Events