Yunlin, Taiwan: One-Day Falun Gong Experience Sharing Conference
May 6, 2021 | By Minghui correspondents Lee Wei-an and Liu Wen-hsin
(Minghui.org) The mid-Taiwan Fa-study group held a one-day Fa experience sharing conference on April 25, 2021. Falun Gong practitioners shared their experience in looking within, letting go off attachments and validating Dafa.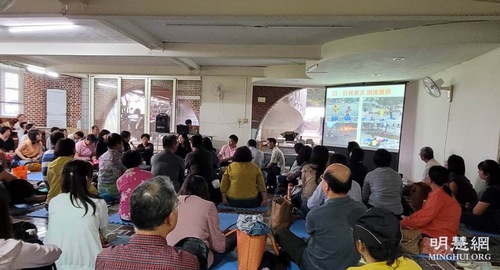 Group Fa-study and experience sharing conference in Yunlin, Taiwan, on April 25.
A Family Witnesses the Power of Dafa
Lin Hsiu-ling suffered from sleep disorders before practicing Falun Gong. Her uterus was very painful during the night. She took many medicines, but nothing helped.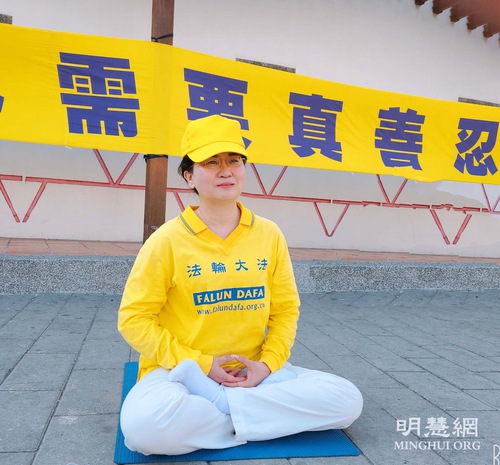 Lin Hsiu-ling
An 80-year-old Falun Gong practitioner clarified the truth about Falun Dafa at Lin's workplace 12 years ago. Lin listened closely and felt the practice was unique and easy to learn. Her health improved after three days of practicing Dafa.
The elder practitioner told Lin, "I have practiced Falun Gong for over 10 years. I haven't used my health insurance card after I started to practice Falun Dafa."
Lin thought, "Since it is free, let me try. It would be a miracle if I fully recovered from my illness."
Dafa's power showed itself. She became healthy after practicing Falun Gong for six months. Since then, she has not taken any medicine.
Lin said, "Cultivation has improved my health. My thoughts have become clearer, and I do well at my work. Before practicing Falun Gong, I would be angry when encountering conflicts. Cultivation has helped me improve my character and become considerate."
Her family witnessed her dramatic change in health. So, her husband, two sons, and parents-in-law have all started practicing Falun Gong.
Lin said: "My family reads Zhuan Falun, the main book of Falun Dafa, for two hours every Saturday. My children have followed us to practice since elementary school. The principles of Falun Dafa give children good values, concentration for learning, and a healthy body and mind. My two children have done well academically.
"They had excellent grades in school," she said. "At elementary school, they got the county magistrate's award. They are among the top three in their class from middle school, high school to university. Now one is studying at Chang Gung University School of Medicine, and the other is studying at Taiwan University."
Three-Year-Old Junior Practitioner Participates in Group Practice
Hsi-hui started practicing Falun Dafa one year ago. She shared the experience of bringing her three children to participate in morning group practice. Her three children are nine, six and three years old.
Her nine-year-old son wished to practice Falun Dafa. She set up a local group practice site near her home to practice with her son in the morning. After doing the morning exercises for a few days, her son hoped to stop doing the exercises. She told him, "We need to attend morning group practice, rain or shine. We will relax if there is time."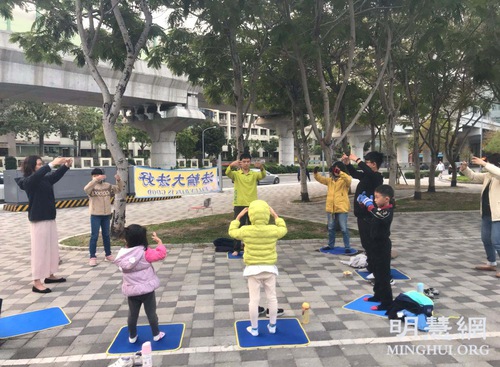 Three-year-old junior practitioner (in pink clothes) participates in morning exercise.
She shared with her children, "Group practice can let people see Falun Dafa. They may learn Dafa and be saved. This is our mission." They understood and continued to join morning practice.
"Two weeks ago," she said," my third child woke up a little after four a.m. for three consecutive days." She wondered if she wanted to join the morning exercise. One day she brought her three children to the morning group practice.
She paid special attention to communicating with her children. She first stressed their strengths, and then guided the children to look within for their shortcomings. She said, "They all understand, and started to look within – they did better than us."
She said, "When children join the morning exercises, they also encourage parents to do so. Group practice and Fa study are the forms of cultivation that Master has left for us. To promote Dafa, everyone needs to come out to let more people know about Falun Dafa."
Learning to Look Within from Reciting the Fa
Mr. Wang thought that The Epoch Times is a great newspaper. He delivers the newspaper every day as a volunteer. His wife joined him in newspaper delivery and assisted him to recite the Fa. They assimilated to the Fa every day and learned to look within.
He said, "Every day, work and life are arranged. In addition, the newspaper is delivered in the morning."
They started to recite the Fa during the morning delivery. Mr. Wang drove the car and his wife read the Fa aloud. Since he had no distracting thoughts, Mr. Wang was able to recite the Fa within a short time.
When he studied the Fa in the past, he could not remember what he had just learned. "After memorizing the Fa, I remember the Fa in my heart. I also understood the meaning of Master's teaching."
As they recited together, they faced conflicts and attachments appeared. He realized, "It turns out that this is looking within. I didn't look within before. Now, I find a lot of attachments."
"Once we had a conflict," he said," I didn't want to recite the Fa anymore." He felt sad. He remembered that a fellow practitioner mentioned when he felt uncomfortable in his mind, it was because he didn't let go of his attachments. So, he looked within.
"The reason for my discomfort was because I did not want to listen to my wife. I felt proud and self-righteous. After I realized it, the uncomfortable situation disappeared." He said, "When the right reason is found, the interference and bad thoughts disappear."
Glittering Words
Seventy-year-old Hsiu-hsia lived in poverty when she was a child. She was not well-educated, but loved to read. At the end of 2008, her sister gave her two books – Falun Gong and Zhuan Falun. As soon as she opened the book Falun Gong, she noted the words were glittering and dazzling.
So she could only read one or two pages at a time, and took two-and-a-half months to read the book Falun Gong. During the Lantern Festival in 2009, she thought, "I can read any book. I don't believe I can't read this book." Two months later, her sister gave her all of the other Falun Gong books.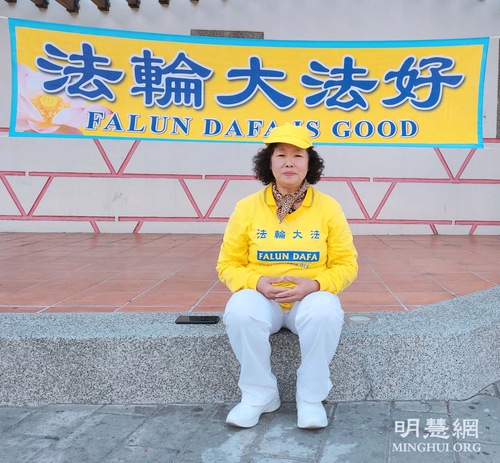 Chen Hsiu-hsia
She had contracted presbyopia when she was in her 40s. After five months of practicing Dafa, she suddenly thought, "If I can read without glasses, it would be great!"
She recovered from her presbyopia, and doesn't need to wear glasses when reading. She said, "Falun Dafa is good. Thank you, Master!"
She said: "Practicing Dafa is great and I am so happy. We must talk to everyone about Dafa, and wish that the predestined people can practice Dafa."
All articles, graphics, and content published on Minghui.org are copyrighted. Non-commercial reproduction is allowed but requires attribution with the article title and a link to the original article.
Category: Experience Sharing Conferences