South Korea: Falun Dafa Workshop Offers Peaceful Oasis During Global Pandemic
May 13, 2021 | By a Falun Dafa practitioner in South Korea
(Minghui.org) Modern people struggle to live a good life. In addition to everyday difficulties which are part of life, they now have added tensions and worries due to the pandemic. In this stress-filled world, where can one find true peace?
Millions of Falun Dafa practitioners know the answer. Falun Dafa is a cultivation practice of mind and body. Many practitioners say it is very effective in stabilizing the mind and improving physical health.
The Nine-Day Lecture series for Falun Dafa was held at the Tianti Bookstore in Seoul, South Korea in early March 2021. New practitioners shared their stories.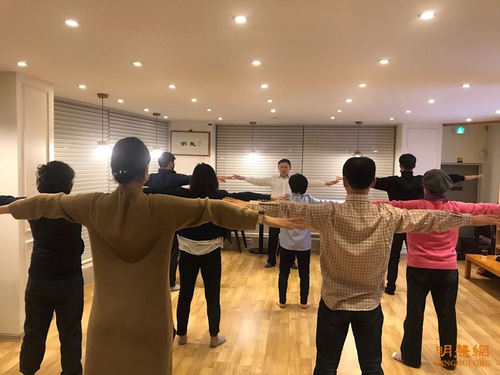 New practitioners learn the first Falun Dafa exercise.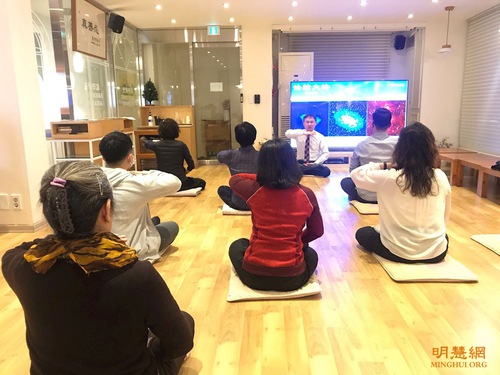 New practitioners learn the fifth Falun Dafa exercise—the meditation.
Hong Xuanzhen, "I waited for 18 years to begin practicing Falun Dafa!"
Ms. Hong Xunazhen, from Dongducheon, Gyeonggi-do, is 65 years old this year. She said it took her 18 years to finally begin practicing Falun Dafa. She learned about Falun Dafa from her husband, who started practicing in 2004.
Her husband liked to drink and smoke and was especially addicted to alcohol. He easily lost his temper and never apologized afterwards. As soon as he got drunk, he began swearing. After he began practicing Falun Dafa, he became a gentle person. He quit smoking and drinking and stopped getting angry.
Everyone who knew him was very surprised that he was able to easily quit his heavy alcohol addiction. They wondered what caused these positive changes. Ms. Hong knew the answer. But for 18 years her busy life kept her away from Dafa, even though her husband suggested she read Zhuan Falun (Falun Dafa's main book).
Even though Ms. Hong always looked cheerful she actually suffered from depression. Whenever she was alone she cried bitterly—which was why her husband suggested she practice Dafa.
Ms. Hong said, "After I stopped working, I read Zhuan Falun. I read it once and then read it again. There were many things that touched my heart, and I also realized that my thoughts were complicated. My mind was so busy it was hard for me to calm down—I just didn't notice it before." She added that after she read Zhuan Falun she realized that those thoughts were caused by her attachments.
Ms. Li Xiuzhen, 50, from Mokdong, Yangcheon-gu, also attended the Nine-Day Lecture series in Seoul. She explained that it also took her 18 years to begin practicing Falun Dafa.
Ms. Li recently attended a ceremony in a temple. While there, she suddenly thought about the Falun Dafa practitioners she saw talking to people on the streets of Insadong, Seoul. She decided to cultivate and become a better person. She phoned her older sister, and during their conversation, she recalled receiving Zhuan Falun from an old friend 18 years ago. She found the book and began reading it.
She said, "I began looking for a true mind and body cultivation practice years ago. After a big detour, I suddenly realized I almost missed it!"
Finding Peace of Mind
Ms. Kim Marie, in her 50s, is from Namsan, Seoul. As an artist she was introverted and felt lonely. She became depressed after her dog died. An acquaintance told her about Falun Dafa.
She said, "After I began reading the teachings, my tired heart felt comforted and my fear disappeared. I was filled with energy the first time I did the exercises. I gradually understood that I had a predestined relationship with Dafa."
Mr. Jin Shanyu is a tour guide in his thirties. He overcame many difficulties to participate in the Nine-Day Lecture series. The day before the first class, someone slandered Falun Dafa to him. During the workshop, he accidentally took the subway in the opposite direction more than five times. He overcame all kinds of interference and managed to attend every class. The last day of the classes, he said he felt fulfilled and happy.
He said that as a tour guide, he had received several brochures from Falun Dafa practitioners. He was curious and wanted to learn more about the practice. He emphasized that he would cherish his fate with Dafa forever.
The Tianti Bookstore in Seoul holds a Nine-Day Lecture series once a month. The class is held for nine consecutive days and is divided into morning and evening classes. The morning class is from 9:30 a.m. to 12:00 noon. The evening class is from 7:15 p.m. to 9:30 p.m. It is free of charge.
The next nine-day class will be held from May 25 to June 2. The bookstore is located in front of Exit 13 of Sanjiadi Subway Station.
All articles, graphics, and content published on Minghui.org are copyrighted. Non-commercial reproduction is allowed but requires attribution with the article title and a link to the original article.
Category: Parades & Other Community Events