Birthday Greetings to Master Li from Falun Dafa Practitioners in Chinese Government, Military, and Justice Systems
(Minghui.org) In honor of May 13, World Falun Dafa Day, Falun Dafa practitioners all over the world have sent their heartfelt good wishes to the Minghui website to celebrate the anniversary of this historic day and express their profound gratitude to Master Li Hongzhi, the founder of the practice.
In this report, we present greetings received from practitioners working in the government, military, public security and justice systems in China. No matter where they are, they live by Falun Dafa's principles of Truthfulness, Compassion, Forbearance, and strive to be better persons.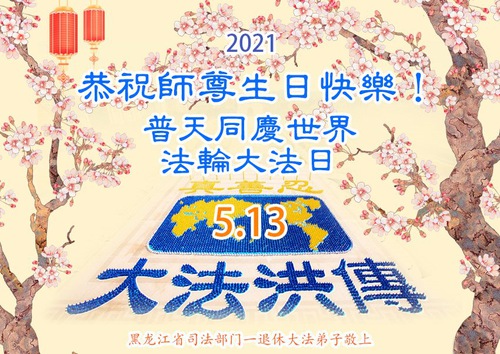 One practitioner working in the justice system in China wrote, "Thank you, Master, for your compassionate salvation. You helped me understand the true meaning of life. I will try my best to raise awareness about the persecution of Dafa among my colleagues and help them see through the lies spread by the Chinese communist regime."
A judge said, "In my 26 years of practicing Dafa, I've firmly followed Master. With Master's protection and Dafa's guidance, I've made it through various tribulations. In the final age of Fa rectification, I will stay grounded, not be affected by the chaos in the world, and continue to improve myself and assimilate to Dafa's principles of Truthfulness, Compassion, Forbearance."
A military officer wrote, "Since the persecution began in July 1999, the Chinese Communist Party vowed that there can't be one single military officer who practices Falun Gong. After 22 years of brutal persecution, we didn't compromise and made it through. With strong conviction and faith, we are like the plum flowers blossoming in the winter or the sacred lotus flowers coming out of the mud untainted."
A retired police officer in Zhaoyuan City, Shandong Province said, "Year after year, it's Master who is guiding us on our cultivation paths and helping us improve ourselves. No matter how brutal the persecution is or how fast morality declines in society, I will remember Master's teaching in myself and cultivate myself well."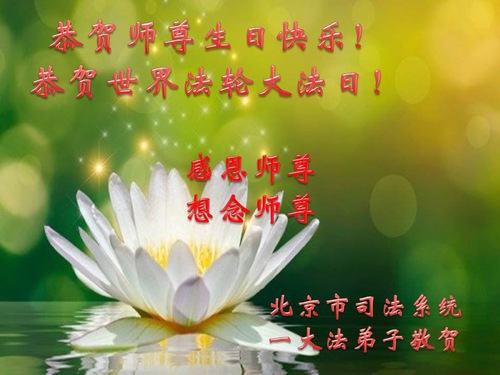 Other greetings are from:
Justice system in Beijing; Heilongjiang Province; Jiangsu Province; and Shandong Province
Police system in Nanjing City, Jiangsu Province; Liaoning Province; Harbin City and Heihe City, Heilongjiang Province; Henan Province; and Yantai City, Shandong Province
Military forces in Guangzhou City, Guangdong Province; Heilongjiang Province; Xi'an City, Shaanxi Province; Dalian City, Liaoning Province; Chongqing; Chengdu City, Sichuan Province; Nanjing City and Zhenjiang City, Jiangsu Province; and Zhaoyuan City and Weifang City, Shandong Province
Government agencies in Jilin Province; Tangshan City, Hebei Province; Chengdu City, Sichuan Province; Qiqihar City, Heilongjiang Province; Meizhou City, Guangdong Province; Hubei Province; and Shandong Province
Political and legal affairs system in Hubei Province; Handan City, Hebei Province; and Liaoning Province
As well as:
National defense system in Shanxi ProvinceRetired officer of Third Department of the People's Liberation Army's General Staff DepartmentRetired officer of air forceHunan Province Military HospitalMilitary college system7th Agricultural Division of Xinjiang Production and Construction CorpsThe People's Liberation Army Rocket Force (formerly the Second Artillery Corps)
All articles, graphics, and content published on Minghui.org are copyrighted. Non-commercial reproduction is allowed but requires attribution with the article title and a link to the original article.
Category: Greetings