Sydney Residents Support Falun Gong's Peaceful Protest Against the Persecution
April 28, 2021 | By a Minghui correspondent in Sydney
(Minghui.org) On April 23 and April 25, 2021, Falun Gong practitioners in Sydney, Australia, held rallies in front of the Town Hall and the Chinese consulate. The practitioners were commemorating the 22nd anniversary of the April 25 peaceful appeal in Beijing and calling on Australians to help stop the 22-year-long persecution of Falun Gong in China.
Practitioners' peaceful activities were supported and praised by people who passed by in Sydney. Some people told practitioners that the Chinese Communist Party (CCP) is a demon and must be eliminated; and some asked how they could help practitioners.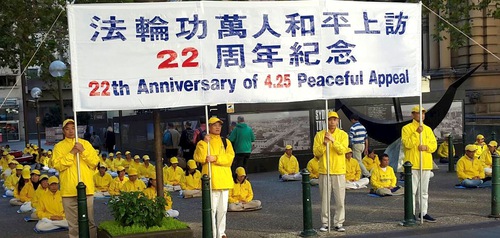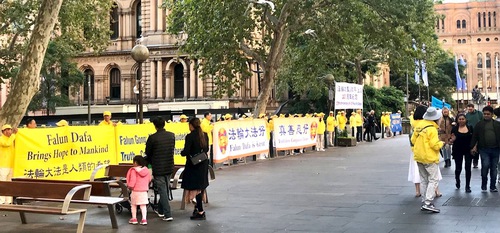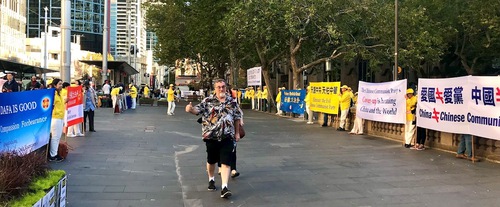 Practitioners' rally in front of the Sydney Town Hall on April 23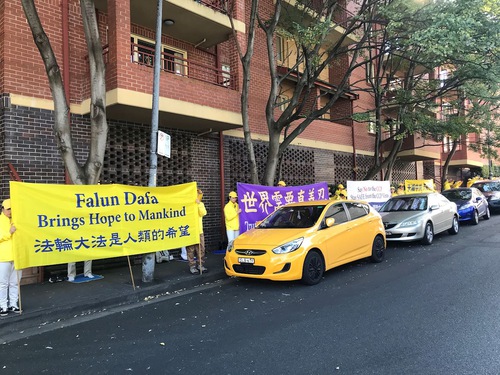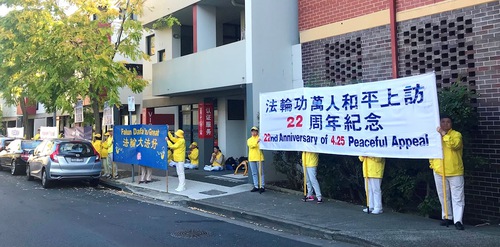 The peaceful protest in front of the Chinese consulate on April 25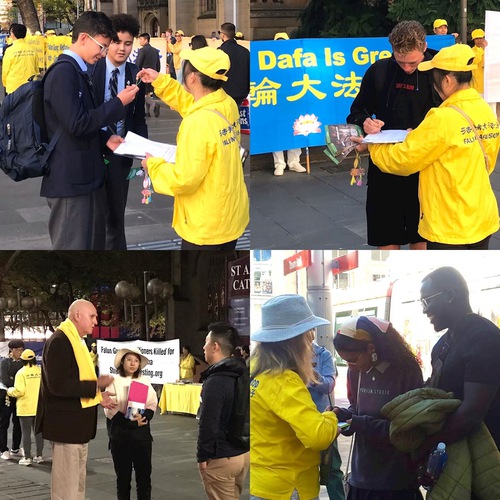 People sign the petition to support Falun Gong
Li Yuanhua, a former professor at the Capital Normal University in Beijing who joined the peaceful appeal 22 years ago, said: "The April 25 appeal was the first peaceful and rational activity that had occurred under the CCP's tyranny. It was like a flag, calling for justice and compassion. It was witness to Falun Gong practitioners' solid belief and the efforts they were willing to invest to keep their belief."
Professor Li said the whole appeal was peaceful. Practitioners didn't shout or hold any slogans, and showed amazing self-discipline. However, this is what the CCP is afraid of—morality and self-discipline.
"The evil nature of the CCP made it launch the persecution," Professor Li said, "The Party lies about everything, including today's COVID virus. It is great that the international community, including the Australian public, has recognized the true colors of the CCP."
Practitioners Win People's Respect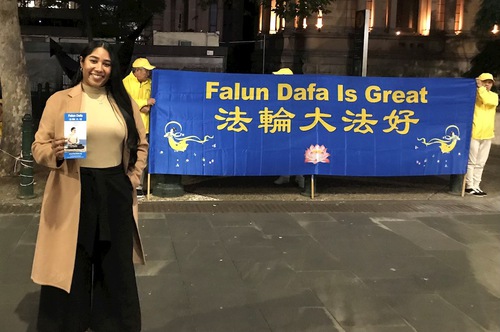 Ms. Chanelle Narayan supports the practitioners
Chanelle Narayan, an officer on duty at the Town Hall, praised the practitioners' activities. She said that their peacefulness will win people's respect.
"It is great that you guys take this approach to let people know the truth. We should follow the principles of Truthfulness-Compassion-Forbearance every day. It makes us good people," she said.
Chanelle believes that the CCP has ruined traditional Chinese culture.
"The Party tries to control everything, including the Internet," she said, "They don't want people to know the truth or have freedom of belief."
She believes that the public can learn a lot about the CCP from Falun Gong practitioners, and this should be important to Australians.
"A big problem is that many Australians are still unclear about the nature of communism. They don't know that communism will affect everybody. It leads to death. So, it is important that people know the nature of the Party," she said.
Chanelle likes meditation. She planned to join the free Falun Gong workshop that is coming up next week.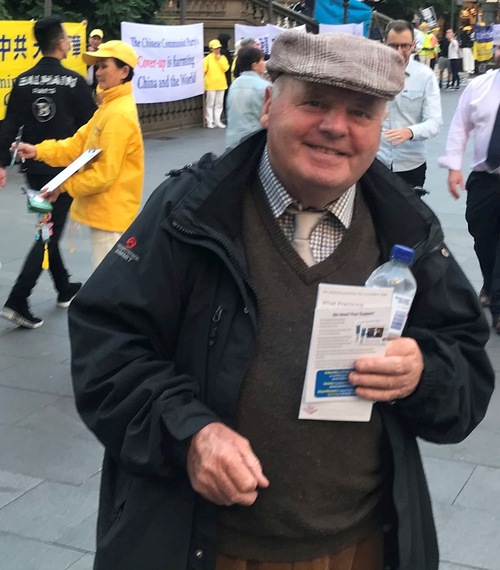 Terry Byrne admires what practitioners have been doing
Terry Byrne often travels to China. He asked practitioners what he could do to help them.
"I admire what you guys have been doing. China's economy has grown very fast. But after learning the truth from you, I found that the Communist Party is trying to deceive the whole world. The Party's crimes of forced organ harvesting is a sin and must be stopped," he said.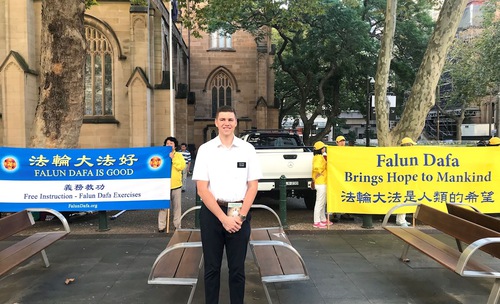 Elder Tennant believes that Truthfulness-Compassion-Forbearance are important principles for society
Elder Tennant also condemned the CCP's crimes of forced organ harvesting, which he learned about from TV news. He said Falun Gong practitioners' rallies are great, because they help Australians learn about what is happening in China. "Everybody should have freedom of belief. The CCP cannot deprive us of it," he said.
The CCP Is a Demon and Must Be Eliminated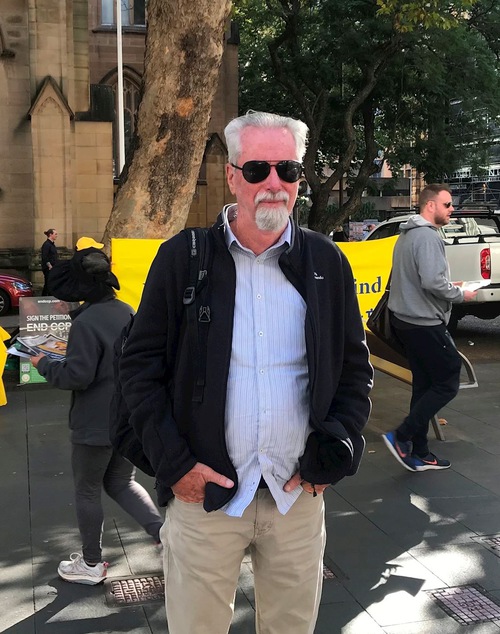 Barry Allan said that the CCP is a demon, and must be eliminated
Barry Allan came across practitioners' activities in downtown Sydney. He said that the principles of Truthfulness-Compassion-Forbearance are very important. He said we must treat everybody with compassion, but the CCP is an evil organization. It persecutes all kinds of religious groups.
Barry believes that the CCP has brought damage to the whole world, not only Hong Kong and Taiwan, but also America and Australia. He supports the Australian government's current foreign policies toward China.
"We shouldn't have any treaty with the CCP, because it tries to control our country," he said.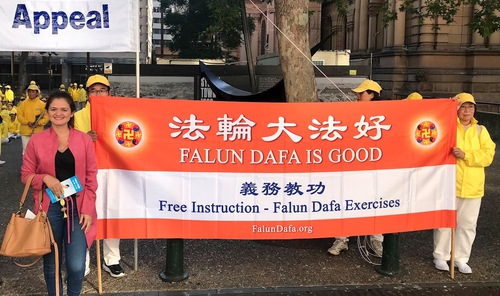 Tatiane Araujo, a college student
After being told about the persecution, Tatiane Araujo, a college student, asked how she could help. "It must be stopped,"she said, "I will tell my friends about this. It is important that more people learn about this. I like your event."
All articles, graphics, and content published on Minghui.org are copyrighted. Non-commercial reproduction is allowed but requires attribution with the article title and a link to the original article.
Category: April 25 Events