Disabled During 5-Year Prison Term, Jiangxi Woman Gets Another 8 Years for Her Faith
April 19, 2021 | By a Minghui correspondent in Hubei Province, China
(Minghui.org) A woman in Yingtan City, Jiangxi Province was sentenced to 8 years for her faith in Falun Gong, a spiritual and meditation discipline that has been persecuted by the Chinese communist regime since 1999. 
Ms. Li Meilian's latest prison term followed her arrest in March 2020, when multiple agencies in Yingtan City, including the city 610 office, political and legal affairs committee, police department, police substations, traffic police, residential committees, conducted a mass arrest of Falun Gong practitioners.
Ms. Li was arrested on the morning of March 15, 2020. The next day, she was sent to in Yingtan City Detention Center. On April 22, her arrest was approved.
Ms. Li was hospitalized on May 6, 2020 due to her health issues. She and four other practitioners appeared in the Guixi City Court on October 31, 2020. They were sentenced to two to eight years in early February 2021.
Prior to her latest term, Ms. Li, 56, was sent to forced labor camp twice (for a total of over three years) and sentenced to a 5-year prison term, for sharing information about Falun Gong with people. When Ms. Li served her first prison term in Jiangxi Province Women's Prison, her hamstring was cut and she became disabled. Her husband and one of her parents passed away during her imprisonment, leaving their son home alone and their promising home business unattended. 
Tortured in Forced Labor Camp
When Ms. Li recited Falun Gong's lectures while being detained at Jiangxi Province Women's Labor Camp in 2000, she was cuffed to a metal bed. Guard Zhou Qianqin slapped Ms.Li hard in the face and taped her mouth. The same year, Ms. Li's term was extended several times because she refused to renounce her faith.
Ms. Li went on a hunger strike to protest the torture. She was force-fed. A male section chief named Deng Jian almost suffocated her. A male brigade leader named Wang Junzheng beat Ms. Li brutally and tied her to a bed in a spread eagle position. The prison doctor surnamed Fu hit Ms. Li's head with handcuffs, causing the right side of her face to swell.
Torture reenactment: tied up in spread-eagle position
Tortured in the Jiangxi Province Women's Prison
Ms. Li was arrested in July 2002 for attending a gathering with 30 practitioners. She was sentenced to a 5-year prison term in November 2002 by Yuehu District Court.
Ms. Li was transferred to Jiangxi Province Women's Prison in early 2003. A prison guard named Wu Jingmin tortured her in March by kicking her knees from the back, which caused her legs to become severely swollen. 
Ms. Li refused to wear an inmate badge in October 2003. A male brigade leader named Ge led another two male guards, surnamed Xiong and Liu respectively, as well as three female guards, including Xiong Xiaohong, He Ru and Xiong Fang, with the help of two inmates, to hang Ms. Li up with handcuffs near the restroom window. Her feet could not reach the floor. Because she was hung for too long, while struggling, her foot broke the window glass. The broken glass cut her hamstring. When she was sent to the hospital, the doctor directly used his tools to get into her muscles and connected the broken hamstring without using any anesthesia. Due to poor medical care, she became disabled since.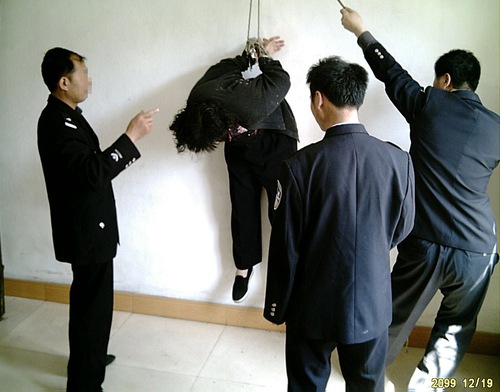 Torture reenactment: hanging
Tortured in Forced Labor Camp the Second Time
Ms. Li was talking to people about the persecution of Falun Gong in a supermarket on the morning of March 16, 2012 when she was arrested by agents of the 610 Office. After 15 days of detention at the Yingtan City Detention Center, she was secretly taken to Jiangxi Province Women's Forced Labor camp on March 30, 2012 to serve a two-year term given by the police without due process.
In the forced labor camp, Ms. Li shouted "Falun Dafa is good" in protest of the persecution. She refused to wear an inmate's uniform and went on a hunger strike for three days. On April 14, 2012, guard Qin Li instigated several drug addicts to torture her and forced her to wear the uniform. In the afternoon on April 17, brigade leader Shi Qiongying violently dragged Ms. Li by her neck, causing her shoe to fall off.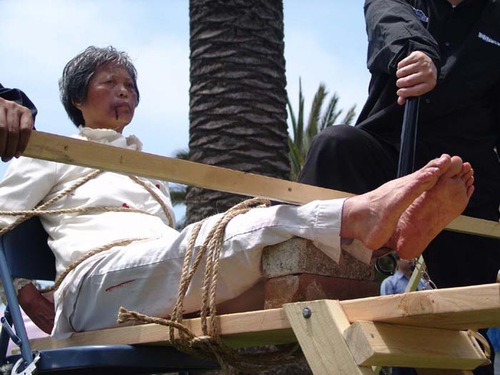 Torture reenactment: tiger bench
The forced labor camp specially ordered a tiger bench to torture Ms. Li. After they tied her on the bench, they force-fed her with food mixed with unknown drugs. Afterwards, Ms. Li's stomach was very uncomfortable.
Ms. Li was also beaten by brigade leader Wang Junzheng. Guard Yuan Liming kicked Ms. Li, wearing boots. Guard Xie Shiqing instigated inmates to remove their stinky socks and stuff them into Ms. Li's mouth. In the morning on February 5, 2013, Ms. Li shouted "Falun Dafa is good! Truthfulness-Compassion-Forbearance is good!" The guards then instigated inmates to pull Ms. Li's hair and sealed her mouth with tape.
Ms. Li was forced to do unpaid labor from very early in the morning to late in the evening. Because she talked to other practitioners on July 17, 2012, she was deprived of taking a shower for 15 to 20 days in the hot summer. And in winter on January 25, 2013, guard Yuan Liming took away all Ms. Li's clothes and blankets to let her suffer in the freezing cold.
Related report:
All articles, graphics, and content published on Minghui.org are copyrighted. Non-commercial reproduction is allowed but requires attribution with the article title and a link to the original article.
Category: Accounts of Persecution