71-year-old Woman Sentenced to Five Years after Twelve Years of Incarceration for Her Belief
March 7, 2021 | By a Minghui correspondent in Liaoning Province, China
(Minghui.org) Ms. Jia Naizhi, 71, is a Falun Gong practitioner from Fushun City, Liaoning Province. After the Chinese Communist Party started the persecution of Falun Gong in July 1999, she served two years in a forced labor camp and ten years in prison for speaking out for her faith. Following her latest arrest in 2019, Ms. Jia was sentenced to another five years and was taken to Liaoning Women's Prison in December 2020. 
Ms. Jia began to practice Falun Gong in 1997. A doctor once predicted that she only had three months left due to a terminal disease of peripheral neuropathy that caused severe muscular atrophy. Impressed with Falun Gong's tremendous health benefits, Ms. Jia learned the practice on November 19, 1997 as a last resort. To her surprise, she not only survived, she thrived.
However, in the past 20 years, her pursuit of good health landed her in police custody numerous times after the communist regime ordered the persecution of Falun Gong in 1999. Ms. Jia was arrested on Tiananmen Square on July 22, 1999 when she went to Beijing to appeal for her faith. Since that first arrest, she has been arrested multiple times, sent to a detention center, a brainwashing center and prison. She was brutally tortured and was on the verge of death several times.
Ms. Jia's personal property was confiscated as well. Her mother, who missed her daughter every day of her imprisonment, passed away in deep sorrow. Her husband was forced to divorce her. Her child was also separated from her.
Two Arrests for Appealing for Falun Gong
When the persecution of Falun Gong began on July 20, 1999, Ms. Jia wasted no time appealing for the practice that so positively transformed her life. She arrived in Beijing two days later, only to be arrested on Tiananmen Square for telling people that the persecution is wrong. She was taken to Shijingshan Stadium, as the local detention centers had already reached capacity detaining Falun Gong practitioners coming from all over the country to appeal against the persecution. Twenty police officers kicked her repeatedly, causing bruising throughout her body.
Ms. Jia went to Beijing two more times, on March 2, 2000 and July 18, 2000. She was arrested and detained each time and subjected to brutal beatings and forced-feeding while detained.
Persecution at Wujiabaozi Forced Labor Camp
Shortly after she returned home, Ms. Jia was arrested again on August 25, 2000 and given two years in Wujiabaozi Forced Labor Camp. Guard Zeng Qiuyan instigated inmate Chen Ming, who practiced Falun Gong before but had given up and collaborated with the authorities to persecute the practitioners, to pressure Ms. Jia to give up her belief. 
As Ms. Jia wasn't affected, and even exposed Chen's lies, Zeng became infuriated. She kicked her in the back with her high-heels, beat and slapped her head. While beating Ms. Jia, Zeng shouted, "We have put out so much effort transforming those people (former practitioners). Now you want to change their mind again? If I don't beat you, who should I beat then?" 
The guards separated Ms. Jia from other practitioners. She was also deprived of family visits. Her family had to get special approval to see her. 
Persecution at Masanjia Forced Labor Camp
As Ms. Jia remained firm in her faith, she and another six practitioners were transferred to the notorious Masanjia Forced Labor Camp on September 20, 2000. The six other practitioners were Ms. Qu Cailing, Ms. Wang Xiaoyan, Ms. Shen Ruolin, Ms. Liang Yuhong, Ms. Liang Yuhong's sister, and Ms. Huang Guirong.
Upon arrival, they were first deprived of sleep for 15 days. But the constant torture day and night did not change their determination to uphold their belief.
Ms. Jia was once hung up by her wrists for 15 days while being deprived of sleep. She was forced to urinate in her pants while standing, but couldn't defecate during the time. By the time she was let down, her legs were swollen so badly that she couldn't bend them. She also had a high fever and extreme tightness in her chest.
Ms. Jia also was forced to squat on a tile measuring about one square foot from 9 a.m. to after midnight. Other than mealtime and short trips to the restroom, she was forced to squat for over ten hours. 
For the next nine months, the guards used all kinds of tortures on her, but Ms. Jia never gave up her belief.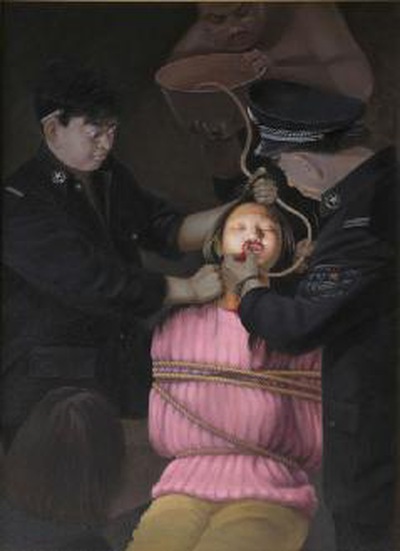 Torture illustration: Forced-feeding
Ms. Jia went on a hunger strike on June 2, 2001 to protest the persecution. On the fifth day, the guards force-fed her. Ms. Jia did not cooperate and demanded that the guards release her. After more than ten attempts, the guards failed to insert the feeding tube into her stomach and had to give up.
Persecution in Forced Labor Camp
Ms. Jia was arrested again on January 8, 2002 while appealing in Beijing and was detained at a brainwashing center for 15 days before being transferred to Fushun Labor Camp. There, she went on a hunger strike again to protest the torture of other practitioners. 
Using the excuse that she had contagious hepatitis and scabies, the guards held Ms. Jia in a strict management ward. The guards arranged a male inmate to "stand guard and keep watch" over her and other female practitioners. The door of the cell was left open. If the practitioners fell asleep, the guards would beat the male inmate.
Ms. Jia protested and asked that her cell door be kept closed at night for privacy, for dressing/undressing and sleeping. The guards responded to her request by ordering the male inmate to tape her arms and legs to the wall, forcing her to stand for an extend period of time. The torture caused her to vomit blood.
A guard named Liu Baocai stomped on her head and rolled it around as if it were a ball. The torture made her pass out.
Sentenced to Ten Years of Imprisonment
Ms. Jia was arrested again on October 8, 2002, along with practitioners Ms. Miao Shuqing and Ms. Gao Guirong. The police confiscated the practitioners' cellphones, pagers and cash. The police did not find any excuse in detaining Ms. Jia, but they still kept her, claiming that she was "too active and very influential" among practitioners. 
They took off her winter jacket and poured multiple bottles of water over her. After she was soaking wet, they attempted to use electric batons on her. However, although the electric batons were fully charged, they did not work on Ms. Jia.
Ms. Jia was sentenced to 10 years in prison on May 29, 2003 by judge Ma Hongwei from the Xinfu District Court. 
Due to her hepatitis, the prison refused to accept her. Despite the fact that Ms. Jia couldn't keep any food down and vomited whatever she ate, as well as her having low blood pressure, the Fushun Political and Legal Affairs Committee refused the detention center's application to release her on medical parole.
Later, Ms. Jia's family had 2,300 yuan extorted from them to pay for her emergency treatment in the hospital. The authorities said she had low blood pressure and a weak heartbeat. After she was treated, they continued to detain her.
Ms. Jia was kept at the Fushun Second Detention Center for more than three years. She was transferred to the Liaoning Women's Prison in 2007.
The guards there directed criminals to beat Ms. Jia and other practitioners. Drug addict Liu Yun and death row inmate Shi Liyan once hit her head repeatedly, causing profuse bleeding from her mouth and nose. Another beating broke a rib and caused her to lose consciousness.
Five More Years of Prison 
Ms. Jia was arrested one more time in April 2019 after the police suspected her of putting up a banner about Falun Gong.
She was tried by the Dongzhou District Court on December 13, 2019. The prosecutor showed a photo of a banner that said "Falun Dafa is good, Truthfulness-Compassion-Forbearance is good." He claimed that the banner was found near a school, which was the same banner carried by Ms. Jia during her arrest.
The prosecutors also played a clip of a surveillance video taken around 11 p.m. on March 29, 2019. The footage showed two people on a motorcycle hanging up the banner, but the clip was so blurry that one couldn't tell the gender or age of those two people. The police and the prosecutor both claimed that one of the two people was Ms. Jia.
When Ms. Jia's lawyer argued that such evidence was insufficient, the judge stopped him. The judge also cut off Ms. Jia when she testified in her own defense. She was sentenced to five years with a 20,000-yuan fine.
Financial Extortion
During her past arrests, Ms. Jia was fined several times for a total of 106,000 yuan, in addition to the 20,000-yuan fine included in her latest verdict.
In March 2000, Jia Quan from the Shuncheng District Political and Legal Affairs Committee fined her 3,000 yuan.
On April 11, 2002, Masanjia Forced Labor Camp extorted 3,000 yuan from her.
On October 11, 2002, she was detained at Fushun City Detention Center. Hao Jianguang, Hao Shifu, and Guan Yong from the First Division of the Fushun Police Department extorted 20,000 yuan from her.
On April 11, 2016, Yu Bo, deputy head of the Jianshe Police Substation, arrested Ms. Jia. She was fined 10,000 yuan after five days of detention.
In 2019, Ms. Jia was forced to surrender the salary she received during her ten-year imprisonment. She borrowed 70,000 yuan to pay back the funds, but the local social security office still refused to resume her pension payments.
Related Reports:
Ms. Jia Naizhi Sues Former Dictator Jiang Zemin
After 12 Years of Incarceration, Woman, 70, Sentenced to Five More Years for Her Faith
Local Court in Liaoning Province Court Declines to Hear Falun Gong Case
Once Incarcerated for 12 Years, Liaoning Woman Faces Trial for Practicing Falun Gong Again
After 12 Years Behind Bars for Her Faith, 70-year-old Woman Is Arrested Again
Ms. Jia Naizhi and Other Dafa Practitioners Persecuted in Shenyang Prison in Liaoning Province
All articles, graphics, and content published on Minghui.org are copyrighted. Non-commercial reproduction is allowed but requires attribution with the article title and a link to the original article.
Category: Torture of Women