Having Served Several Labor Camp Terms, Jilin Woman Arrested Again for Her Faith
March 23, 2021 | By a Minghui correspondent in Jilin Province, China
(Minghui.org) A Changchun City, Jilin Province, woman was arrested on January 6, 2021, for practicing Falun Gong and is now being held in Changchun City Fourth Detention Center.
Ms. Li Guiling's latest arrest was preceded by multiple previous arrests and detentions for upholding her faith in Falun Gong. She has also been given four terms of forced labor for a total of six years and subjected to brutal torture while in custody, including being drugged, beaten, shocked with electric batons, and force-fed. She was once tortured to the point of mental disorder.
Before practicing Falun Gong, Ms. Li, a farmer, had severe bronchitis, gynecological problems, headaches, and stomach problems, and was unable to do farm work. After she took up Falun Gong in 1997, she regained her health and became an energetic person full of confidence about her future.
Ms. Li once said, "Falun Gong taught me what it means to be a human being in this world. I know how to live, how to be a good person, how to become sincere, kind, and considerate of others. With these understandings, I can become a good person and meet the requirements of Truthfulness-Compassion-Forbearance. Falun Gong has given me a completely new life, a whole new life."
However, after the Chinese regime launched a full-scale persecution of Falun Gong on July 20, 1999, like the tens of millions of other practitioners, Ms. Li was constantly targeted by the authorities.
Detained Three Times in 2000
Ms. Li went to the National Appeals Office in Beijing in May 2000 to tell the government that Falun Gong is good and protest the persecution. She was apprehended at the gate and taken back to Datun Town Police Station. She was transferred to Daguang Detention Center the next day and released after 15 days of detention.
She went to Beijing to appeal again at the end of 2000 but was intercepted by the police and sent to Daguang Detention Center. After 15 days of detention, the police took her to Datun Town Police Station, where she was beaten and verbally abused before being released.
Shortly afterwards, the officials of Datun Town Songjia Village took her back to Datun Town Police Station. The director of the police station, Peng Xiaoming, beat and berated her. She was handcuffed to a radiator overnight and later released.
Brutally Tortured During One Year of Forced Labor
Wang Jiayi, the Party secretary of Datun Town, and several police officers from Datun Town Police Station seized Ms. Li and took her to Leshan Brainwashing Center on February 5, 2002. Since she refused to watch videos slandering Falun Gong, the police took her to Xinglongshan Brainwashing Center, where she was beaten and handcuffed.
Ms. Li resisted the brainwashing again, so she was taken to Changchun Police Department and was handcuffed to a chair, beaten in the mouth, and kicked and punched. That night, she was transferred to Tiebei First Detention Center. Fifty days later, she was given a year of forced labor and taken to Jilin Heizuizi Women's Labor Camp even though she had high blood pressure and failed the required physical examination.
Like other Falun Gong practitioners, Ms. Li was first detained in the Sixth Brigade of the labor camp, which was set up to brainwash the practitioners and force them to renounce their faith. There were four teams and more than 1,000 Falun Gong practitioners in the brigade.
One afternoon she was summoned to a guard room with a glass door covered by a cloth. As soon as she entered the room, seven guards swarmed her and punched and kicked her before pinning her to the ground and force-feeding her with an unknown drug. She resisted and spat it out, but they poured it into her mouth again. They laughed while torturing her. Toward the end, they took away her belt to humiliate her. She ended up with bruises all over her body.
To force her to give up Falun Gong, the guards repeatedly brought her back to the interrogation room for torture. She was punched and kicked. Sometimes the guards ordered her to read slanderous words against Falun Gong. When she refused to comply, they shocked her with electric batons.
Once she was deprived of sleep all night, so she held a hunger strike to protest. The guards and inmates force-fed her by forcibly prying her mouth open. They force-fed her three times a day for two weeks until she was on the brink of collapse.
A guard named Zhang Xiaohui once said to her, "If you don't give up Falun Gong, we will torture you like this every day. We will make your life worse than death."
When Ms. Li's life was in danger, the labor camp informed her family to prepare money for her release; otherwise they would send her to a mental hospital. By that time, she had become mentally disordered from both the torture and injection of unknown psychiatric drugs.
Her husband scraped together 2,000 yuan and got her released. She could not recognize anyone at home, not even her husband or son. She was incontinent and very weak. She barely spoke, and she hid whenever she saw people. She kept making hand signs mimicking someone pinning her down and injecting her.
Two Years of Forced Labor Turned into Three Years
Ms. Li gradually regained her health after resuming practicing Falun Gong. Since she personally experienced and witnessed the atrocities of the persecution, she distributed materials to get the word out and help stop the persecution.
Officers from Yongchun Police Station arrested her while she was distributing informational materials on August 16, 2002. She was taken to Changchun City Third Detention Center, where she was brutally beaten. She went on a 30-day hunger strike in protest. The director of the detention center ordered male doctors to force-feed her with saltwater and cornmeal. After more than 40 days of detention, she was given two years of forced labor and taken to Heizuizi Forced Labor Camp again.
Before New Year's Day in 2003, she was strapped to a stretching bed for punishment because she refused to participate in a meeting to criticize Falun Gong.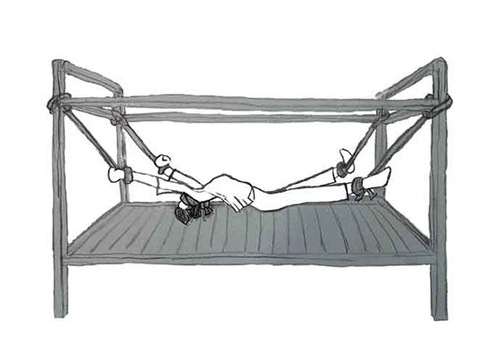 Torture illustration: Stretching bed
When her term expired, the authorities extended her term by 27 days. After that, she was directly taken to Xinglongshan Brainwashing Center on March 12, 2004. She was beaten on the way there.
Twenty-one days later, the 610 Office, an extralegal agency created specifically to persecute Falun Gong, gave her another forced labor term of one year.
Fourth Forced Labor Term of Two Years
Ms. Li was arrested again by officers from Datun Town Police Station on February 4, 2007, while she was on her way to grocery shopping. They shocked her with electric batons during the arrest and she rolled all over the ground. Then the police raided her home and confiscated her Falun Gong books and materials.
Ms. Li was later taken to Changchun City Third Detention Center and then to Heizuizi Forced Labor Camp again to serve a two-year term.
Ms. Li and several practitioners were forced to do cleaning work on their break days at the beginning of October 2007. They had to clean the windows and the rooms, and hand-wash the bedding for the brigade chief, Zhu Dan.
Ms. Li refused to follow the order and was beaten up and shocked with electric batons. Zhu also ordered several inmates to tie her to the stretching bed.
She was tortured on the stretching bed continuously for several days. She had to defecate and urinate on the bed and was force-fed. Once she threw up after the force-feeding, but an inmate scooped up what she spit out and force-fed her with it.
On another occasion, since she refused to wear the inmate uniform, she was tied to the death bed for punishment. At the same time, the guards beat and cursed at her, and shocked inside her mouth with an electric baton. Her mouth was full of blisters afterward.
When she refused to wear the prison uniform at another time, she was taken to the third floor. An inmate beat and kicked her for a long time and then tied her to the death bed again. Her right arm was injured during that torture session, and it still hasn't recovered.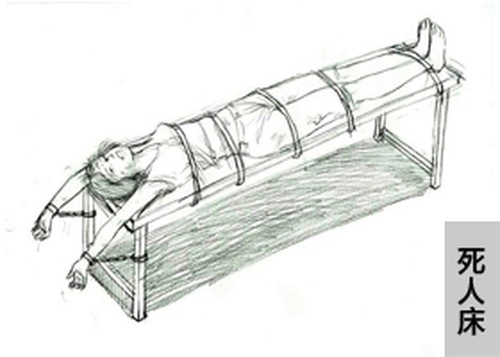 Torture illustration: Death bed
While Ms. Li was detained in the labor camp, her only son was left unattended and murdered at the age of 25 on November 30, 2007. She didn't learn about her son's death until the labor camp finally allowed her family to visit her in April 2008.
Ms. Li was released from the labor camp on February 3, 2009.
More Arrests and Detentions
Four plainclothes officers from Datun Town Police Station seized Ms. Li in November 2009. They took her to the brainwashing center in Xinglong Mountain and detained her for 15 days.
Ms. Li and six practitioners in Changchun, including Zhang Zhihua, Jing Fengwei, Wang Yuying, Song Jingxia, Dou Shuxian, and Zhang Xiaoming, went to Gongzhuling City Domestic Security Division on August 7, 2015, to demand the release of Ms. Wang Jianying, a Falun Gong practitioner in her 70s.
All seven practitioners were taken into custody on the spot. Six of them, including Ms. Li, were held at Gongzhuling City Detention Center for fifteen days, during which time they were subjected to brainwashing.
Ms. Li was arrested again on January 21, 2016, by officers from the Police Department of Changchun Automobile Factory Branch, for filing lawsuits against Jiang Zemin, former leader of the Chinese Communist Party, for ordering the persecution of Falun Gong. She was released the same day.
Two police officers knocked on Ms. Li's door on the morning of February 3, 2019, when she was not home. Her husband did not open the door for them.
Ms. Li was seized again on September 9, 2019, by plainclothes officers from Fufeng Town Police Station while she was handing out materials about Falun Gong at Datun Market. She was locked up in a metal cage and later bound to a metal chair in the police station. Then she was taken to Weizigou Detention Center and released after 13 days of detention.
Police from Guigujie Police Station arrested Ms. Li again on December 11, 2020. She managed to escape from the police station later. However, they seized her again on January 6, 2021.
She was first held in Weizigou Detention Center for 10 days and now is being detained in Changchun City Fourth Detention Center.
Related articles:
Detained While Attempting to Rescue a Fellow Practitioner
Persecution Suffered By Practitioner Ms. Li Guiling from Datun Town, Changchun City, Jilin Province
Ms. Li Guiling Suffers Mental Collapse After Being Injected with Unknown Psychiatric Drugs at the Heizuizi Labor Camp
All articles, graphics, and content published on Minghui.org are copyrighted. Non-commercial reproduction is allowed but requires attribution with the article title and a link to the original article.
Category: Accounts of Persecution