Hong Kong: Witnesses Recall 19-Year-Old Case and Highlight Its Importance Today
March 22, 2021 | By Liang Zhen
(Minghui.org) On March 14, 2002, over a dozen Falun Gong practitioners gathered outside the Liaison Office of the Central People's Government in the Hong Kong Special Administrative Region (HKSAR) to protest against the Chinese Communist Party's persecution of their counterparts in mainland China. They were forcibly removed from the street and charged with obstructing public property. They filed an appeal to the Court of Final Appeal and were eventually acquitted.
This case, Yeung May-wan & Others v. HKSAR, is a textbook example of how Hong Kong residents safeguard their rights with the Basic Law. It took about three years to appeal this case and Yeung shared her experience in a recent article on Minghui. In this report, several additional witnesses describe what they encountered. 
Human Rights Lawyer: An Important Case on Basic Law
John Clancey, an American human rights lawyer, and Paul Harris, newly elected Hong Kong Bar Association chairman, were both defense attorneys for this case.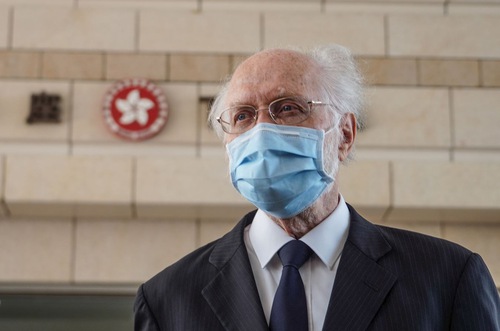 John Clancey, a 79-year-old American lawyer, helped defend Falun Gong practitioners in the 2002 case. 
For participating in pro-democracy primaries, Clancey was arrested on January 6, 2021. "Now a lawyer, Mr. Clancey is the first American detained under the new [national security] law, underscoring its wide reach and authorities' willingness to wield it on locals and foreigners alike," reported Wall Street Journal in a January 13, 2021 article titled, "In Hong Kong, an American Priest Turned Lawyer Faces China's Wrath but Keeps the Faith." 
After being granted bail, Clancey recalled the Yeung May-wan & Others v. HKSAR. Referring to it as an important case in his career and Hong Kong's law history, he said students who study basic law should all study this case. 
On March 14, 2002, four Swiss Falun Gong practitioners and 12 Hong Kong practitioners held a peaceful protest and hunger strike outside HKSAR against the brutal suppression in mainland China. Police took them away by force. In August 2002, they were found guilty of several charges including obstructing public property and assault of police.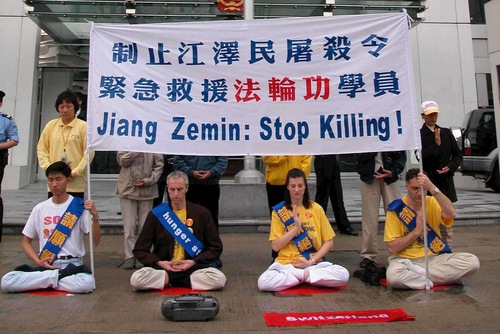 Peaceful meditation of Falun Gong practitioners in front of HKSAR on March 14, 2002
After nearly three years, five chief justices from the Court of Final Appeals, including Andrew Li Kwok-nang, announced on May 5, 2005, to drop all the charges. "Central to the case is the fact that the arrests were made and the charges of obstructing public property laid against the defendants because of their conduct in the course of a peaceful public demonstration," wrote the judgment, "Here, the fact that the defendants were at the time of arrest engaged in a peaceful demonstration meant that the constitutionally protected right to demonstrate was engaged."
"Hong Kong residents shall have freedom of speech, of assembly... and of demonstration..." citing Article 27 of the Basic Law in the judgment, Clancey added, "By Article 39 of the Basic Law, constitutional protection is also given to freedom of opinion, of expression and of peaceful assembly as provided for in Articles 16 and 17 of the Hong Kong Bill of Rights, those articles being the equivalents of Articles 19 and 21 of the International Covenant on Civil and Political Rights and representing part of the ICCPR as applied to Hong Kong."
Therefore, this case protected citizens' right of demonstration and set an example for later cases, explained Clancey. In fact, the road in front of HKSAR was broad like a parking lot and Falun Gong practitioners only occupied a small portion of it. Four Swiss practitioners started a hunger strike there, which was joined by 12 Hong Kong practitioners. Because of its footprint, people who saw this did not view it as an obstruction. 
Later, HKSAR built a large flower bed in front of its entrance, making the public space much smaller and difficult for protesters to gather. Some locals call it a "political flower bed." 
Consistent Efforts for Three Years
It took three years to appeal this case before it was resolved at the Court of Final Appeals. From this, Clancey said he was impressed by practitioners' persistence. Since laws were established to protect people, and practitioners believed themselves to be innocent, they sought help from lawyers and in the end won based on their legal right of demonstration. 
When asked if he had experienced pressure for defending practitioners due to the ongoing persecution in mainland China, Clancey said his faith gave him love and strength. Furthermore, he did all of this because of his love for others. It was not for money or fame. That is why he did not have fear.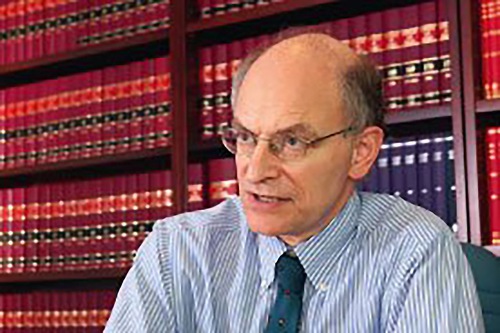 Paul Harris, newly elected Hong Kong Bar Association chairman, wrote a book, The Right To Demonstrate, after defending practitioners in 2002.
Paul Harris, another defense lawyer for this case, was recently elected Hong Kong Bar Association chairman. While representing the practitioners, he found Hong Kong did not have a book on peaceful demonstrations, so he wrote a book titled The Right To Demonstrate, which was published in 2007. "The peaceful demonstration gives a voice to the voiceless... peaceful demonstrations are a force for good that should be everyone's right in every country," he wrote.
After Falun Gong practitioners won the case, Szeto Wah, renowned Hong Kong democracy activist and politician, praised them for defending demonstration rights for all Hong Kong residents. He said this was an act of following their belief in Truthfulness-Compassion-Forbearance. 
Inspiration for the Public 
Chau Sing, a practitioner who videotaped the demonstration, said the four Falun Gong practitioners from Switzerland had planned a three-day hunger strike. But the HKSAR contacted the police on the third day requesting them to arrest the practitioners. The police first gave warnings and then forcibly took the practitioners away.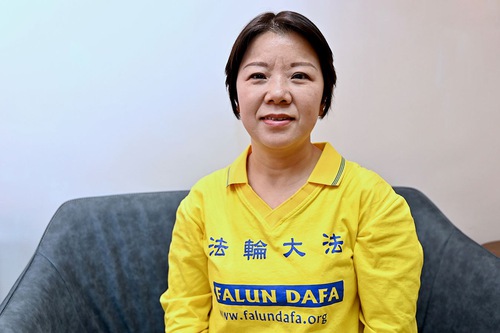 Chau Sing, one of the defendants in the 2002 case
With a small camcorder, Chau had the footage of a female police officer pressing an elderly female practitioner's acupuncture point behind the ear and making her faint. A male practitioner also suffered the same mistreatment and could not stand. He was then carried into a police van. During the urgent situation, Chau hurriedly gave the camcorder to a practitioner outside the blocked area before she was carried away by two officers into the police van. The police then charged Falun Gong practitioners with several crimes. 
During the court hearing, Chau also heard police officers openly providing falsified testimony. One officer bit her own hand and claimed a practitioner bit her during the arrest. In fact, it was just that practitioner's lower jaw that happened to come into contact with the officer's hand. But the officer lied in the hearing saying the practitioner assaulted her. Later on, the officer who lied was even promoted instead of punished.
After those defendant practitioners discussed the situation, they decided to inform government agencies about what happened. This included consulates in Hong Kong, the department of justice, courts, legislative members, the bar association, and police. They visited these agencies and mailed materials. 
Three practitioners including Chau also went to the U.S. to tell the world of this incident. They submitted this case to the United Nations and highlighted the persecution of Falun Gong in both mainland China and Hong Kong. 
Chau said the success of the case was very inspiring to Hong Kong residents. As the CCP has recently escalated red terror in Hong Kong, she believes people should continue to do the right thing instead of being intimidated by the regime. In other words, people need to defend their free and lawful rights; otherwise, the CCP would become more reckless. "We should oppose the CCP and not yield to totalitarianism," she said.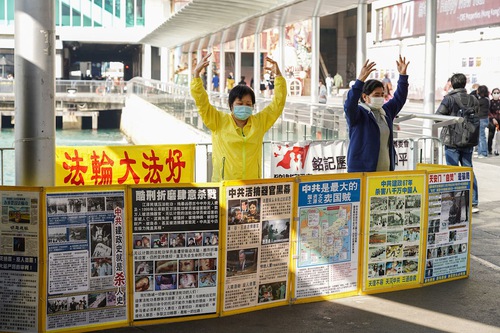 The persecution of Falun Gong has lasted 21 years in mainland China. Practitioners in Hong Kong have tried their best to raise awareness of one of the largest human rights violations in modern society.
All articles, graphics, and content published on Minghui.org are copyrighted. Non-commercial reproduction is allowed but requires attribution with the article title and a link to the original article.
Category: Standing Up for Falun Dafa