Nearly 20 Years of Exposing the Persecution Offers Hong Kong Encouragement: "Your Determination Shows Us There's Hope"
March 18, 2021 | By Minghui correspondent Li Huirong
(Minghui.org) The Hong Kong National Security Law passed by the Chinese Communist Party (CCP) in June 2020 is viewed as a threat to human rights in the region, leaving many residents worried about their future. But this is not the first time human rights have been attacked since Hong Kong was returned to China in 1997.
Falun Gong (also known as Falun Dafa), a peaceful meditation system based on the principles of Truthfulness-Compassion-Forbearance, has been persecuted in China since 1999. In 2002, several practitioners were arrested when they peacefully protested the persecution outside the Liaison Office of the Central People's Government in the Hong Kong Special Administrative Region (HKSAR). Practitioners clarified the facts and appealed the public obstruction charge to the Court of Final Appeal. In the end the practitioners were acquitted.
This case is often referenced as an example of the human rights situation in Hong Kong. It was also listed in the core curriculum of law at Hong Kong University.
Yeung May-wan, one of the defendants in the case, is a Hong Kong resident who has been distributing materials and telling people about the persecution for over 20 years. Her experience is a reflection of practitioners' efforts to protect their faith despite pressure from a totalitarian regime.
Protesting "Kill with No Mercy"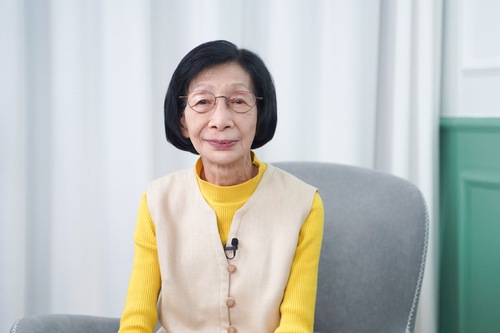 Yeung May-wan, a teacher and Falun Gong practitioner
Yeung May-wan is a teacher and grew up in a traditional, large family. Her aunt, Yeung Lai-yin, was elected city councilor and held various positions in Hong Kong. Influenced by her and other family members' examples of public service, Yeung was determined to follow their lead and be a good person.
Given her poor health and small stature, however, Yeung was not able to do as much as she wanted to. Her situation did not change until 1998 when her aunt in Australia recommended she try Falun Gong.
This practice not only helped Yeung become a better person, but also gave her strength. One day when she was carrying a large stack of newspapers to distribute, a police officer commented, "Those papers are nearly as tall as you are. You're so tiny—how can you carry so much?" Yeung replied, "I practice Falun Gong. Give it a try and you might experience some amazing things, too!"
The newspapers exposed the CCP's widespread persecution of practitioners in China. To incite hatred for the practice, the CCP produced slanderous propaganda and staged the self-immolation incident in January 2001. This slander was broadcast nonstop on all the media platforms in China.
With their access to communication channels blocked, practitioners in Changchun, Jilin Province, China, intercepted the region's television signal and broadcast information to debunk the CCP's slander. Jiang Zemin, the CCP leader who launched the persecution in 1999, was so furious that he issued a secret order: "Kill with no mercy." Within a short time, over 5,000 practitioners in Changchun were arrested. Seven were beaten to death and 15 were sentenced to up to 20 years in prison.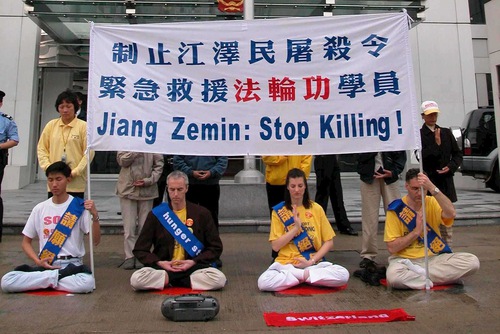 A peaceful protest held by 4 practitioners from Switzerland and 12 from Hong Kong on March 14, 2002.
Practitioners around the world held events to tell people about these tragedies, and four practitioners from Switzerland planned to go to Beijing to appeal. When the CCP revoked their visas, they went to Hong Kong and held a peaceful protest on March 14, 2002. Twelve practitioners in Hong Kong, Yeung included, joined them.
Following orders from the HKSAR, more than 70 police officers took these practitioners away by force. Some pushed down practitioners' heads, held their necks, or twisted their arms. At least one Swiss practitioner and 8 Hong Kong practitioners were injured.
When the practitioners huddled together, the police pulled them apart, starting with Yeung, who was short and slim. As the first one forced into the police van, Yeung told the police the arrest was illegal since the protest was peaceful and lawful. She also wrote to Tung Chee-hwa, then Chief Executive of Hong Kong, reiterating the fact that the practitioners were innocent.
Sentence and Appeal
This was the first time Falun Gong practitioners had ever been arrested in Hong Kong for holding a peaceful protest. At first, Yeung said, she was afraid. "As a teacher, I always taught my students to obey the police and maintain justice and social order," she said. "Now I knew the police would arrest innocent people and we had to address that."
After this, HKSAR added a garden outside the entrance, making the street narrower so that protesters would have no room to stand. A trial on August 15, 2002, found 16 practitioners guilty of public obstruction and "assaulting" police.
Facing the injustice, Yeung and the other practitioners continued to clarify the situation to local district police and other government agencies. Every day she stood in front of the Court of Final Appeal. Even if she was there alone, she held a sign with information about the situation so passersby, including legal experts, could read it. She also wrote to different agencies, telling them that practitioners had the legal right to practice their faith and that Falun Gong was a great benefit for society as a whole.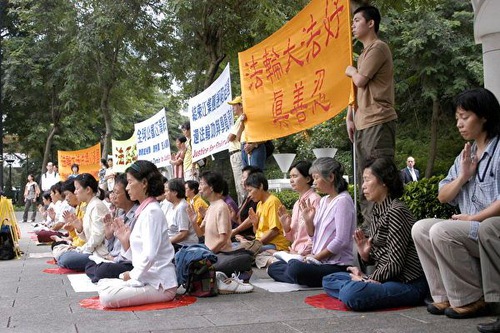 Practitioners continued to protest while the case was appealed.
Yeung said she told people how practitioners' improved health meant that the government saved on medical expenses. "By practicing Falun Gong," she told them, "our moral standards and character have improved—practitioners are peaceful and considerate."
After three years of hard work, the Court of Final Appeal revoked the initial verdict and declared the practitioners innocent. The judgment also directed pedestrians to accommodate protesters and officials to respect basic laws and human rights laws. "The freedom to demonstrate is a constitutional right. It is closely associated with the freedom of speech... These freedoms are at the heart of Hong Kong's system," wrote the judgment.
Hope for Hong Kong Residents
This case garnered broad public attention. Hong Kong democracy activist Szeto Wah praised Falun Gong for their efforts and success in defending freedom for Hong Kong residents. He said the case highlighted the principles of Truthfulness-Compassion-Forbearance that practitioners embraced.
Yeung is thankful for the strength practicing Falun Gong gives her. In the beginning she was afraid, worrying that future protests would be banned if they lost this lawsuit. "We know the constitution is the highest authority. I often remind myself to do well. If every one of us thinks this way, our efforts will join together and bring light and hope for the future and drive away the darkness," she said.
She said the biggest challenge is helping people understand what Falun Gong is and how it has benefited its practitioners. "As a Falun Gong practitioner, I have learned to be a good person—a better person. That means I need to act according to my conscience. We own our futures and, from our hearts, we have to do what is right," she added.
Hong Kong is a small place with a large population. Falun Gong practitioners come from all walks of life. Seeing practitioners continuing to do the exercises and putting up banners exposing the persecution, many passersby were also moved. One person said, "Your determination gives us assurance and a sense of security. There's hope for society after all."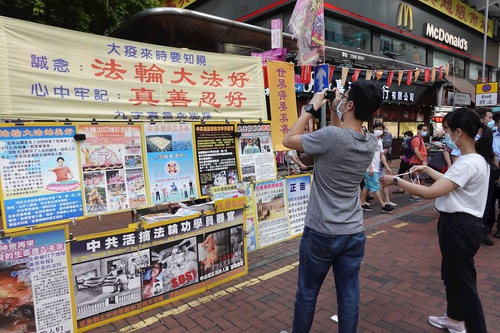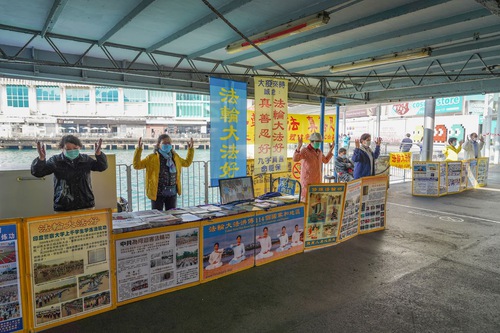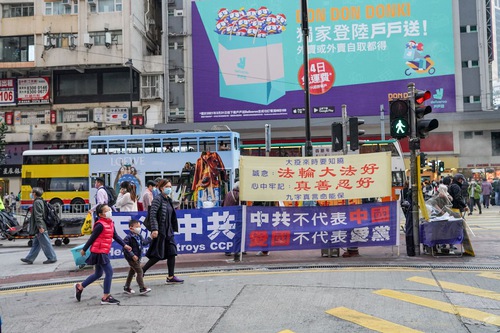 Falun Gong practitioners' banners, posters, and booths can be seen throughout Hong Kong
All articles, graphics, and content published on Minghui.org are copyrighted. Non-commercial reproduction is allowed but requires attribution with the article title and a link to the original article.
Category: Standing Up for Falun Dafa