Australian Human Rights Activist: Reciting "Falun Dafa Is Good" Saved My Life
March 15, 2021 | By a Minghui correspondent in Australia
(Minghui.org) "It may sound incredible to some people—but I was saved by saying Falun Dafa is good. This is something I personally experienced," said Mr. Pan Qing, an Australian human rights activist.
"One night, I was awakened as icy cold air slowly engulfed my body. It then moved from bottom up, and when it pressed down on my chest— I could not breathe. It felt like my heart was about to stop and that I would die. My first reaction was to say, 'Falun Dafa is good.' I kept repeatedly saying those words in my head, focusing all my thoughts on these five Chinese characters. The startling experience went on for 20 minutes. Then the overwhelming cold left and I felt normal."
Mr. Pan's experience is similar to those recounted by countless people who say that sincerely saying, "Falun Dafa is good" made all the difference in critical moments.
Reciting Falun Dafa is Good Saved My Life
Mr. Pan's ancestors were well-known and historic figures. His mother, Fan Bawei, is the 34th generation granddaughter of Fan Zhongyan, a prominent politician and literary figure during China's Song Dynasty. His maternal grandfather Fan Xiren was chairman of the provisional parliament of the Republic of China. His father was the chief editor of a Shanghai newspaper in the late 1940s. Deeply influenced by traditional Chinese culture, although Mr. Pan does not practice Falun Dafa, he has great respect for Mr. Li Hongzhi the founder of the spiritual discipline.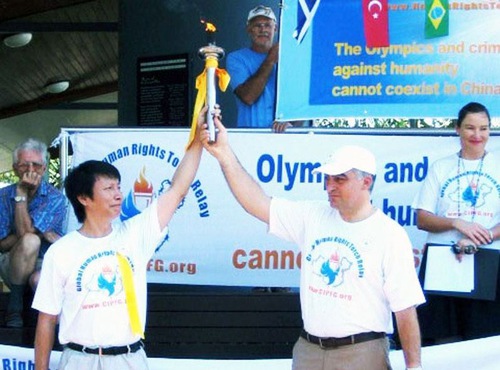 On November 4, 2007, Joe Natoli mayor of Maroochy Shire in Queensland and Pan Qing (left) held the human rights torch together to uphold human rights and expose the CCP's atrocities. 
In 2007, the Coalition to Investigate the Persecution of Falun Gong (CIPFG) held the Human Rights Torch Relay to expose crimes against humanity including forced organ harvesting which was taking place in China while the Olympic Games were being held there. Mr. Pan participated in the event as a member of the coalition. He joined the torch relay that commenced in Athens, Greece, the birthplace of the games on August 9 and traveled across five continents for several months. In each city CIPFG members called on people to pay attention and stop the Chinese Communist Party's (CCP) brutalities. When he returned home, he was exhausted from months of travel.
Mr. Pan, who was in his 50s, described the experience as, "Very painful and powerful. It felt as if a negative force came to take my life." He said that it's natural instinct to ask for help during dangerous moments. What one thinks of in that instant can make all the difference.
He said, "You know what came to mind? The five characters 'Falun Dafa is good!' I was enveloped by intense cold and I could not breathe. I could not move my limbs, I could not catch my breath and it felt like my heart was about to stop. After I kept reciting the phrase in my head, the pressure lessened and 20 minutes later it was gone!" 
Utmost Respect for Falun Dafa
Fourteen years have passed, but Mr. Pan still vividly remembers this incident. He emphasized the importance of reciting "Falun Dafa is good" at critical moments. He said, "Most people doubt this kind of experience. They refuse to believe it happened. But this is what I truly went through. The next time you encounter a life and death moment, try reciting these words. It can save you."
"This incident helped me develop great respect for Falun Dafa," he said.
Please refer to the Chinese article for the five audio files (in Chinese) of Mr. Pan's personal account of his experiences with Falun Dafa.
All articles, graphics, and content published on Minghui.org are copyrighted. Non-commercial reproduction is allowed but requires attribution with the article title and a link to the original article.
Category: Falun Dafa's Divine Power