India: Falun Dafa Wins Hearts at 2021 New Town Book Fair
March 14, 2021 | By a Falun Dafa practitioner in India
(Minghui.org) Falun Dafa practitioners in India were invited to participate in the New Town Book Fair from February 28 to March 7, 2021 held in New Town, a thriving satellite city in the area of Kolkata. They introduced Falun Dafa and provided a variety of Dafa books. Over the course of the event, practitioners talked to the public about the benefits of this traditional mind-body-spirit cultivation practice.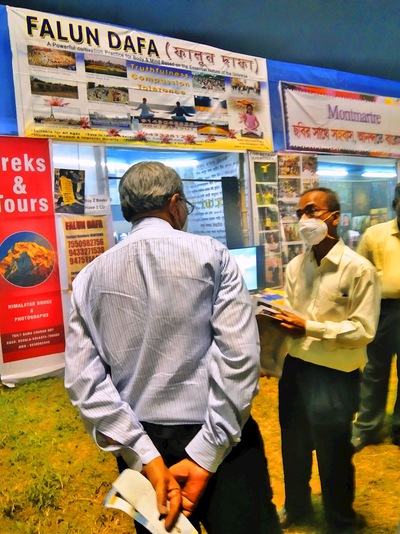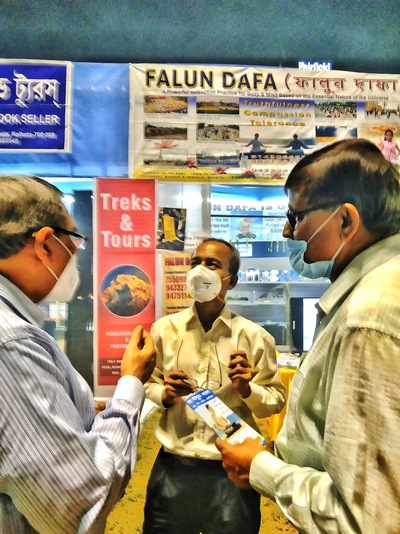 Practitioners introduce Falun Dafa to New Town Book Fair visitors. 
A practitioner teaches the Falun Dafa exercises to a book fair visitor.
The book fair has been held every December for the last 7 years, but was canceled last year because of the pandemic. It resumed this year and Falun Dafa practitioners were invited to participate in it for the fourth year. 
The Falun Dafa booth was decorated with pictures and banners detailing the benefits of this ancient meditation system. A large screen provided more information about Falun Dafa cultivation practice, and various brochures were available to book fair visitors. The main highlight at the booth were the books Zhuan Falun and Falun Gong, in the Bengali language and in English – the bestseller book Zhuan Falun is translated into 40+ languages. 
Many book fair visitors wished to learn more about Falun Dafa and stopped by the booth to learn the exercises. In addition, many people who had purchased Falun Gong books in previous years promised to come to the practice site and pick up from where they had left off.
Falun Dafa Offers a Ray of Hope
A new practitioner shared his one-year-long cultivation experience and said that Falun Dafa had given him a new lease on life. Many found inspiration in his amazing story.
Mr. P.K De, 65, from New Town, Kolkata, began practicing Falun Dafa in March 2020. He credits the spiritual practice for giving him, "A ray of hope and a new lease on life."
After he retired in 2015 Mr. De suddenly experienced acute pain spreading from his palms and hands to his elbows. He said, "I couldn't to do any work and often had sleepless nights." Tests conducted by a reputed surgeon at Kolkata's Neuroscience Hospital confirmed that he had Carpal Tunnel Syndrome. 
After undergoing surgery, "The pain did not reduce," Mr. De said. He soon developed allergies and was diagnosed with spondylitis. He said he was in great pain and unable to bend his knees or go up and down stairs. He was also diagnosed with the skin condition, urticarial vasculitis. "I began losing the will to live," he said.
Mr. De recalled, "January 2020 was a turning point in my life." After the New Town Book Fair, the Falun Dafa exercises were introduced at a place close to where he lives. He came the very first day and learned the 5 exercises. During the 2020 pandemic lockdown, he practiced the exercises twice every day. 
"After 4 months—one day, like a miracle, I discovered that I could use my hands comfortably to write and do other work. A few days later, I found to my utter delight that the allergy did not bother me and gradually disappeared. It was as if I got a new life. I could quite easily do all the work that required bending the knees.
"Truthfulness, Compassion and Tolerance [Falun Dafa's principles] gave me a new life. Falun Dafa freed me from poor health," Mr. De said. "My most sincere gratitude and respect for Master Li Hongzhi, Falun Dafa's founder."
Background
Falun Dafa was introduced to the public by Mr. Li Hongzhi in China in May 1992, and is now practiced by over 100 million people in over 90 countries. Always taught free of cost by volunteers, Falun Dafa's 5 gentle exercises open up energy channels, purify the body, relieve anxiety and provide inner peace. The movements are effective, easy to learn and suitable for people of all age groups, including children, adults, and the elderly.
All articles, graphics, and content published on Minghui.org are copyrighted. Non-commercial reproduction is allowed but requires attribution with the article title and a link to the original article.
Category: Parades & Other Community Events