Mannheim, Germany: Residents Sign Petition to End CCP's Persecution of Falun Dafa
Feb. 7, 2021 | By a Falun Dafa practitioner in Germany
(Minghui.org) Falun Dafa practitioners from the Rhine-Neckar region gathered in Mannheim to raise awareness about the meditation practice on January 30, 2021. They also collected signatures for a petition that calls for an end to the Chinese Communist Party's (CCP) harvesting of organs from living Falun Dafa practitioners. 
Practitioners gathered at the Marktplatz early in the morning, despite the rain. Many German stores were closed due to the pandemic and there seemed to be fewer people on the streets. As a result, the Falun Dafa information booth became the center of attention and many stopped and inquired about Falun Dafa, while others stood close by to observe practitioners demonstrating the exercises.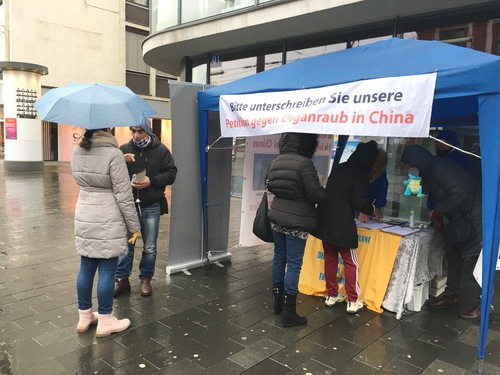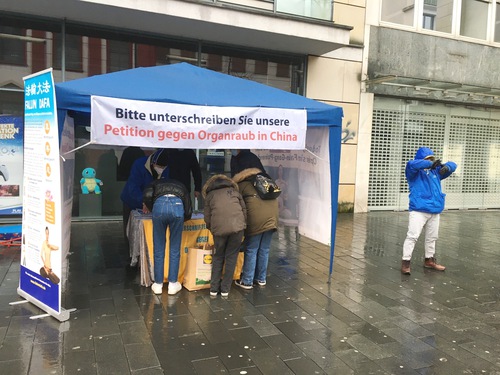 Local residents signing the petition 
"More German People Should Be Aware of What Is Really Happening in China"
A young woman stopped at the information booth with her daughter and introduced herself as coming from Germany's biggest island. She said that before the unification of East and West Germany, Island Rügen was part of Eastern Germany. She was well aware of what a communist regime was capable of. 
She said news about China's human rights issues are seldom reported on German television channels, and that "more German people should be aware of what is really happening in China." 
"Communism Is the Scourge of Mankind"
An elderly woman gave thumbs up and said: "It is good to know that people are petitioning. I know that the CCP is persecuting the Tibetans. If Germans and more people in the world support what you are doing, the CCP will definitely be disintegrated. Keep up the good work! I wish you success!"
An elderly man stopped to show his support and said, "I am 82 years old this year and when I was young I once worked and lived in East Germany for 11 years. So, I am quite familiar with communism. The people in East Germany have gone through much persecution and suffering. Communism is very evil, and it is the scourge of mankind."
He continued: "I am very supportive of this petition, but our voices are not strong enough." A Falun Gong practitioner said: "This petition will ultimately be sent to the federal government." The elderly man said: "Yes, yes, we definitely need to let the German government be aware of what is happening. People in the world need to have freedom of religion."